How to Permanently Erase Everything on Android Phone or Tablet? Planning to sell your old Android device? How do you deal with your Android data? Have you deleted them all? If yes, you have done better than many people, but this's not enough. Deletion cannot completely wipe everything on Android, and many recovery tools can recover deleted files.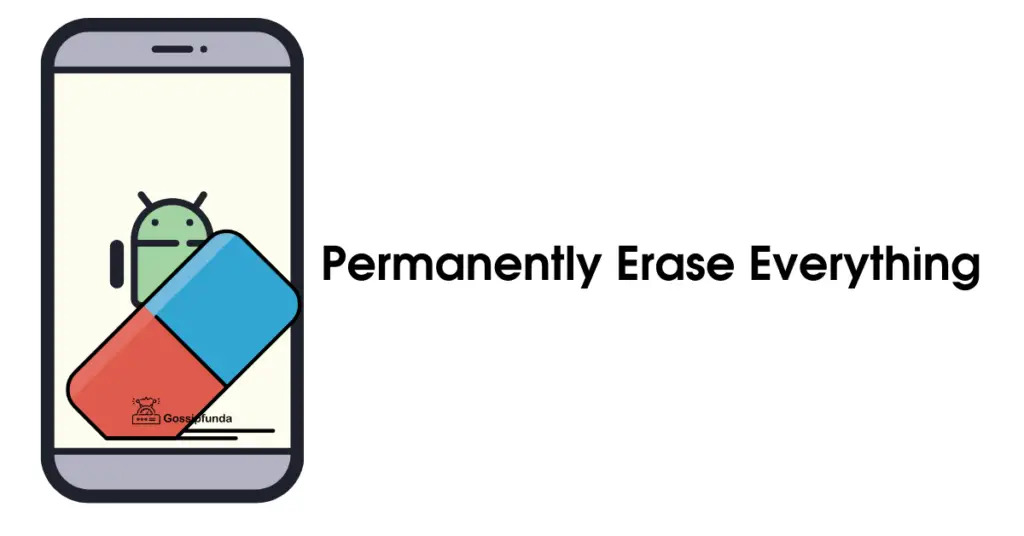 How to Permanently Erase Everything on Android Phone or Tablet
So, how to permanently erase everything on the Android phone or tablet? Please let this post help you solve it. It will tell you what to do before wiping, how to correctly perform the manual deletion, and how to erase all data with the professional tool. Let's check it out.
Before You Start Erasing Data on Android
If you don't want to lose the Android device data, please back them up to another place. For instance, you can move your photos, videos, music, and documents to the computer via USB. Then upload your contacts and messages to your Google account. After backing up what you want, you can begin eradicating files.
Method 1: Manually Clear Data
A factory reset cannot erase all your Android data, so you need to implement additional steps to remove your data as much as possible. Although this is a little time-consuming, you can follow the guide step by step.
Step 1: Remove Accounts
Generally speaking, everybody has more than one account, which means you need to sign out on different apps. By the way, if you added your Google account on the Settings app, please don't forget to delete it.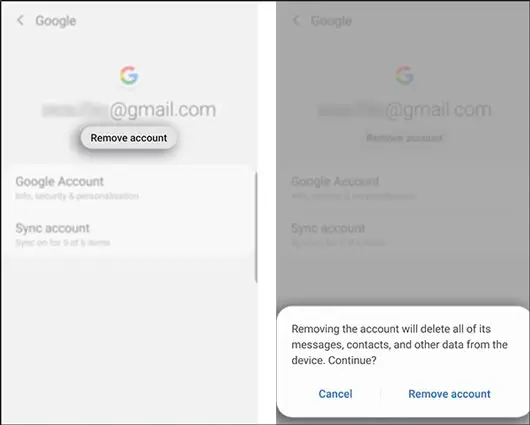 Step 2: Take Out the SIM Card and SD Card
Use the device's pin to pull out the card tray, and you can take out your SIM card and SD card.
Step 3: Clear App Data
When you use an app for some time, it will produce much data stored on your phone or tablet. You can go to the Settings app and choose the "Apps" option. Then you can view all applications on the screen. Please enter an app, and click the "Storage" icon. Finally, tap the "Clear data" button to delete the data of this app. You can clear the data of the remaining applications in this way.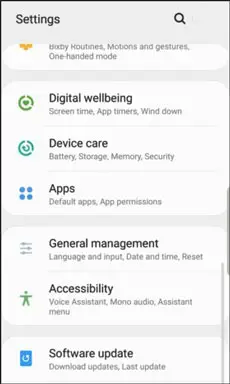 Step 4: Perform Factory Reset
Once you delete app data, you can factory reset your Android device. Identically, go to Settings, and click the "General management" > "Reset" > "Factory data reset" feature. Then begin resetting your phone by hitting the "Reset" button.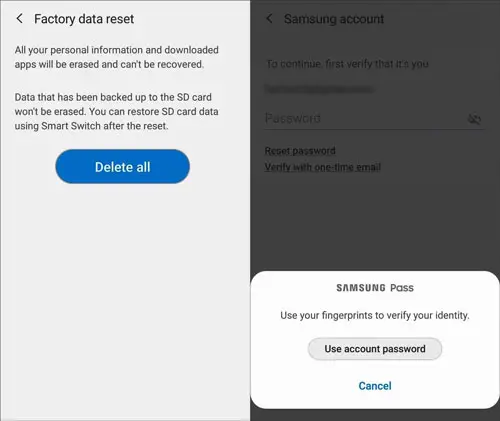 Step 5: Manually Overwrite the Deleted Data
Now you have cleaned up most data. However, if you want to permanently erase the deleted data, there is one more step: to overwrite the deleted data. How can you do that? It's easy. Please download movies and other big files until the storage space is full. The new download files will replace all deleted data. Then you can perform the factory reset again. To improve reliability, you can repeat these steps several times.
Method 2: Completely Erase Everything with Coolmuster
Feeling it complicated to clear data manually? You can get an efficient and dependable assistant in this section. Coolmuster Android Eraser, a powerful privacy protector, can help you permanently erase everything on your Android phone or tablet.
There are 3 different erasing levels to choose from. The High Level can thoroughly destroy your data and write over them 3 times. Moreover, the operation is simple.
Step 1: Install the Program
Download and install the eraser software on your computer. Then connect your mobile device to the computer via a USB cable.
Step 2: Select a Security Level
Enable the USB debugging feature on Android. Then tap the "Erase" and "Medium" icon to select a security level.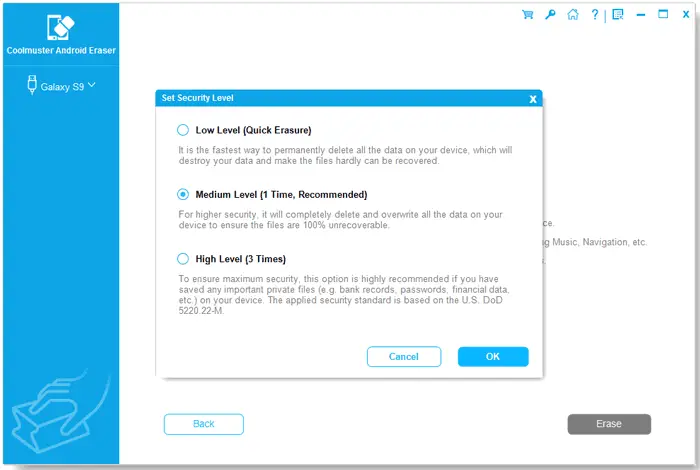 Step 3: Confirm Erasing Data
Type the "delete" word into the blank and tap the "Erase" icon on the interface. Then press the "Yes" option on Android for confirmation. It will start erasing files.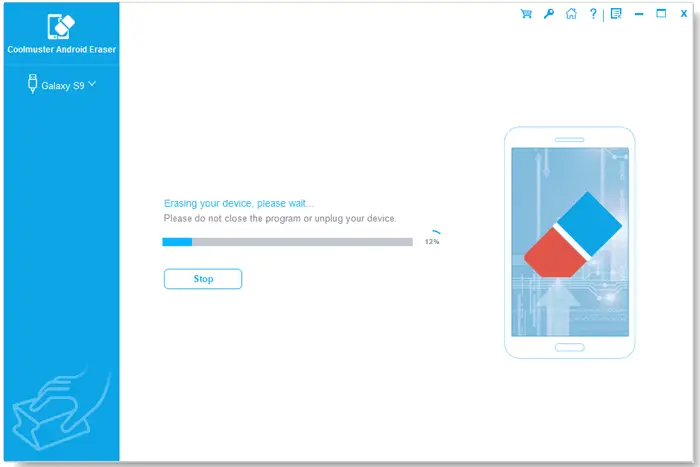 Conclusion
After learning these 2 solutions above, you can effortlessly erase your Android phone or tablet. Then trade or donate your Android phone or tablet without leaking information. Lastly, welcome to share your thoughts with us below.