Most of the time users start judging after reading the title, how is this possible to make an old phone feel new? Is it by changing its internal parts or replacing it with a new phone? But to be honest there's a big no to these questions. Through this article, you will come to know about various smartphone features. Which one should use to make their smartphone new as it was earlier or at the time after purchasing? I am not talking about any hardware changes to the phone. So let's talk about some standard problems an old smartphone user faces and how to fix those issues in seconds.
Fix the freezing screen problem in smartphones
This problem arises due to many reasons eg.
Over usage of smartphones: sometimes we use our phones too much, either purposely or being addicted to them.
Installing unnecessary apps from random unauthorized sites: unauthorized sites mostly contain bugs, glitches, and ransomewheres, which can be dangerous for the software. Be careful before installing any software, app, or theme. As nowadays phones send a warning message or notification popup regarding attention or asking permission to install from that particular site.
Using the phone while charging: One should avoid unnecessary use of a phone while charging for the short term. It's ok, but doing it on a regular basis will impact the battery's health and the phone's performance.
Poor maintenance: whenever we buy a new phone, we take care of it like a baby, but after days, we handle it roughly. Not only from the inside, to get a new phone's vibe, should be maintained from the outside too.
Split screen: It is a boon, but also one of the root causes of screen freezing as we provide multiple tasks to the device at the same time and on the same screen, so don't use a split screen just for fun until it's required.
Probably most of you were using android phones and may have faced this issue several times if the phone is a few years old, now the point is how to fix this issue.
Try to make your phone's RAM free, don't use multiple apps in a row, and also check whether any app is running in the background or not, if yes then remove it asap.
Remove all unwanted files from phone storage (RAM) and also from SD card storage (ROM) at least a margin of 4-5GB. Clear cache and data of all the apps!
If you are going to buy a new phone then go for a good processor along with other features as it plays an important role in your phone in the long run.
Try to use as few apps as you can, and update them regularly for smooth functioning.
Refresh or restart your phone more frequently.
Now if still your problem doesn't get resolved then Factory Reset your phone but before doing it, set a proper backup of your important documents, photos, etc. This will surely make your old phone feel new again.
Making it look attractive!
On the road to fixing software problems in android, we forget to make it look attractive from the outside too. No matter how fast your phone works but if the outer look is not good then you won't get the feeling of a new phone as it will reflect a dull effect. Basically what we all can do is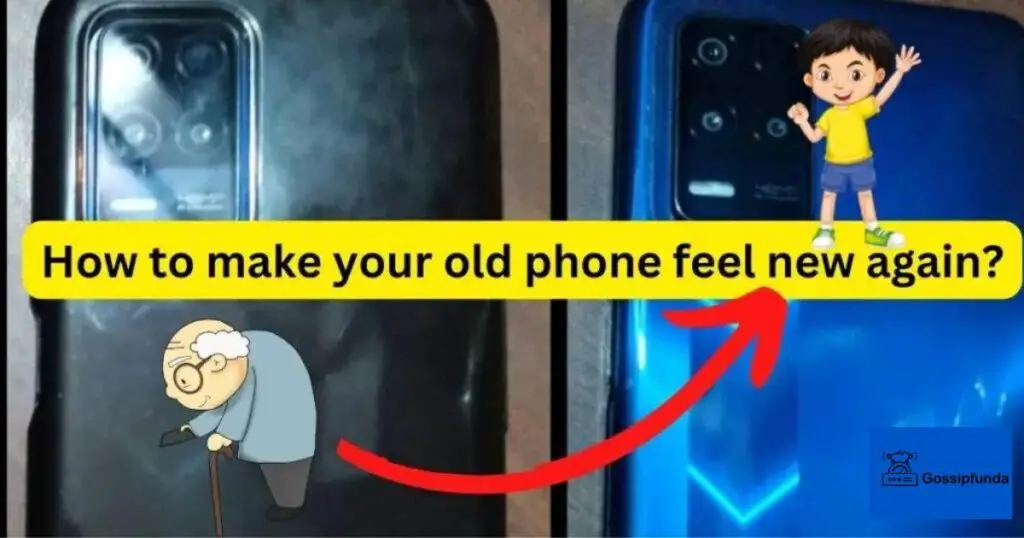 Changing the back cover of the phone if it's too old or if it doesn't suit your personality. Many times I have seen people using those old flip covers or transparent covers whose transparency fades away with time.
Try to change the tempered glass at frequent intervals as if there's any crack present or if its shine is no more.
If you have an old model phone whose battery is replaceable then do replace it from time to time for the proper functioning of other hardware parts and avoid overheating issues.
After all this, your phone will start functioning well. A few tips like avoid installing unnecessary cleaning apps or space-boosting apps. Rather than speeding, they will consume their space to resulting in unnecessary loads, or downloading 3rd party apps may lead to leaking your important data or inputting viruses harming your devices.
Usual mistakes you should avoid
While using smartphones we forget some basic rules to follow. Suppose you don't have the internet and you saw unlocked wifi, what will we all do? The answer is simple, without thinking for a second we will connect our device to the following wifi to use free internet. But in return, we may get viruses injected into our devices. These are some usual tricks used by hackers to slow your device or to have any important data captured. Secondly, don't insert any unused or unauthorized SD card to check what data it contains. As it may be harmful to your operating system and make the phone slow as hell.
If you are using an old model phone then go to settings > developer options. And check if there's any option for upgradation of storage. As it plays a key role in the functioning of the entire mechanism. being an android user I don't know many features about mac/apple but significantly more or fewer mechanisms and processes are similar.
Which phone to buy?
It depends on the requirement, budget, and needs of that person. Because there are people who can afford an iPhone, while some of them can even have an android phone. My recommendation for all the general audience would be a phone ranging from 12-16k. Which includes all basic and advanced features along with modern trends.
As this budget is reasonable for any user who is thinking of buying an android phone. Also not to rely on any one particular feature like only a good camera. Only a good processor, or only good storage, but we should go for a model consisting of all these features. Due to high competition and the arrival of many new brands, companies like Realme, Oppo, Samsung, etc had launched many new models at low prices consisting of numerous features.
I'm using Realme Narzo 30, with 6GB RAM, a good processor, and high camera quality with all good features at 15k. So try to get a good phone with all the top features! Which will help in smooth functioning & also give you a feel of new when it becomes old. One can also go for MotoG, Samsung, or Redmi, as they also have a high brand value.
How to use a phone efficiently
We all talk about how to speed up the phone! And how to make it look attractive! But we rarely talk about how to use it as everyone thinks it is a basic thing. We all know that it doesn't require any calculus to operate a phone. Maybe most of them would be right but in a long run we should take care of some steps like.
Avoid using the phone while charging.
Don't let your phone go below 15%.
If the device is of low budget or old, then avoid playing high VFX or storage games as they will drain the battery with double power.
Currently using Realme Narzo 30 5G, using from the past one year, very good experience, no lagging or freezing till now. And if you care about those small steps from starting then even after 5 years your phone will function much better than those who bought a few months back and used it roughly. Many of us ignore the system update which comes in the recommendation as either it is of 4-5GB and a usual monthly pack user get 1-2Gb per day data so they avoid updating which leads to being at older version and slowing down ultimately, so do update your software and operating system time to make your old phone feel to new. People having old models may visit cafes or smartphone showrooms to install a new operating system as there is no inbuilt or auto-update system present there.
For using more efficiently 
Don't download crazy, 3D, or any attractive wallpaper from unknown sites.
Change your wallpaper regularly to avoid that boring sensation.
Also, change ringtones, the caller tunes more frequently as it gives a feel of the new phone.
Avoid using different chargers multiple times, use the phone's own specified charger.
Having a separate account
If you will ask anyone, who is concerned about his/her phone. They will preferably say they have multipurpose accounts, one official and the other random. If you are an average google or internet user, you may have come across those sites which demand your details, like name, address, purpose, no./Gmail, etc. One should have a fake Gmail account to provide this data to all those sites from where you have to grab information but allow you to enter after signing in. 
One more benefit is, that you can turn off the notification of that particular Gmail. So you won't get any notification from any of those sites. And you will have your main personal Gmail traffic free from any type of spam mail and unwanted notifications. This will also reduce the task of the operating system. And the phone will continue to work at the same pace. And even after years, your old phone feels too new. A phone's health also depends on the amount of input it gets, so to maximize its performance one should use these tricks. 
How to make a fake Gmail account?
 A fake Gmail account is nothing but the same as usual emails without telling your information. The process is as follows
Go to android > Gmail.
Click on the top right corner ( if you have your Gmail active). And then on the 'Add another account option.
Then fill in the required details, not the actual one, in place of the name, and add any random name. 
It should not be of personal or professional use. Only register on those sites where you don't want to disclose your identity or any suspicious site.
Maybe in the future, more advanced technologies will be launched to make your phone more efficient and prominent. In this already advanced generation, every day new phones with a lot more new features are being produced. But still, they will be of no use if the user itself will use them carelessly. Along with phones, one should have good accessories, defective earphones, corrupted pen drives or USBs may damage your storage or network area. Leading to the downfall of phones' inbuilt quality. Many get scammed or influenced by some YT videos that use your android phone like an iPhone. And in search of this, they try to change some inbuilt features and developer options of android. So, avoid these mistakes to make your old phone feel new.
Is updating software worth it?
Suppose you bought a car in 1996, and in 2022 you still don't own any other car. So what are the things you would be compromising on? Safety features, suspension features, brand values, design, etc. In the same case, one should update his/her phone timely to introduce all safety features, mechanisms, etc. 
Mistakes we as a user make are avoiding updating the system or software. Problems you may face after not updating the software are as 
This can be serious sometimes when any antivirus software updates get ignored. This may further lead to getting attacked by that virus damaging the core system.
An update can be storage related too. And if the phone is old then ignoring that may create problems in working and can be a major cause of screen freezing.
You may lack many seasonal useful features too. Which were not inbuilt and can be used to decrease workload like new themes, or any feature in ms word or WordPress.
Conclusion
These are not the only ways through which we can make our old phones feel new again. Individuals can also have many features like rebooting, Refreshing after every task, and using not more than two apps parallelly. If the problem seems to be big, then rather than becoming a self-engineer, we may go to any store or call our device customer care. And state the issue, as it's the most prominent way of having any issue resolved in minutes.
If the device is of more than seven years, then I'll recommend having a new device. As smartphones are made high functioning, so due to daily use up to 7 years. Even after using it with care, the device can lose its potential.