You must have seen iPhone users flexing these days because of some special features of the iPhone which makes it look different from android. Getting bored with android features? You must feel jealous of those iPhone users. Do you want some android features and its operating system to get combined with iOS features? Yes, there are some tips and tricks on How to make your Android Phone work like iPhone.
There are some tips by which you can feel like an iPhone user. In this era, it is easy to get an iOS experience without buying an iPhone. If you are bored with your android and want to customize it and want to make it look astonishing then make it look like an iPhone.
You can easily personalize your android's widgets on the home screen like an iPhone. You can change your android's messages, calendar, calculators, music, widgets, icon pack, lock screen, and enjoy the iPhone's messages, calculator, calendar, and music. And you can change the way your notifications are shown as well. The iPhone has various designs that attract the user. So, it doesn't matter whether you have an iPhone or not because nowadays there are so many launchers that you can completely heal your android and enjoy the iPhone.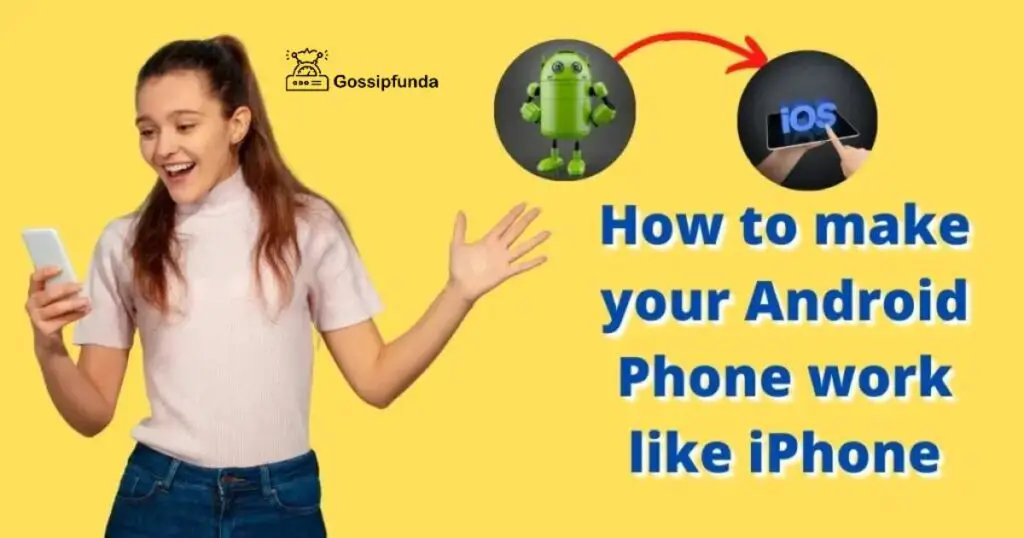 There are plenty of applications available nowadays which can help you to do this but a maximum of two or three third-party apps are enough to make your android look like an iPhone. And, the best thing is that you can install these types of applications and launchers in any of your androids whether it is Xiaomi, Samsung, One plus, etc.
Through this article, I will explain to you in brief how to customize your android by applying some tips and tricks by which you can also flex to some extent. So, without wasting much more time on this, let's have a look at the launcher and some applications through which you can enjoy things like an iPhone.
Install iOS icon packs
You can now easily download or install iOS icon packs available from the Google Play Store as per your choice. For example, if you want your icon to look like that of the iPhone 13 then search for "iOS 13 icon pack". Similarly, if you want to install the icon pack for iPhone 12 then look for "iOS 12 icon pack".
This pack includes iOS settings, calendar, calculators, camera, google play, gallery, weather, and many things. It has 2000+ HD icons, matching HD wallpaper and a dark mode included.
Install iOS launcher
Start by deciding which version of the launcher you needed. Let's talk about the iPhone about iPhone 13. Search for "iPhone 13 launcher" in Google Play Store, and install it. After installing, it will ask you to allow some permissions, read them carefully before allowing anything. Your home screen icons will now look like an iPhone. The order of widgets will also change.
You will also observe some shortcuts to a few applications by sliding the left panel. Also, you can delete and add app shortcuts of your choice such as contacts, weather, settings, etc. This app also changes our phone's lock screen which displays the passcode to that of the iPhone. Moreover, you can change the settings of this launcher and adjust stuff like wallpaper, lock screen, and many more. It also has smart toggles for the flashlight etc.
Install iMusic
If you want to make the music player also look like iPhone iMusic then install the "imusic player". This will also give a feel of an iPhone's music. The iOS Apple music app will allow you to edit a smart playlist. You can also adjust the sleep timer for setting off the music alarm and an equalizer from this.
It will change your display screen to that of iOS 14. If you want to repeat or shuffle the music you can go to the same app and see the three dots available on the left top corner of your screen, click on it you will get multiple options. You can also find the music of your own choices like romantic, hip-hop, classical, and many more from the search bar. One of the coolest features of iMusic is that you can get your favorite lyrics offline.
Install iCalendar
This is the one calendar you've probably always needed. It's easy to study and read and has a very genuine and kind basic design. By using this anyone can easily trace their upcoming events as well as their busy schedule. Google calendar is easily compatible with it. In this, you can give a color to different events. It also supports a map view and many different languages.
You can add public holidays of many countries around the world, and weekend colors. You can also customize notifications and also you can adjust the mode of your calendar according to your own choice. (Dark mode/Light mode). So, install it quickly.
Install iCalculator
This is another amazing way of converting your android to an iPhone. For installing this go to Google Play Store and search for " iCalculator ", and install it.
It saves our calculation history.
iCalculator has rounded number buttons with different types of colors.
It also has graphic features, and can also easily perform various types of conversions.
Different functions like M+, M, MR, and MC are also available in it which makes your calculation much easier and smarter.
Moreover, the square formula's parentheses and simple scientific operations can be made. It automatically calculates using the real-time exchange rate. It also supports length, width, volume, time, pressure, speed, and many more.
Install iOS notification
It helps in appearing notifications on your home screen. You can also control the setting of flashing lights, volume controls, BT, Wi-fi, etc. from this. Also, You can enable or disable the vibration during incoming notifications. You can choose where on the home screen you want your notifications to get displayed. Plus, You can customize this app setting on your own. Enjoy your incoming notifications !!
Install Control center
You can redesign your android's control center by installing the control center of iOS. This application allows you to access your control center by the bottom of the screen, and swipe your fingers from bottom to top. It will help your android enjoy the control centers of the iPhone.
You can control the position of the control center whether you want these controls to appear on the top, bottom, right, or left on your home screen. It gives you advanced options like size and color options. It also gives you the option of changing background to default, transparent, current, and screen blur behind. One can also record setup. It has music control, vibration control, and the type of language of your choice.
Install iCall dialer
To install, search for "iOS icon dialer" in Google Play Store. Allow some permissions required. Its keypad has rounded number buttons. You can add your favorite contact as per your need in this. Can check the received calls and missed calls separately. You are allowed to control its settings. It gives you an advanced feature of "Flash on call" . This phone will flash whenever you get a call. You can personalize the call screen and keypad wallpaper.
It has various options for call button styles. iOS also has an option for changing button style with its color option. You can color the buttons of the keypad as per your choice.
Install iRingtone
You can enjoy using iPhone ringtones by installing iRingtone on your android. You can search for "Ringtones for iPhone". This app allows you to set your iPhone ringtone, notification tone, and wallpaper as per your choice.
Install iCamera
You can install "iCamera phone 13 iOS 15" from the Play store. This app is good for those who want to take better selfies, add a filter camera HD to make it more dramatic. It is a very unique, basic, and simple design. It's a wonderful application with an interactive interface.
It supports square mode and provides a quick square photo-taking function. It customizes mirror mode selfie cameras. With dual-camera support, it can switch between your rear camera and front camera easily. It has in-built HDR image processing, which helps to take a better photo even in backlight. You can enjoy using real-time filters, face detection, and a simple and clean UI.
Install iWallpaper
By installing "Wallpaper for iPhone 13" you can download and apply free iWallpapers. This contains beautiful crystal clear high-quality wallpapers for your phone. With the help of this application, you can enjoy using wallpapers like love, motivational, music, nature, and many more can be downloaded !!
Install iKeyboard
You can also install "iKeyboard". This app provides you with an iPhone keyboard. It also has in-built iPhone emoji. You can also personalize the keyboard by choosing your favorite theme. This provides you with an excellent typing experience and will make your phone smart and more beautiful.
It has a fancy cool iPhone font keyboard. It is built with smart gestures. You will be able to do fast and smart typing. It also has a voice typing keyboard and an amazing feature that will show related gifs related to whatever we speak. It also has a feature by which we have to speak our sentence and it will be automatically displayed there. Fast typing auto-correction is also provided. Very smooth and smart suggestive gesture. It supports iPhone 11 Pro, and iPhone 11 pro max voice input. This stylish iKeyboard can turn our old Android into an iPhone.
Install iMessage
By installing this "iMessage" you can feel like an iPhone. It has a wonderful user interface.  You can frequently share messages through it. This app comes up with a dark theme. It has an interface and features like iPhone 14. You can easily send any message, or add, and delete messages conveniently. It has a fast dialer search by contacts. It pins important messages. This supports many languages.
Conclusion
Coming to end, Now I hope that you must have understood the features of all iOS applications. Most of these are third-party apps so you have to allow some permissions like location, drawing over other apps, etc. With these free applications, you can easily customize or personalize your android like your iPhone.
You can't make your phone look like that of an iPhone but at least you can enjoy its few amazing features and its colorful designs.
FAQs
How to transfer android calendar data to iOS?
You can now easily transfer your android calendar data to iOS by just connecting your google account to iOS. For connecting your google account to iOS go to settings click on account and password go to add account then click google and login into your account. Now, you will see a calendar option, toggle that bar to switch on from left to right and tap on save.
How to enjoy various gestures in iOS?
For checking notifications, you can swipe down the screen from the top.
If you want to search any app then swipe down from the middle of the screen.
If you want to go to the home screen then swipe down from the bottom of the screen.
How to fix "Move to iOS" not working?
Move to iOS is an application by which you can migrate or transfer your android data like photos and videos to an iPhone easily. If it is not working then you can fix it by trying these steps  –
Reboot your device
Kindly check your network connections
Switch on Airplane mode
If you are transferring more data from your android to an iPhone then it will take more time for transferring.