Do you face difficulties while pointing out in your large tab? Are you trying to prepare your stylus? Is affording a stylus expensive?  Interested to do yourself?  Check out three different methods to do a stylus. Know all the details about stylus and the science behind its working. Analyze the uses of an electronic stylus and make yours fit to do nearly all its functions.  Keep your craft kit ready.
What is a stylus?
A stylus is an input tool for touchscreen-enabled devices. Nowadays, we see some styluses with phone tuck-ins and with tablets. The touchscreen of the digitizer detects the tip position of the stylus. This method is called as pen computing.
How to make a stylus at home?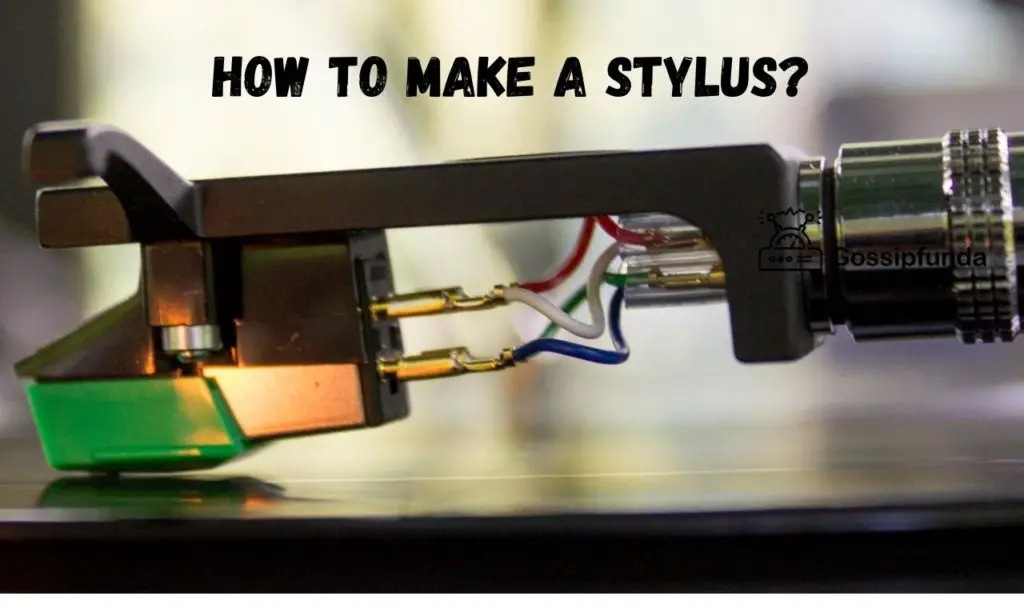 Quality measurements:  
If you are interested to do your stylus in your home, with simple materials, then you need to consider certain factors that will help you to increase comfort and efficiency while using it.
Comfort:  If the nib of a stylus is smooth and elegant, it can provide comfort to the user.  If not, it may harm the screen and user's experience of writing as well.  That's why cotton or a sponge is used in a DIY stylus usually.
Resistance:  If you use a DIY stylus, then you need to stimulate it often with small droplets of water.  Missing to do this procedure will decrease its resistance.
Balance and weight:  Using a weightless stylus can feel like writing with a small stick.  It can save energy too.  But few people will not be interested to hold a thin stick as an input device.  If you wish to use a thick stylus, then select a weighted ballpoint pen; or else using a stick pen is much selective.
Precision:  Accuracy is crucial for the usage of stylus.  Losing it will produce no use in its formation.  Try to frame an accurate pointer in it.
How to make a stylus using pen
Materials required:  pen, paper clip, sponge/cotton bud.
Tools needed: Scissors, low-powered electric screwdriver, or even tape is enough.
Procedures:
In the pen which you have chosen, remove the ink cartridge from the plastic valve.
Insert the cotton bud or sponge.
If you wish to use a cotton bud, then cut it with a plastic tip. The plastic tip should be fit enough to get inserted into the hole of the pen. So, cut accordingly.
Now insert it in the small hole at the writing edge of the pen. The cotton part should act as a nib of it. Stick the plastic part with the pen using tape.
Or if you are using the sponge, then wedge off it into a small portion.  It should well fit into the nib.  Insert wedged sponge in the nib as if the middle part of it can be used to write. Stick it using a tape.
Roll the aluminum foil from nib to the middle part of the pen.  Ensure that your hand and foil have good contact.  This is to continue electric current passage from your palm to cotton roll/sponge.
Spray very little drop of water at the tip of cotton or sponge.  As water is a good conductor of electricity, an electric current passed from your hand can flow through the foil.  Then it reaches cotton and water grasps the current and sends it to the tab's touchscreen.
 When making a stylus using a pen, you can use even a copper wire instead of aluminum foil.  But it won't satisfy the same comfort as such using foil rolled one.  Before inserting cotton roll in the nib hole, do this step. Not a big process, just extract one stripe of copper wire from plastic cover.  It should be long enough to reach both ends of a pen. Insert one end in the nib hole and another at another end. Now, you can insert cotton and use it.  
How to make a stylus using a pencil
Take an earbud and cut the cotton roll holding a small part of the holder with it.  Keep it aside.  
Sharpen your pencil well, so that it can hold the plastic tip of the earbud.
Insert the earbud into the nib of the pencil.
Patch it up using tape.
Roll it using aluminum foil from the nib to the middle part of the pencil.  (to ensure current flow)
How to make a stylus using an earbud
Cut the aluminum foil in a square shape.  (it should match the size of the plastic stripe in the bud)
Now, just roll it from one end to another.  Ensure that it is touched to cotton.
This bud stylus has limitations.  It can be used as a crayon or for simple purposes.  Many people will feel uncomfortable using a small stylus.  As a crayon-like-pencil, it is good enough.
Devices in which stylus is used:
Computers
Smartphones
Graphic tablets
Personal digital assistants
Game consoles
Uses:
For accurate navigation: To point out certain options accurately in the PCs, such devices are used.
Handwriting/drawing in graphic tablets.
Models of electric styluses
MS Pen protocol
Wacom AES 1.0&2.0
Wacom EMR
Universal stylus initiative (USI).
Apple pencil active projected capacitive (APC).
Microsoft Surface Pen, Samsung s-pen, Google pixel book pen, apple pencil.
The best electronic stylus in 2020
Apple Pencil (1st generation) & Apple pencil (2nd generation) – It's an expensive one, but worthy of the price.
Adonit mark stylus – This one is cost-efficient and also gives you good output.
Types of stylus
Active stylus
These styluses are made with different procedures by different manufacturers, so they cannot mention specifically. But the materials used will be only digital components.
Capacitive stylus
This has a majority of plastic, and its tip should be made of conductive materials. The tip of a stylus should be an absorbent of the electrostatic field. This type of stylus with on both resistive screens and surface acoustic wave screens.
Features of the capacitive stylus:
It contains a removable or chargeable battery, which could increase the affordability and ease of access.
Palm detection is a salient feature of the stylus. The active stylus is more special in it.
Existence of programmable buttons: availability of various options to increase your way of usage is a boon.
Erasing tool
Surface acoustic waves
The term "surface acoustic wave" was first coined by Rayleigh in 1885. This process works through acoustic waves. Acoustic waves are which are raised out of energy exerted by adiabatic compression and decompression.
Working:
In a tablet's screen, sound wave reflectors are placed at the edges of glasses; two transducers are fixed at two corners in such a way that parallel waves occur. At the same time, two receivers are placed at opposite corners. Whenever a sound wave occurs, transducers observe it and transmit to the receivers.
Now, analyzing how the stylus enables writing on an iPad will help us to be more acknowledged about its functions and design a home-made one accordingly.
Touchscreen functions
Before analyzing deeply about the working of the iPad, it's better to understand the touchscreen functions.
Resistive touch screens:
Resistive screens comprises of two conductive layers compiled inside the screen. Now, when the user taps on the top layer of the screen forcefully, it will create contact with the next layer, which will point out the space of the touch screen.
When we use a device with a resistive screen, we need to act on some force towards it. This is an outdated screen usage. As this screen is double-layered, the visual quality is deduced.
Capacitive touch screens:
Unlikely to resistive screen, this one uses variations in the electric current passage. Capacitive screens are present in updated smartphones, which tend to expect the very little amount of electricity present in the human body.
So, in no way, it affects the health of the user. You cannot a non-conductive tool towards this screen as it requires electricity. Additionally, we can experience a better visual quality as it is just a single-layered one.
Touchscreen haptics
Keep the display clean
Try to stay away from background apps
Calibration tools
When you do a google search about how stylus works on a tablet's screen, the answers would be "digitization."
Digitization
Digitization refers to the conversion of analog information such as text, image, or sound into digital format for storage, transmission, and computer processing. The tools used for this process is called a digitizer. Such digitizers are compiled in tablets, which helps for the transfer of written data.
Types of digitizer
Digitizers differ according to their functions. There are numerous updates digitizers compiled in graphic tabs. To grasp an idea about such a tool, below mentioned types are given.
Passive digitizer: These digitizers will accept input only from a plastic stylus or a capacitive stylus.
Active digitizer: Such tools have pen detection methodologies to help palm rejection. It is comprised of a sensor grid enclosed with a display.
Dual digitizer: This type accepts both stylus and finger usage. Here, fingers are detected by the Graphical user interface.
Commercial capacitive screens: They are mostly seen in payment terminals everywhere connected to a stylus comprising a conductive wire.
Stylus and screens
Using a stylus in screens will have zero effect on the display screens. Graphic tablets with LCD, LED, and OLED has no relationship with the stylus used in it.
Graphic tabs
Understanding the graphic tabs which are the field where the stylus acts are essential. It is an input device used for hand drawings, animations, and graphics development.
Characterization of a graphic tab
Size of device
Drawing area
Resolution size
Pressure sensitivity level
Number of buttons available
The number of interfaces usable like Bluetooth and USB.
Types of tabs
Active tabs: These tabs detect signals from the stylus pens.
Optical tabs: Optical tabs are usually sold with stylus pairs. They have a very small digital camera in the stylus. Also, it does pattern verification. For example,
Acoustic tabs: Early models of these tabs are called as spark tabs. A tiny sound generator is mounted in the stylus. It can read the position in three dimensions.
Capacitive tabs: These tabs are designed to use electrostatic signals for capturing the written content. For example, Scriptel's designs design only such graphic tabs. Many such multi-touch tabs use capacitive sensing.
Anoto digital pen
Anoto is a Swedish cloud-based software based on dot pattern technology, which is patented for the firm. The methodology of observing digital data from analog inputs is used.
This pen combines an ink pen, digital camera, digital recorder. The nature of the pattern used in it is usually non-recurring. The dots used in this technology is printed in an offset printing press or a laser printer. Only black dots are used here as other colors are invisible to the IR sensor. CMY is mixed to receive an output oof black color. Also, this company produces an optical scan voting system.
Users of styluses
Artistic world: people use it to enhance their editing abilities in software such as Illustrator, CorelDraw, and photoshop.
Photographers: Their post-processing works will speed up with the help of graphic tabs.
Educators: Tasks in classes are projected via graphic tabs for easy visibility. Live tutorials make use of it. Students use it for note-taking.
Technical drawings or CAD: It becomes a more manageable task of inserting a paper.
These graphic tabs can determine the distance in which the stylus is present. Also, without even touching the stylus, it tends to find.
Recent updates
A6-relatively inexpensive one; A3-more expensive.
Advantages of a stylus
Large screen disabilities: Using a bigger screen seems like a visual treat for your entertainment purposes, but it's a great headache to use it as a keyboard.
No more issues with wet hands: Your wet hand issues in your gym and colder places are solved now.
Clean usage: People who suffer from OCD will see this as a great relief as it will reduce contact with gadgets, and safer feel will have arisen.
Added creativity: Extra precision accessible in the device will help you to mold your creativity more.
Fits all hand sizes: Gives us comfort while writing by fitting with our hand sizes.
Disadvantages of a stylus
Expensiveness
Low compatibility
Particular app support
Pros and cons of specific styluses
Capacitive stylus
So, this is all about a stylus. Updated technologies help us to feel an ease-of-access in our life.  Updating and acknowledging that will offer a higher standard of living in our lives.