Steve Jobs unveiled the first, original iPhone back on June 29, 2007, almost 15 years from now. Since then, the iPhone has evolved a lot, both in terms of technology and newer generation models. It has released in total over a dozen iPhones over different generations. Some of these models are fairly distinguishable over others. iPhone X may seem visibly different from iPhone 11 for example, but iPhone 6 from a model 7 may not look different for a person who doesn't follow the company that lot. This article can help you with methods on how to find out what iPhone you have.
Although you might be an iPhone user for some time, you may not know the model of iPhone that you are currently using. Especially if you didn't happen to buy your phone yourself. Even experienced users might not be able to tell the various iPhone models apart that easily. Every newer generation iPhone model may not always launch with significant design changes. They would just be packing the significant changes inside, such as faster chipsets, battery upgrades, complex cameras, etc.
Why is it difficult to find out?
iPhones used to come with the model name etched into their case earlier, which could help the user to identify the model. But now Apple has stopped even the "Designed in California" engraving on the case back. That has made it yet more difficult for a non-religious Apple follower to figure out the model. Thus, for those users who don't attend or follow Apple keynotes, the event where Apple unveils its newer offerings, it can be pretty difficult to be informed about the different models that debuted in 2007.
And this could be a problem during scenarios where you want to figure out what iPhone you have. Especially during situations such as, trying to sell your current model or alternatively thinking of buying a used one. In both cases, being aware of the model helps you research the various configurations, specifications, and compatibilities of the iPhone. This goes the same for scenarios where you want to know your iPhone model to check iOS update compatibility. Because only certain later models are compatible with the latest iOS version.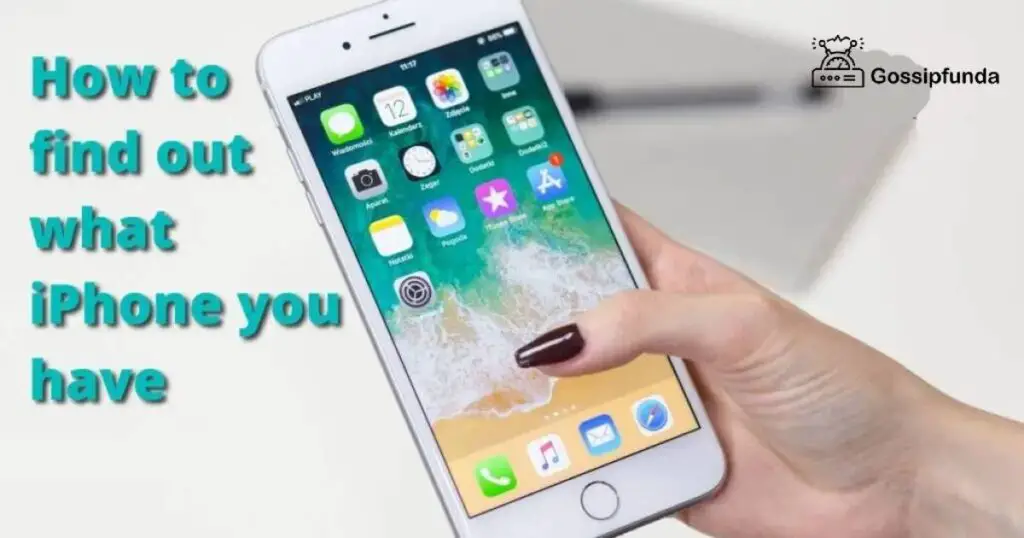 What iPhone do I have?
If you are facing the same dilemma, we can help you out. Finding out the model is pretty simple. Although there are multiple ways to go about it. iOS 10.3 was the first version that came out with the feature of viewing your model from Settings. Before this version, ie iOS 10.2.1 or older, you have to find the model number. Each number is assigned to each generation. For both these cases, we have listed the following steps to figure out yourself what iPhone you have.
So for models from iPhone 5 to the latest ones, if you have updated to iOS 10.3 or later, the process is pretty simple. You can head over to your Settings and check the model. And for older models, you can check for the physical model number. Each model is assigned its own "A" model number, which could be used to figure out the model. Don't worry, in both these cases, we will guide you through the steps to getting to know your iPhone model.
Method 1: From Settings App
This is the easiest and quickest way to figure out your iPhone model. And as discussed, this works for recent models from iPhone 5, provided it has an iOS 10.3 or later. And this works throughout all the recent models, whether it's the latest iPhone 13 or an iPhone SE.
Go over to Settings App.
Tap on General > About.
The About page gives you general information about the iOS version, storage capacity, model number, etc. Note: You can use these details if you are planning to sell your current iPhone model.
For models running iOS 12.2 or later, you can view the model name here on the third line.
To find older iOS version iPhone models.
After navigating to General > About, you will view a model number underneath the model name.
This is the SKU code, starting typically with an M or N.
Tapping on this code, you will see it gets replaced by another number.
This is the actual model number starting with an A.
These numbers represent each generation. You can use this number to find out what iPhone model you have. You can do this by skipping over the second method and going over to the models' list. Then match your number to the corresponding iPhone iteration.
Method 2: Model number etched onto the device
One of the direct ways to figure out your iPhone model is to check the model number etched on your device. You can check by looking for a number starting with the letter A. And later match this number with the list given in the next section. This also has an added advantage. You can perform this check with the phone switched off. But this method is only applicable for models till iPhone 7. Since then Apple has stopped printing A numbers on the back.
How to find this number?
You can simply flip your phone to find this iPhone model number printed on the phone back. Please note that this identification number is printed in small size and may sometimes need a magnifying glass. This number is labeled "Model" and starts with the letter "A". For example, "A1214".
By your SIM tray
Another place to find this iPhone model number is by your iPhone's SIM tray. For this, a magnifying glass is highly recommended, as it would be hard for a naked eye. In this method, you should pop out your SIM tray using any handy tools. And if you look closely, you can find the number by the slot where the SIM fits.
Method 3: Visual Inspection
Did none of the above-mentioned methods work for you? Do you still wonder how to find the iPhone model you have? Or do you simply don't have the phone with you right now? Still, be not worried, we have got you covered. We have provided below the descriptions of every model iPhone ever launched. You compare the information and identify your model. You can use this especially to identify bricked devices or to compare with the other models too.
Expected Models List of iPhones you may have
Every iPhone model and their respective model numbers are listed below, You can use this list to match the model number when you find an iPhone model. It starts with the latest model to the oldest in decreasing order of generation.
Series 13 iPhones
iPhone 13
Launched in 2021, has the same design features as its predecessor iPhone 12. Comes with a glass back, squared edges and. Houses are a notch at the top of the display equipped with Face ID and a 6.1-inch display. A distinguishable feature of this model from the iPhone 12, is its main camera configuration. Two of the lenses are positioned diagonally to each other. It comes in colors purple, red, green, blue, white and black.
iPhone 13 mini
It is the smaller version of the iPhone 13 and is visually similar but smaller in size. It has a 5.4-inch display and comes in starlight, midnight, pink, red, blue, and green color variants.
iPhone 13 Pro
As the name suggests this is the larger sibling to iPhone 13. And comes with almost identical features including sharing a few color variants. But there are a few features you can look out for. Especially the smaller top-notch in display and the camera housing. This setup at the back takes up less space than it did in the previous generation. It comes in Gold, Silver, Sierra Blue, Graphite, and Alpine Green and has a 6.1-inch super retina display.
iPhone 13 Pro Max
This is the maker's flagship model, equipped with top-of-the-line specs and features.  You can identify this with the 6.7 huge-inch display.  The rear panel comes in textured matt glass with a  triple camera array. It comes in colors of new green and lighter sierra blue, unlike the iPhone 12 Pro Max.
Series 12 iPhones
iPhone 12
Launched in 2020, like all the other 12 series phones, this had sharp, squared-off edges rather than the curved edges seen on the previous models. Houses a 6.1-inch display and 2 camera rear camera setup. This model comes in light green, dark blue, black, white, red, and purple variants.  The key difference between an iPhone 12 and 13 is its camera layout, one on top of the other.  
iPhone 12 mini
Same design as that of the 12 but in a smaller package with a 5.4-inch screen. Equips glass as the rear case and has a larger square camera module to the left.
iPhone 12 Pro
This is the 6.1-inch screen version of the 12 series with a triple camera setup. This model came in gold, black, silver/white, and dark blue versions. The rear camera setup is smaller than that of the iPhone 13 Pro.
Series 11 iPhones
iPhone 11
Launched in 2019 along with the other models in the 11 series. This was a budget-friendly version in the lot and came with a distinguishable LCD display and a two-camera setup at the rear. This was launched with a black, green, yellow, white, purple, and red version with a plastic rather than a glass casing.
iPhone 11 Pro
iPhone 11 Pro has very notable differences from that of the iPhone 11. 11 Pro is equipped with the first three camera setup at the rear and has a 5.8-inch screen and measures 144mm x 71.4mm in dimensions.
iPhone 11 Pro Max
This is the bigger version of the iPhone 11 Pro model. This model is bigger than the rest and measures 158mm x 77.8 mm in dimensions.
Series X iPhones
This was the first series to lose the home button and followed an infinity display.
iPhone XR
The only model in this bunch to have just one camera and a non-retina display.
iPhone X
The iPhone X was the first iPhone to have its display extending down almost to the bottom of the chassis and a two-camera setup. Two color options were available – silver and Space Gray. 
iPhone Xs
This was the identical but slightly upgraded version of the iPhone X but came in yellow, Coral, black, white, blue, and red.
iPhone XS Max
Quite distinguishable by its massive size, and a 6.5-inch display. This was the largest of the series. Came in three color options silver, gold, and Space Gray.
Series SE iPhones
iPhone SE (3rd Generation)
This is the third generation of the budget model iPhone SE. Similar to other SEs it comes with a home button and a 4.7-inch LCD display. But comes in little toned-down versions of existing color variants. 
iPhone SE (2nd Generation)
Apple revived the popular SE in 2020 but came in a compact version of the original SE first generation version. 
iPhone SE (2016)
This is the original version of series SE. Had the same design elements as model 5s and had an SE stamp at the rear.
Series 8 iPhones
iPhone 8
Looks a lot like an iPhone 7, this was from the last series to have a physical home button other than the updated SE versions. This was the first iPhone to lose the headphone jack. It came with a glass back.
iPhone 8 Plus
Although similar to iPhone 7 plus, this model had a 5.5-inch display and a twin-lens camera lifted slightly from the back without a headphone jack.
Rest of the series
The rest of the series from iPhone 7 to the original first generation iPhone came with a material at the back other than non-engraved glass such as aluminum till series 5 and later, plastic for 5c, glass for series 4, and then plastic again for series 3 and the original model.
The models in this series except for 7 and the original first model came with an S model which was an upgraded version of the original. The best part about these series is that they all came with their model names engraved on the back and are thus easily identifiable.
Conclusion
If you still couldn't figure out the issue due to any reason whatsoever and still can't figure out how to find out what iPhone you have, you still have a few options. You can take it to the nearest Apple showroom or ask a religious Apple follower to help you out. Or if you wanna do it your own, you can refer to the videos on the internet showcasing different models.
FAQs
How can I update my iOS version?
You can do this by going over to Settings App > General > Software Update. Make sure your iPhone model is compatible with the latest version and has enough storage to install it.
Can I sell my iPhone back to Apple?
You cannot sell your iPhone as such back to Apple for money. But can exchange with the company for instant credit towards a newer iPhone model on the market. You can do this by reaching out to an authorized Apple dealer.
Does my iPhone support 4G?
To find out, go over to Settings > General > Cellular. Here you can see an option to enable 4G LTE if your model supports it. Models from iPhone 4 and older do not support 4G features.