Nowadays everyone is prone to keep a screen lock on their android phone. Everybody, irrespective of the kind of information stored in their phone, wants to lock their system out. Maybe this lock was done with the mere thought of just protecting your device and files from strangers. However, have you ever thought about what would happen if this lock would eventually become a curse for you? In this article, we will talk about How to factory reset an android phone when locked.
The most irritating and mind-baffling thing that can happen to an android user is this curse only. And we are talking about being locked out of your phone itself. Either due to forgetting your password or due to some system glitch. In dilemmas like this, no primitive mind can stay calm. Everyone reacts in an erratic way. How will I access my photos? How will I access my contacts, etc.? You might be thinking of performing a factory reset of your android phone.
Well, if you do, then worry no more, because after reading this article, you might get what you want. Here, we have discussed some facts and also different ways 'how to factory reset an android phone when locked?' Thus, readers are suggested to read the article till the end to get complete knowledge of the same.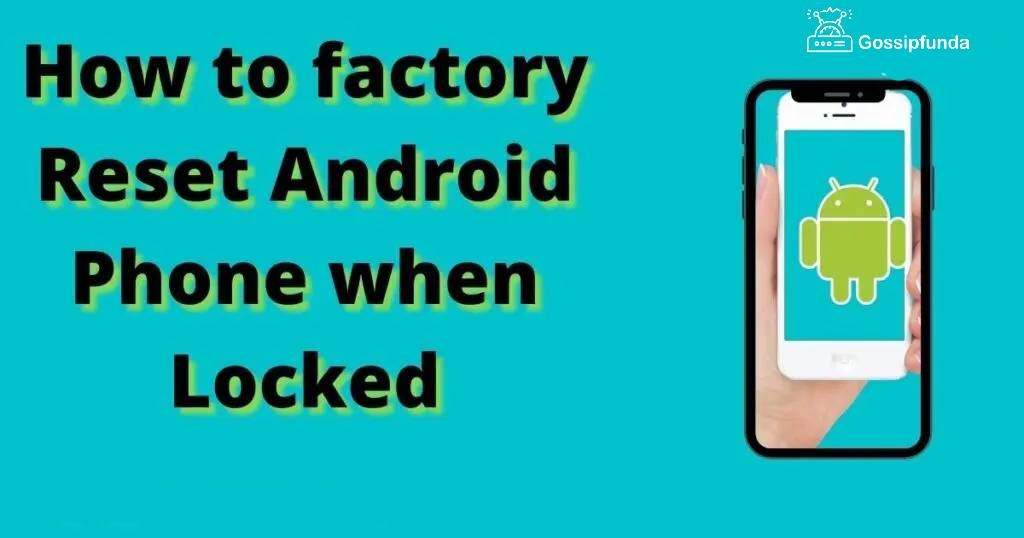 Is it even doable?
Well, this is the first question that arises when you are stuck in a situation like this. And this question is worth asking as this is what the situation is all about. That we cannot access our phone due to some unavoidable issues. And factory reset can only be done when you can access your Settings. So, is it even possible to factory reset your android phone when locked?
And the answer is yes! Yes, you can factory reset your android phone when locked for sure. This feature is introduced by android just to ensure that no one is locked out of their phone. As there can't be any worst-case scenario than that. But this method has only one pro and many cons. This method can be used for malpractice. Also, this process includes a hard reset, and doing that will clear all your files, data, settings, etc. That technically means that you need to start everything from the scratch. From syncing contacts to saving pictures, etc. From downloading all the apps to organizing all the apps all over again. 
But, before doing this, it is a note to all the readers to get a backup immediately to prevent hastening in such situations. Having an external backup or cloud backup is very important. If you have a backup, then it's completely fine. But if you don't then make sure this reset is very urgent and necessary to you being the last option. Now that we have bestowed the warning, let's discuss how to factory reset an android phone when locked.
How to factory reset a locked android phone?
Factory Reset Locked Android Phone Manually
This is the easiest way among all if you want to factory reset your locked phone. The steps below will guide you through this:
Step 1: Press and hold the Power and Volume Down buttons simultaneously.
Step 2: You will see a fast boot menu on the screen.
Step 3: Use your Volume Up and Volume Down buttons to move the cursor to select the Recovery Mode option.
Step 4: Then click on the Power button and select Recovery mode.
Step 5: Now, press the Power button for a few seconds.
Step 6: Then click on the Volume Up button.
Step 7: Now navigate to Wipe Data through volume keys and press the Power button to choose. 
Step 8: Then highlight the YES option using bottoms and then select it using the Power button.
This will make your phone reset after the boot is finished.
How to Reset Samsung Phone if Locked?
Well, as we know there is a large audience out there that uses Samsung phones. And Samsung has specified features to tackle this situation of locked phones. For this, you can use the option of "Find My Mobile". If you don't remember PIN/Pattern/Password and need to wipe your Samsung phone when locked. You can follow the steps below for the same:
Step 1: Connect your Samsung phone to your PC through a USB cable.
Step 2: Launch a web browser on the PC and go to the Find My Mobile website.
Step 3: Sign in to your Samsung Account by entering your credentials.
Step 4: Select the "Unlock" option on the screen prompt.
Step 5: Click 'Unlock', then enter your password and select Next.
This procedure will reset and unlock your Samsung phone and will give you access to it.
Reset Android Phone through Android Device Manager:
Android Device Manager is a feature by Google LLC generally used to unlock your android phone. It can unlock your phone irrespective of any reason why it is locked. It has several options too including "Run It", "Lock it", and "Wipe it" according to the user. This app is highly used in scenarios when your phone is stolen or lost. But here we are discussing points on how to reset an android phone when it is locked. And this issue can also be resolved by this. The following steps explain how to wipe an Android phone when locked using ADM:
Step 1: First of all, visit Android Device Manager on your PC.
Step 2: Log in with your Google credentials. This should be the same as it was in your locked phone.
Step 3: Now, choose your phone/device from the on-screen prompt. Then choose "Lock".
Step 4: Now, enter a temporary password and choose Lock again.
Step 5: A confirmation message appears showing several options like Ring, Lock, and Erase.
Step 6: Here you need to enter the temporary password again in the required field.
Step 7: Just click on Erase and all your data and files will be cleared from the device. 
When you open your phone now, it will be rebooted already and will be as new to use.
How to Factory Reset Locked Android Phone using Google Account:
This method is the simplest way to unlock your phone. There are prerequisites to this method and they are: i) the Android Phone should be running 4.4 or below and ii) It should have a built-in "Forgot Pattern" feature. We can simply bypass the lock system using the Forgot Pattern method. The best part about this method is that you won't need to erase a single piece of data from the phone. However, we need to explain the steps to the users to make this doable and easy for them. And the steps follow:
Step 1: Open your phone's lock screen.
Step 2: Type in wrong passwords and enter false PINs or patterns intentionally. The phone will show "Forgot Password" after 5 or more failed logins. 
Step 3: Just tap on the option of Forgot Password.
Step 4: The on-screen prompt will ask for Google credentials. Enter your account and password there.
Step 5: You will be directed to a page where you need to draw a new unlock pattern/PIN/password.
Step 6: Confirm the same pattern/PIN/password by typing it again and then tapping on Confirm.
The device unlock pattern is changed now and now you can open the phone simply by logging in with your new pattern/PIN/password created. Also, no data or files are deleted and the phone isn't reset too. 
Conclusion:
These were some solutions on how to factory reset an android phone when locked. All the readers are suggested to remember their passwords. Better safe than sorry. Because no one would ever want to remove all the data from the phone by performing a factory reset. And that too due to your own negligence. However, the methods above are some of the most efficient ways to perform a factory reset on a locked phone. But, you need to have a backup in order to be on the safe side. And if you don't have a backup then, make up your mind to lose all the data on your phone.
I hope this article helped the readers to tackle their problems.
FAQs:
Is there any way to reset the android phone when it is locked without losing all the data in it?
Sure, performing a factory reset is risky and must be the last option. But to prevent losing the data and meanwhile to reset the android phone. You can try resetting the lock screen using Google credentials. You need to enter false passwords to open the "Forgot Password" feature. And that option will lead you to change the lock screen password without even removing any data.
Is the "Forgot Password" option available for all the Android versions?
No, Forgot Password option in Lock Screen is available only for all the devices running Android 4.4 or below. Because nowadays all smartphones don't allow to change the lock screen password without entering solid credentials.
How can I use Google Find My Device to reset my android phone?
Google's Find My Device comes in very handy for multiple tasks. Ans one of the features is to Erase all the data in your device. 
Can I use third-party apps on my PC to factory reset my locked android phone?
Yes, for sure. You can use third-party apps like "Droid Kit" to unlock or reset your locked android phone accordingly. There are many paid apps that claim to achieve this.
How can I ensure the safety of all my data on the phone in case of any factory reset?
The only way to ensure the safety of your data and files is to create a backup of your media and files to external storage. Or, you can perform a cloud backup for the same. Now, in case you forgot your password and need to factory reset your phone, you can do it safely.