Gone are the days when people attested documents with simple paper and pen. Previously digital docs were printed, signed, and scanned again before submission. But, let us consider you were given a 100-page document to sign. Now in this case would it be better to print them all out and sign or attest them electronically? Obviously, you would prefer the latter because you are saving time and money whereas time is gold these days.
Owing to the amount of digitization now, it is expected to know how to sign a document digitally. Such practices are preferred in all kinds of legal work to abate the duration of the whole painstaking documentation process. Also, it is believed that documents are much more secure this way and are prone to less manipulation compared to paper copies. These days documents are usually either pdfs or in word formats.
So even if you regularly work with these applications you might not have noticed the attesting options. If you are someone who needs help with signing a word document, then you have come to the right place. There are numerous ways to sign a doc. In this article, we will walk you through various potential methods on how to draw a signature in a word document. Additionally, we will also look at signing word docs on mobile for all the digital phone users out there.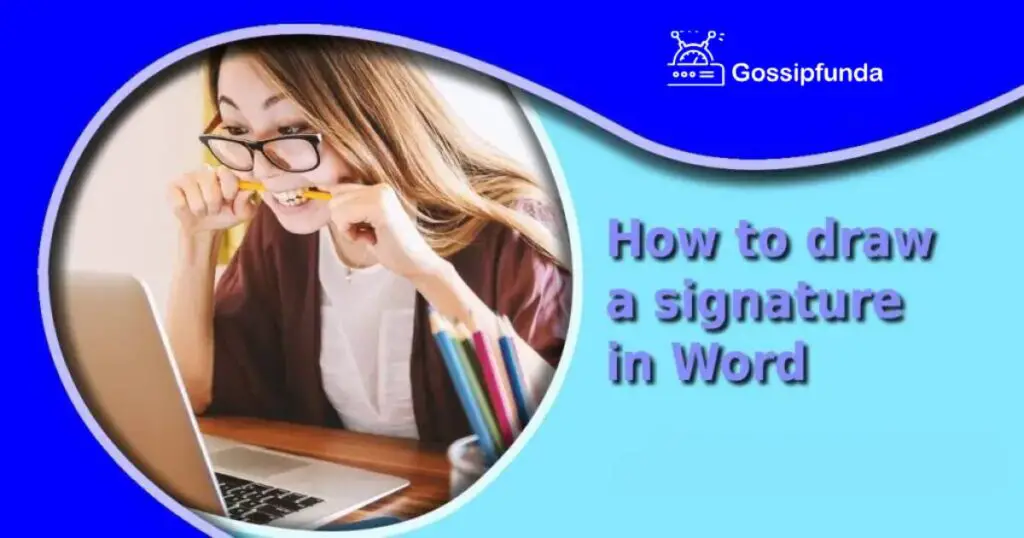 How to draw a signature in Word?
Signing a word doc is very simple and there are different ways to do it. Some of which everybody is very familiar with and you will thank me later for teaching the rest. Now let us take a look at these methods one by one. 
Method-1: Inserting a picture or a screenshot
This is the simplest of all. You can take a picture of your signature or a screenshot from an already existing document and insert it.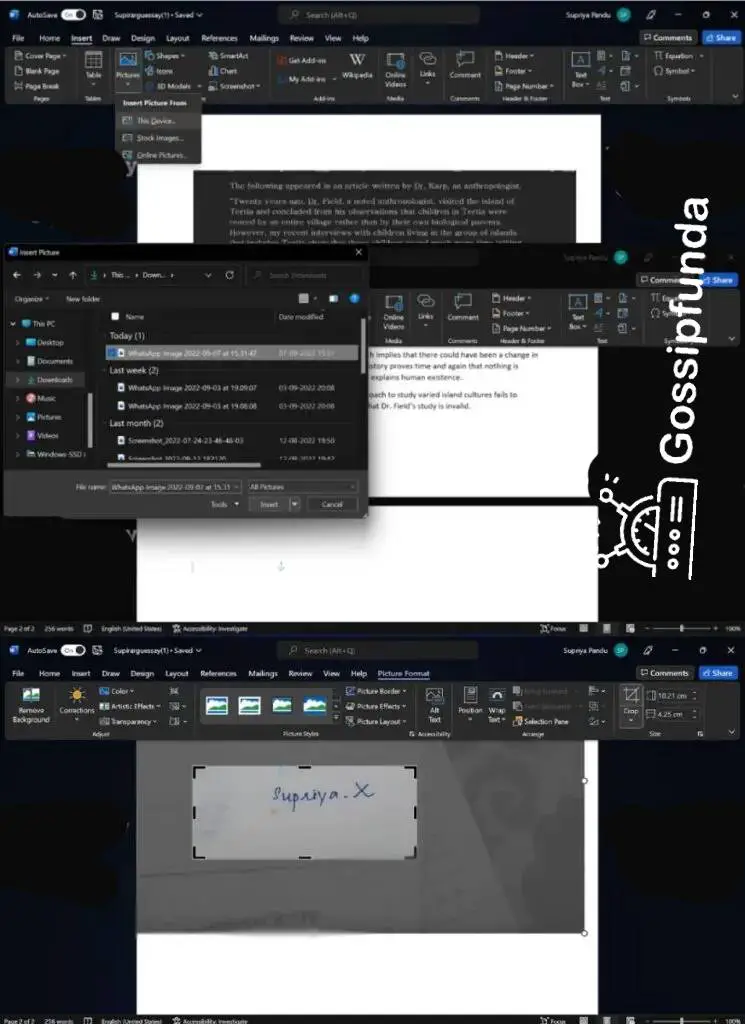 Open the document and place the cursor where the signature is required.
Go to insert on the top toolbar, click on "Pictures" and select "This Device". For Mac users, select"Picture from file"
Select the image of your signature and click on "insert".
Further, crop and adjust the image from the picture format toolbar to fit the signature space provided in the doc.
Method-2: Using the draw tool
The draw option in the toolbar allows you to create signatures on the go and insert them into the document.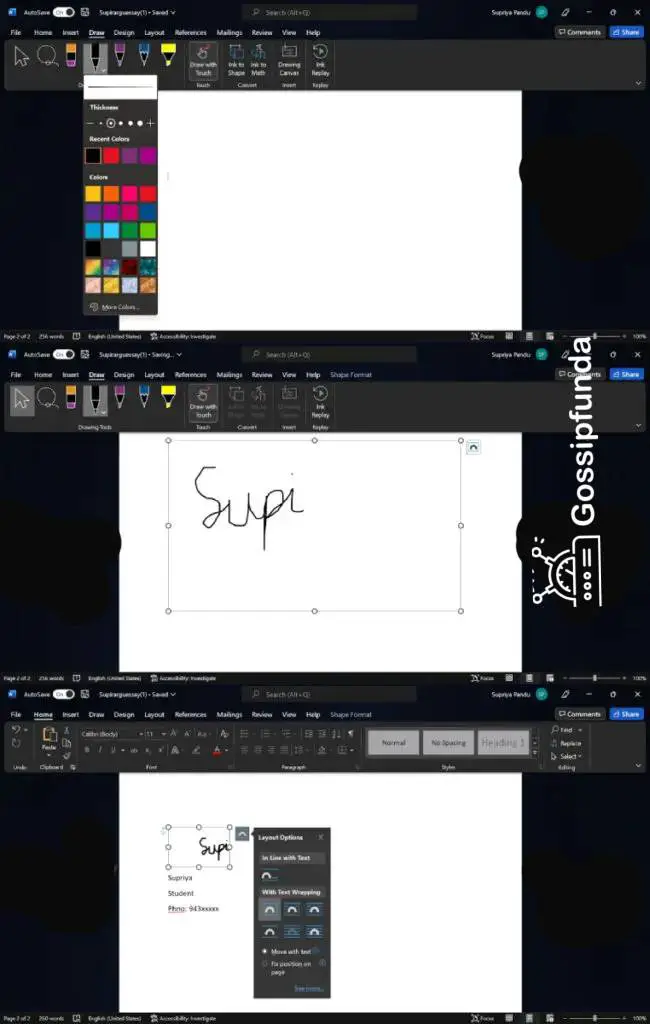 Go to the "Draw" option and select a pen from the drawing tools. To change the color of the pen, click on the drop-down menu and choose from the color palette.
Next, insert a "Drawing Canvas" from the same section and proceed to draw your signature using either your touchpad or mouse. For Mac users, choose "Draw with Trackpad".
Once you are satisfied with the signature, go back to the cursor option and adjust the canvas to fit the signature space.
Choose a layout option for the canvas if you want to add details below the signature like name, position, or email. 
Method-3: Creating a reusable signature
You can create a default signature in word and use it wherever necessary. Instead of tediously signing them all using the previous techniques, you can simply insert the signature with a click.  
But, before we get into this, let us have a close look at what a signature line is.
How to make a signature line?
Integrating a signature line to your sign makes a lot of difference to the document. You are not only enhancing the document but also paving the way for easy identification of attestation. 
To insert a signature line;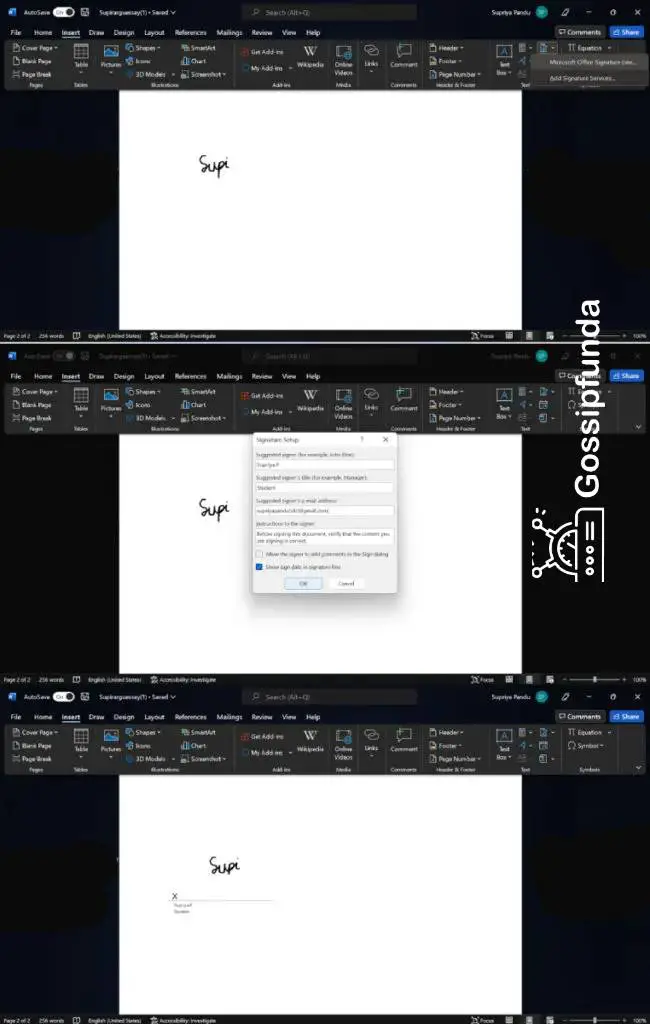 Go to "Insert", click on the "Add a signature line" option from the "Text" section on the toolbar and select "Microsoft office signature line".
A signature setup box will open. Fill all the fields, under "suggested signer" type your name and provide a title in the box below. After filling up the details click on "OK". 
Adjust the signature line to fit under your signature.
Reusable signature 
Now that we have a proper signature set, let us get back to creating a reusable one.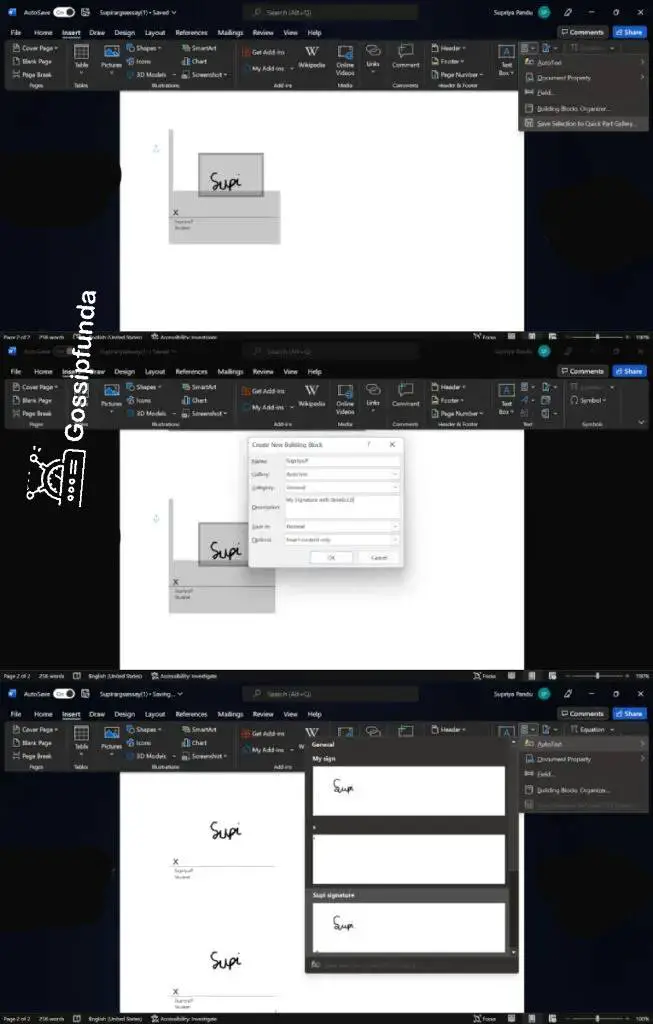 Double-click on your cursor to make an overall selection of both your sign and the signature line.
Click on "Explore Quick parts" from the insert toolbox and select the "Save Selection to Quick Part Gallery…" option. 
Fill in the required details, select the "Auto text" option under the gallery drop-down box and click on "OK".
Now, click on the "Explore Quick Parts" option again, choose the "Auto Text" option and insert the signature you created.
Method-4: Using online applications to sign 
If you are unable to find the draw option on your word doc then you can go for online applications like "DigiSigner". "DigiSigner" is a free application and is very simple to use.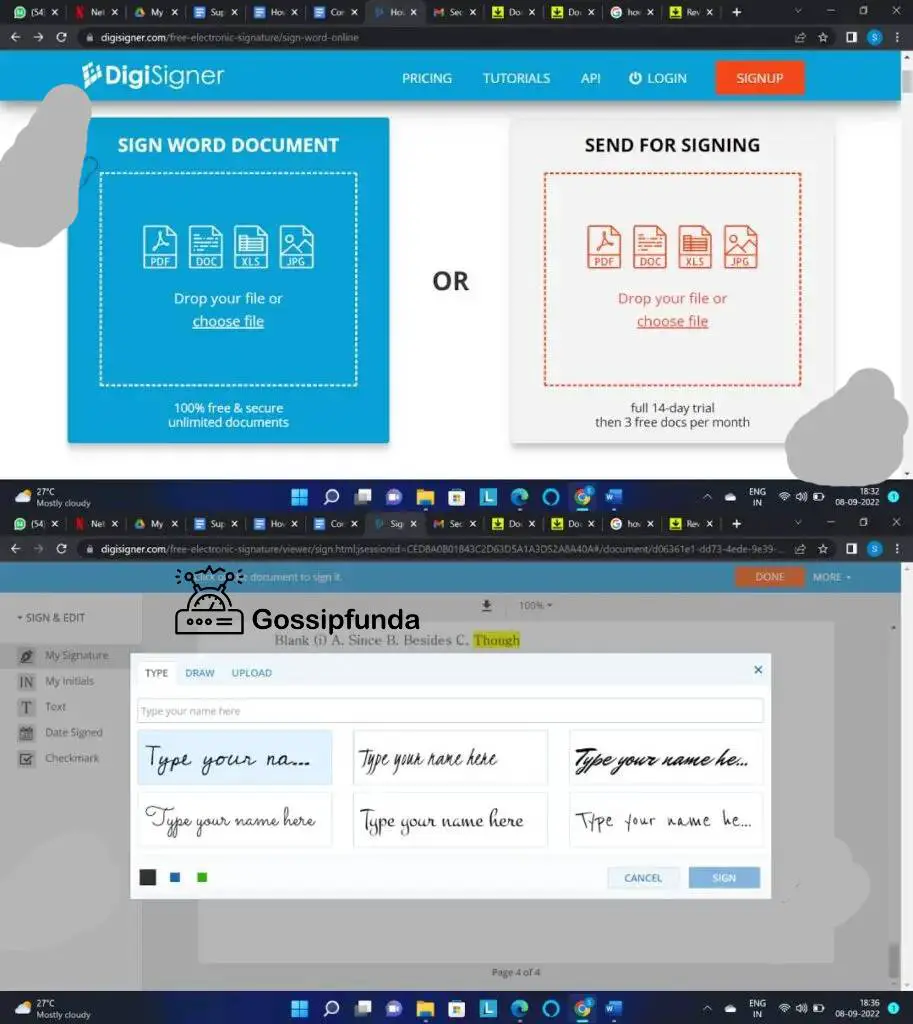 Start by going to the "DigiSigner" website.
Upload the document to sign.
Choose the  "My Signature" option from the left side panel. Drag and drop the icon wherever necessary.
You can either type your name and choose from the given fonts, upload a picture of your signature or draw it on spot. Clicking on "sign" will place your signature on the document. 
You can also send documents to people and get them signed using the "send for signing" option. 
Method-5: Signing in to google docs
Documents can be attested on google docs too. For all the people out there working frequently with google docs, this tip will save you time. Since google docs have the same interface as word, you can use similar options and add a sign. Another alternative is to use an add-on, "DocuSign". 
You can find this under the "Extension" from the toolbar. 
Click on "Get add-ons" and search for "DocuSign". Install it, sign up and give permissions for accessibility.
You will find a yellow icon on the right-side panel of your google doc screen.
Find the sign option below.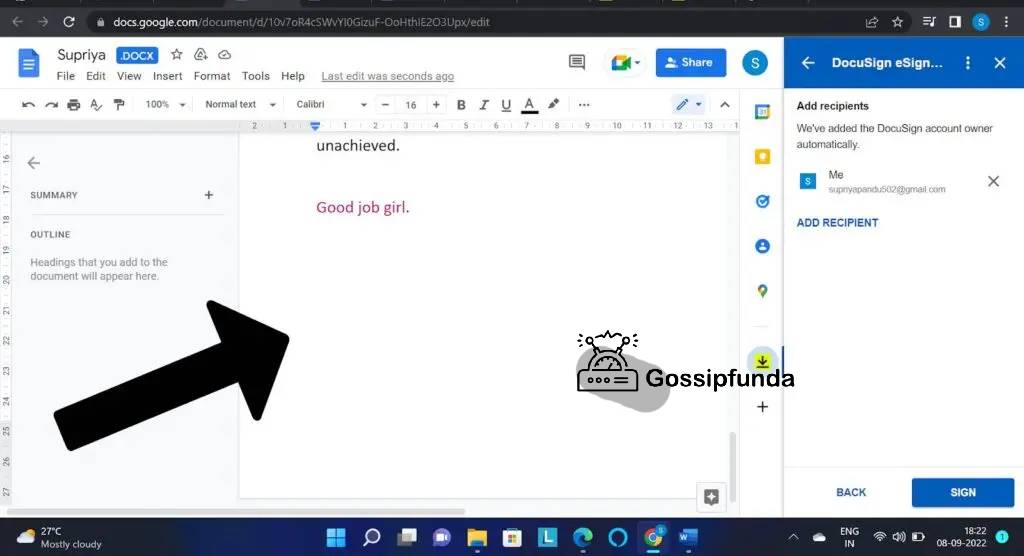 Similar to "DigiSigner" you can set up your signature and also send documents to others with signature space.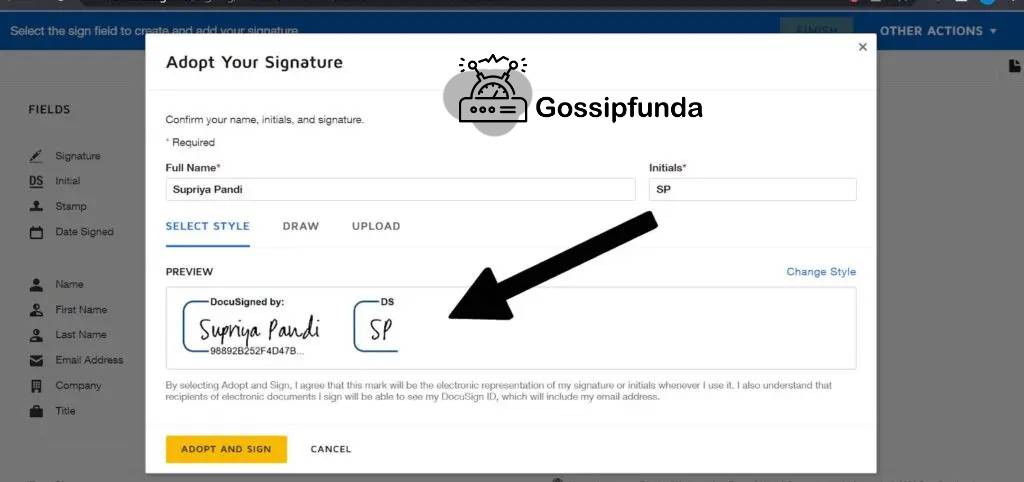 How to sign a word doc on Mac?
For Mac users, you can sign your doc using the trackpad with a stylus pen. You can scan your signature on paper using iSight and use it. Signatures can be added from the View tool. Go to "tools" in "view", select "add a note", choose "Signatures" and then "Manage signatures".
How to sign a word document on a mobile phone?
Since most of us carry digital phones these days, it would help a lot to know how to attest to docs on mobile. If you have access to Office applications on your device, then you can insert your signature like it is mentioned above. You can make use of the insert tool and either insert the picture from a file or readily take images using the camera.
Else, you can convert the word file to a pdf and make use of the "Adobe Fill and sign" app to attach a signature to the document. This app is widely used and is very flexible and user-friendly. 
Download the "Adobe fill & sign" app from the app store.
Sign in using your Gmail credentials.
Using the pen option on the top right corner, create your signature.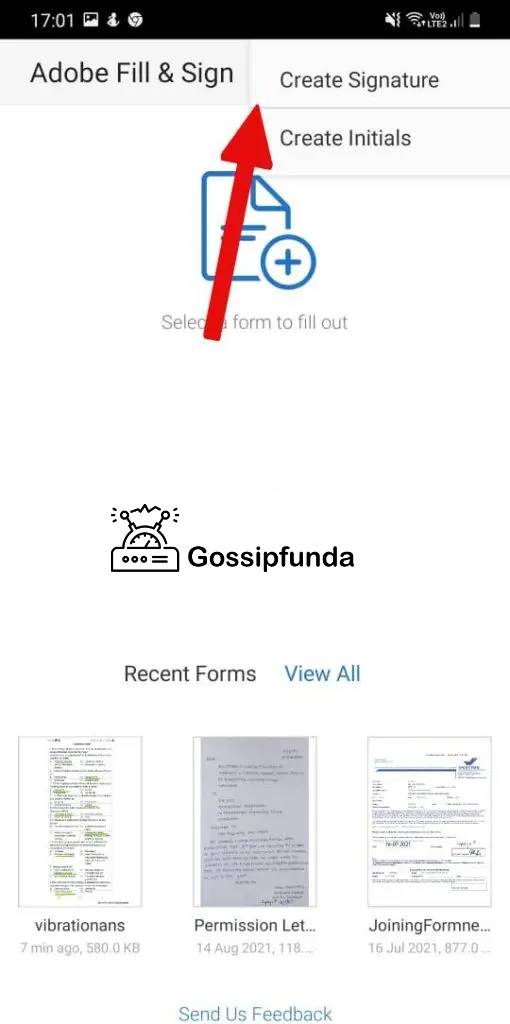 Now, make a selection of your pdf from the "Select a form to fill out" option.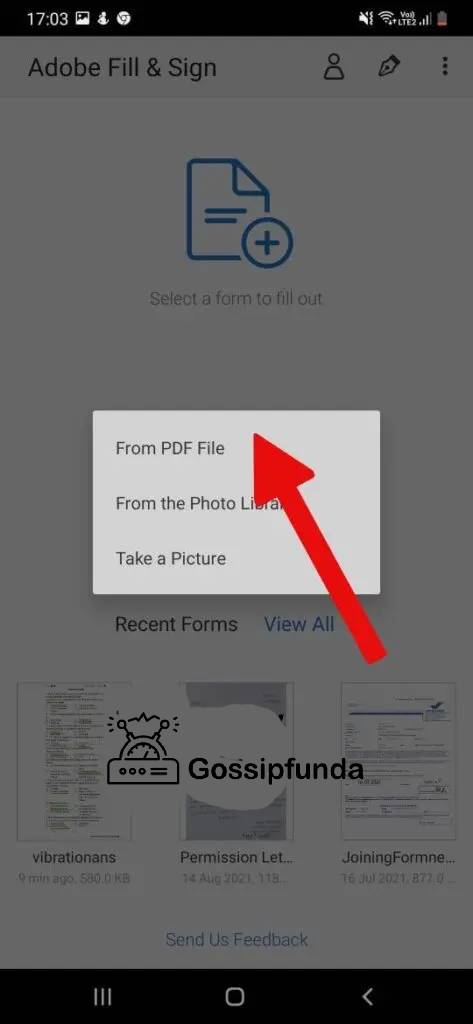 Click on the same pen option as before and add your created signature wherever necessary. You can also adjust the size of the signature to fit the space provided.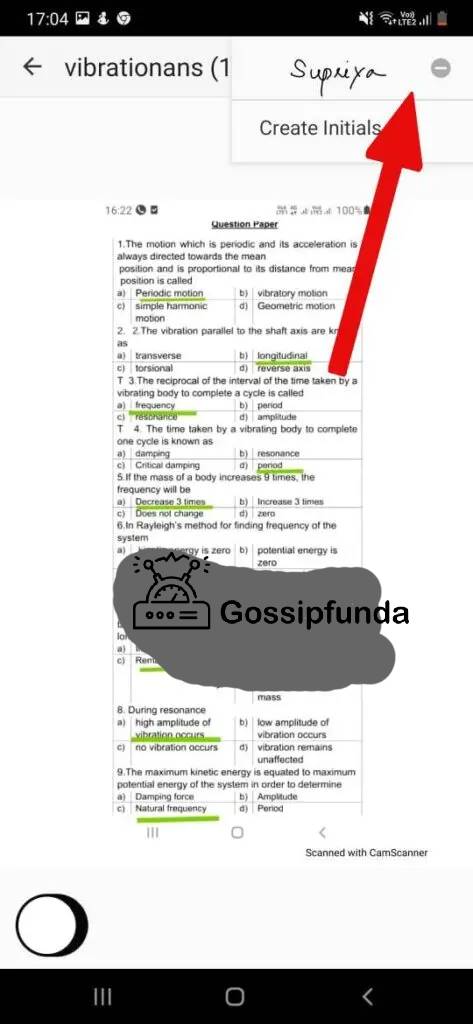 How to convert a Word to a pdf?
A Word doc can be converted to a pdf using free applications on the web. You just have to upload the document that you want as a pdf, click on convert and download the converted document. 
There is a conventional method to convert a Word doc to a Pdf on your PC. 
Go to the Word doc that you want to be converted.
Go to File, and click on "Save As".
Under file extension drop-down box, choose .pdf extension and save.
You will have a converted pdf document created.
Conclusion
Firstly kudos for making it to the end of the article. These are some of the simplest ways to draw a signature in a word. Many other applications like "HelloSign", "Adobe Acrobat Reader", "eSignature", "SignWell", and "PandaDoc" are available to help you with signing word docs or pdfs. The same applies to attesting documents on a mobile phone as well. With the ever-developing world ahead of us, we are expected to be aware of all the technological advances. This not only ensures one's survival but also makes life easier. Of course, it will take some effort to get accustomed to the new shift. Well, at least it is not rocket science! Hope this article answers all your queries. Any further questions, do shoot them in the comment section.
FAQ's
How to electronically draw a signature on a word document for free?
Well, using the insert image option and draw option you can insert your signature in Word for free. You can also get add-ins in Word like "DocuSign" that support Microsoft and add reusable signatures. There are many applications on the web as well that can be used to attest your document for free. One of them is "DigiSigner" which is free and pretty easy to use. For signing pdfs you can make use of "Adobe Acrobat Reader". To sign pdf on your mobile phone you can make use of the "Adobe fill & sign" app. 
Are electronically signed documents safe?
Yes, electronically signed documents are safe. In fact, they are safer than wet signatures which can be forged easily. Electronic documents are well protected and e-signatures cannot be easily forged since the date, time, and also location of the sign are recorded. So, you can completely trust these methods. 
How to add authenticated signatures in a word?
You can add authenticated signatures in word using the "Add signature services" option from the "Add a signature line" tool in the "insert" toolbar. A digital certification is given by the concerned authority permitting you to carry out digital signatures. But, this requires you to have Microsoft 360 which can be accessed only with payment. This application might suit only those who use e-signatures often, especially in legal documents.  
How is the authenticity of an e-signature verified?
You can verify the validity of a person's signature using many factors. Verification is done using access codes sent via SMS or email. ID proofs are checked. The person is asked to answer a few questions from their past like birthplace, age, etc. The person is also notified about the signature through the mail.