Do you use Google Photos to store photos and videos? With the increasing megapixels in smartphone cameras, images and videos captured takes up a lot of space. Storing them in your phone's storage exhausts your device. Smartphone's internal storage is quite limited, and even 256 GB of internal storage is not enough now-a-days. Although you can upgrade it by installing external MicroSD card, an extinguished internal storage creates a lot of storage related problems. For example, you cannot download the apps you need because of exhausted storage. Or, you cannot click more number of videos and pictures. If you have run out of internal storage on your device, storing the pictures, videos and other files on the cloud is a great option.
Please keep in mind to be fully attentive and cautious while trusting the company providing the cloud services. Google is one such trustable company offering highly secure and scalable cloud storage. Google Photos is used by millions, to store their most memorable moments with friends and family. In this article, we will be looking at what is Google Photos, and how to delete your pictures and videos from Google Photos. This might seem to be an easy topic of discussion, but let me assure you that there are various ways of deleting images from your Google Photos. In this article, we will be looking at every way in great detail. So, let's hop on to it without any further delay.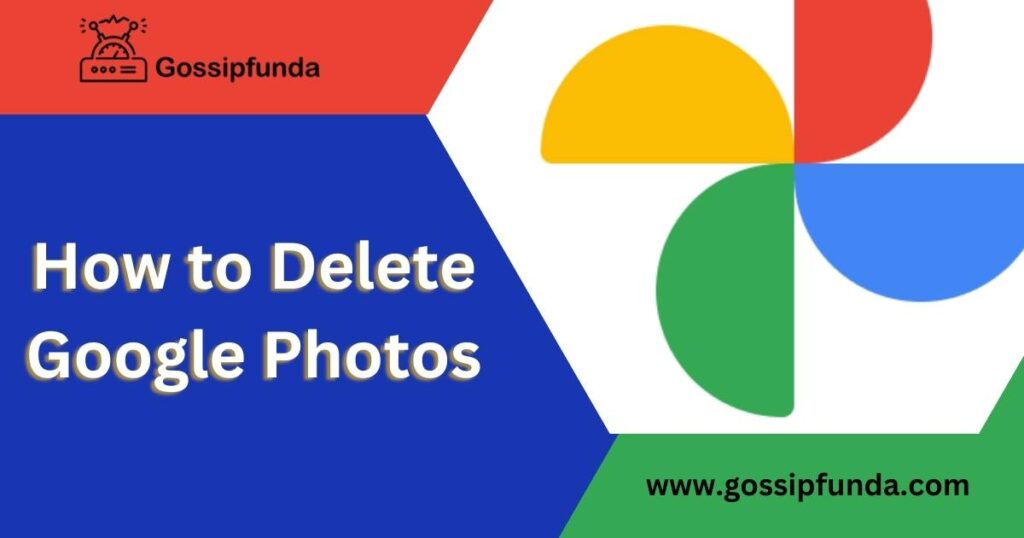 What is Google Photos?
Google Photos is a tool launched by Google in the year 2015, that allows you to store photos, videos and screenshots taken on your phone. Google offers a free suite to all its users. This includes a free cloud storage of 15 GB for each Google account. The emails that you receive through Gmail, the folders in your Google Drive, the pictures, and videos in Google Photos – all of them use this 15 GB of free cloud storage offered by Google. In case you need more storage, you need to purchase a Google One Subscription (more on this below). Google Photos is a strong backup tool that you can use to back up your precious and important memories.
It is useful in another way too, that it frees up the internal storage of your phone. Google Photos works on both iOS as well as Android devices, so it is a highly flexible tool. The two most popular alternatives to Google Photos are the Apple iCloud Drive and Amazon Photos cloud storage.
How to delete your Google Photos?
Now let us come to the main topic of this article. We shall discuss how to delete all your Google Photos permanently. You should know that a policy was introduced that said that google photos no longer offers free unlimited storage for new 'high quality photos.' The 15 GB free storage space of your account is used when you upload any media on Google Photos. When it gets exhausted, you need to purchase a Google One subscription, starting at US$1.99 per month for 100 GB of space. If you have opted for a premium plan and have purchased storage for Google Photos, you can close your account to help stop paying the monthly fee. Or, if you are switching to another photo and video backup service or cloud storage platform, you might want to delete your Google photos first.
Although Google photos is a popular choice because of its ease-of-use, there are very limited editing tools. This is often a turnoff for you especially if you are an advanced photo editor. Due to this reason, you might want to switch to a different platform, providing more sophisticated tools. Whatever be the reason of deletion, there are several ways to securely delete all media from Google Photos.
Before moving on to how to delete your Google photos, let us see how to back up your Google photos. This is to make sure that you do not lose any important photo in the process.
How to backup your Google Photos before deleting them?
If you are planning to erase unwanted images to free cloud storage, this step is not necessary for you. However, if you are shifting cloud storage platform, or deleting all your snaps from Google Photos, you might want to backup your images. 
Download the Google Photos app for Android or iOS in your android or Apple device respectively.
Sign in to your Google account in the app. You will now be offered the choice which is quite beneficial a syou will be able to choose between some given suitable options. You will have to choose whether you will use Wi-Fi or mobile data for backing up images. If you have sufficient mobile data, only then choose mobile data backups.
You can change the backup settings by clicking on the menu button in the top right corner. Click on the Menu > Settings > Backup & Sync.
With automatic backup, every image you take with your device camera gets automatically and securely uploaded to Google Photos. You can also change the upload size from here, as well as mobile data settings.
The Android app also allows you to back up images to specific folders.
Difference between Archive, Bin and Delete in Google Photos
Before we move on to deleting your pictures in Google Photos, let us look at the difference between archive, bin, and delete. Despite having a similar look, they serve different purpose. Not all of these are capable of permanently deleting your images and videos from Google Photos.
Archive
 The term 'archive' might be familiar to you because you might have seen it in apps like WhatsApp and Telegram. Archiving a chat does not delete it– the chat gets stored in another location, away from the main chat list. This greatly assists you in decreasing the total number of chats in the front UI of WhatsApp or telegram. The 'Archive' feature in Google Photos works in a similar way. If you tap on a photo and click 'Archive,' you are not really deleting the photo.
Instead, you are sending it to the 'Archive' folder. Archived images will still appear in search results as they are not deleted. Archiving images helps you to reduce the clutter in the main library, where you have the albums sorted. When you send an image to Archive, it disappears from the main thumbnail grid. However, since it is not being deleted, it can be accessed and it will not save any storage space.
Bin
 'Bin' is the folder where the images go to be erased. It is like the 'Recycle Bin' of a Windows PC. When you delete a picture in Google Photos, it gets moved to the 'Bin.' From here, you can permanently delete the image or restore it into your main Google Photos library.
How to delete Google Photos Images individually?
There are two choices for you when you want to permanently delete Google Photos images. The first choice is to delete them individually. You do this especially if you are deleting specific photos to clear up some space in your cloud storage. 
If you are accessing Google Photos from Chrome or any other web browser, here are the steps to delete photos individually:
Open Google Photos in your web browser and sign in with your Google account.
First, you need to open that particular image which you need to remove or delete from the thumbnail grid in the main library of Google Photos. Then, click on the 'Bin' or 'Delete' icon present in the top right corner of the screen.
A message with appear. Confirm whether you want to remove the photo from your Google account, synced devices as well as places shared within Google Photos. 
Next, click 'Move to bin.' The image will move to 'Bin,' from where you can permanently delete it.
If you are accessing Google Photos from the Google Photos app on a smartphone, it is even easier to delete a picture.
Go to the Google Photos app on your device. Tap on an image from the main thumbnail grid that you want to delete.
On the bottom right corner, tap on the 'Delete' or 'Bin' icon.
Click on it to get the same pop-up where you will have to confirm from where you want the picture deleted. Click on 'Move to Bin.'
At this point, the images that you have deleted are not permanently deleted. They are just resting in the Bin folder, from where you can restore them if you want to. Not to mention they are using the storage in your account. To delete them permanently, move on to the Google Photos Bin folder. In the mobile app, it is present under the 'Library' tab. On the web, it is present in the main menu on the left. On opening Bin, you will encounter a message that says 'Items will be permanently deleted from the bin after 60 days.' If you want to delete the images forever, you can manually empty the bin. The other option is to wait for 60 days, after which the pictures in Bin will automatically be deleted. You can also select specific images to delete them individually from the Bin. 
Long press an image in the Bin that you want to permanently delete. Then, just left tap on the individual images. Once you are done selecting, you will see options to restore or permanently delete the selected images.
Click on 'Permanently Delete' and confirm the warning message to delete the images permanently. Please note that once you complete this step, then there is no turning back. Once permanently deleted, you can no longer get back the images.
How to delete multiple Google Photos images?
We have seen how to delete individual Google Photos images from the web as well as the smartphone app. If on the other hand, you want to delete a large number of photos together from your Google Photos, deleting them one by one is not a good choice. Google Photos offers an easier solution to delete images in large batches.
Firstly, select the images that you want to delete. In the smartphone app, simply long press one image and then left tap on the subsequent images. On web, click the checkmark present in the top left of the image. Another way is to use the Shift key to highlight multiple images at once, on the web.
After your selection is complete, click on the 'Delete' or 'Bin' icon present in the top right corner.
A popup message like the one mentioned above appears. After you confirm, the selected images will be moved to the Bin where they will be stored for 60 days. If you do not delete them from the Bin immediately, they will be deleted automatically after a span of 60 days.
Conclusion
We now arrive at the conclusion of our article about Google Photos. We started by discussing what is Google Photos, and the purpose it serves. Next, we moved on to how to delete images from your Google Photos. We looked at how to delete images individually, or in batches. It is only possible to restore a deleted image within 60 days, after which it is permanently deleted from the Bin. Finally, we threw light upon how to delete your Google Photos account by deleting your entire Google account.
Frequently Asked Questions
How to delete photos from Google Photos Albums?
If you have previously organized albums, and now want to delete specific photos, then you can find them in the albums. 
On the web, to delete an image from within an album in Google Photos, follow the steps as mentioned:
Open the image that you want to delete.
Click on the three dots in the top right corner.
From the drop-down menu, select 'Move to bin.'
In the smartphone app, follow the below steps.
Open the image in the Google Photos app.
Tap on the three dots present in the top right corner.
Scroll across the toolbar to find 'Move to Bin.' Tap on it to move the desired image to the bin.
Following the same steps as mentioned above, you can also delete multiple images from Google Photos at once.
How to delete all Google Photos permanently at once?
Unfortunately, deleting all Google Photos at once cannot be achieved through one click. There is no method of deleting the entire Google Photos library. Google Photos cannot be removed from your Google account individually. The easiest way to delete all Google Photos images is to use multiple selection, then moving them to the bin and then emptying the bin. The steps are just as mentioned above. On the web, select the first image in your Google Photos library. Then, scroll down till the last image, and shift + left-click on the last image. This will check all the images present in your Google Photos library between the first image and the last image.
In order to move some selected pictures to the bin, you can follow the whole procedure explained above again. Then, go to 'Bin' and click 'Empty Bin' to delete all the images permanently at once. It may take some time for the pictures to get deleted, depending on how many images are saved in your Google Photos library. 
How to delete your Google Photos Account?
There is a very easy way to delete your Google Photos account, where all you have to do is – nothing! If for some years you do not perform any sort of activity in your account, then Google will remove all the data and content. Hence, if you do not use Google Photos (do not upload or delete or back up) for two years, all your content and account will be permanently deleted by Google. This is done to save resources and remove idle accounts.
The other way is to manually delete your Google account. Please note that your entire Google account will be deleted if you decide to follow the steps below. This includes the data stored in Google drive, Gmail, and other Google services.
Go to your Google account. Navigate to 'Data & personalization' tab.
Scroll down to 'Download, delete or make a plan for your data.'
An option that says 'Delete a service or your account', would appear and you need to tap on it.
Click on 'Delete your account.'
At this point, you will be given an option to download your data. You will also need to check multiple confirmation messages, as this is quite a drastic measure.
Finally, click on 'Delete account.' All your data including Google Photos will be permanently deleted.