As we all know, Instagram is one of the most widely used social media platforms in the entire world. It's an application made up of a tonne of pages, pictures, videos, reels, and other content. Additionally, if you use Instagram frequently, you might at some point run into a cache issue. And now wanted to clear Instagram Cache. Right ? If yes keep reading.
When images and videos are involved in any application, a significant amount of cache is used. This can occasionally result in a storage issue with your iOS or Android phone. Otherwise, the application or your phone may slow down. Sometimes you might occasionally be an Instagram user who doesn't post any videos or images. But then you are now facing the problem of the cache. Now you must be wondering why? So let me tell you that any activity, no matter how small or large it is, increases the cache on Instagram. In this article, we will now examine what Instagram is, and define cache and Instagram cache. Finally, get solutions to clear the Instagram cache. So if you are an Instagram user and are curious to know what is Instagram cache? Or else you want to know how to clear your Instagram cache? Then keep reading this article.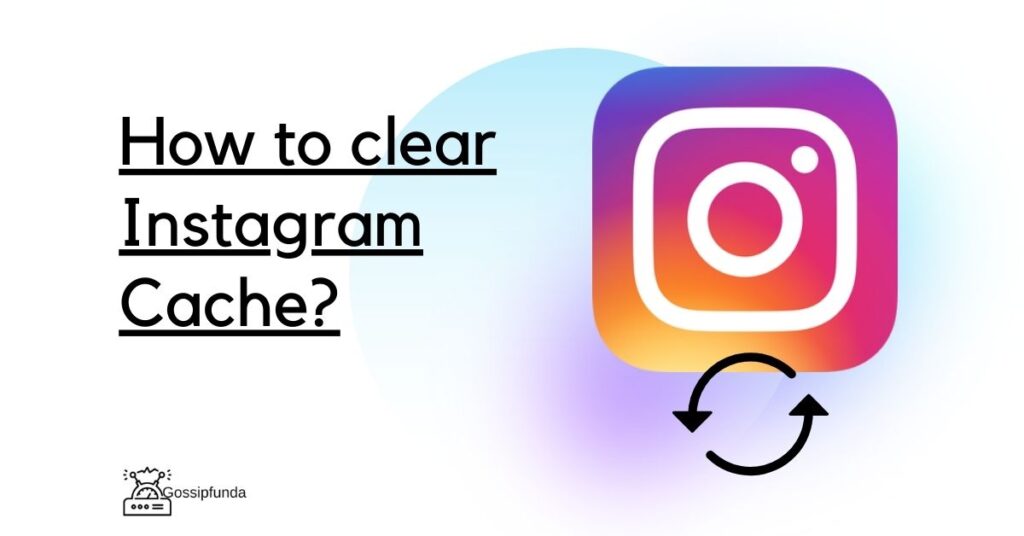 Instagram
Instagram is a widely used social media application. It is an open-source application that is available for both android and IOS. This application is widely used by users for sharing photos and videos on the Internet. It allows the user to create their own content and post them onto the platform. They can even make reuse previous content to make a new one. It also allows the user to carry out various activities on the platform. This may even include searching someone's profile and viewing someone's profile, to view posts. It can even include some other activities like making a comment on someone's post, liking someone's post, to search someone to chat with someone, etc.
Also Read : How to save pictures from Instagram
Cache 
Any reader who is unfamiliar with cache need not worry; we will explain it to you in clear terms. A cache is merely a small portion of the storage on your smartphone. It is utilized for temporary data storage by applications. You must be wondering at this point exactly what you mean by temporary data. So temporary data is nothing but any small action or activity that you perform on the application. Users' actions, settings, downloaded files, passwords saved in cookies, and other information are also included in temporary data.
Now you must be thinking about why all this stuff is stored in your phone. Is it really required? So let me tell you the answer is definitely yes. The cache is consumed on your phone with the primary goal to speed up the application responses. So the cache is very essential for displaying content instantly and for conserving data usage.
What is Instagram Cache? And Why?
Now to be more specific about Instagram. It saves every search that you make, accounts that you might mostly visit, etc. So basically it stores all the user activity. It does so in order to increase the performance of an application and also to increase the User experience. It happens that whenever you are visiting the page for the very first time it loads it from the internet. But when you visit the same page again it loads the same page from your cache. So this time it gets faster. So I hope now it is very pretty clear to you why there is a need for an Instagram cache.
Problems with Cache
Okay, the Instagram cache is satisfactory. This point is fairly obvious, but now consider the other side of the coin. It is possible that your memory will become overloaded, so at that time you might face some the problems like 
Crashing an Instagram app 
Instagram stops to load content 
Instagram failing to update or delete the content 
Showing some errors, etc. 
If anything mentioned above happens to you it clearly means that you should now clear the Instagram cache. 
What happens when you clear Instagram's cache?
When you clear the Instagram cache, the application will automatically perform better. Clearing the cache helps you to resolve all the previous issues you may have had. Now if you're wondering clearing the cache will clear out everything. So let me tell you this is actually not the case. Clearing the cache only deletes the user activity. Specific to Instagram it may clear all your recent searches, all reports about mostly visiting accounts by you, etc. So don't worry it will not delete any kind of data. All your posts, videos, reels, chats, comments, likes, etc will be there. The reason behind this is that all these things do not consume cache they are actually stored on the servers of Instagram.
Okay, clear with everything now. Now it's time to look into the solutions for the same.
So let's move to some methods that you can follow and easily clear an Instagram cache. At first let me clarify that steps are different for both Android and IOS. According to your requirement, follow the method mentioned below.
Method 1: Clearing Instagram Cache on Android
If you are an Android user who also uses Instagram. Then consider yourself extremely fortunate.  It is because android users can simply clear Instagram's cache without deleting the app. You can accomplish this via your either Phone Settings or App options. Here are the steps you should follow in order to clear the Instagram cache on Android:
A] Through Apps Option
Step 1:  Turn on your Android Device.
Step 2:  Go to the settings option.
Step 3:  Scroll and find Apps, tap on it. 
Step 4:  In the search bar search for Instagram.
Step 5:  Tap on Instagram.
Step 6:  Go to Storage and tap on it.
Step 7:  Click on clear cache.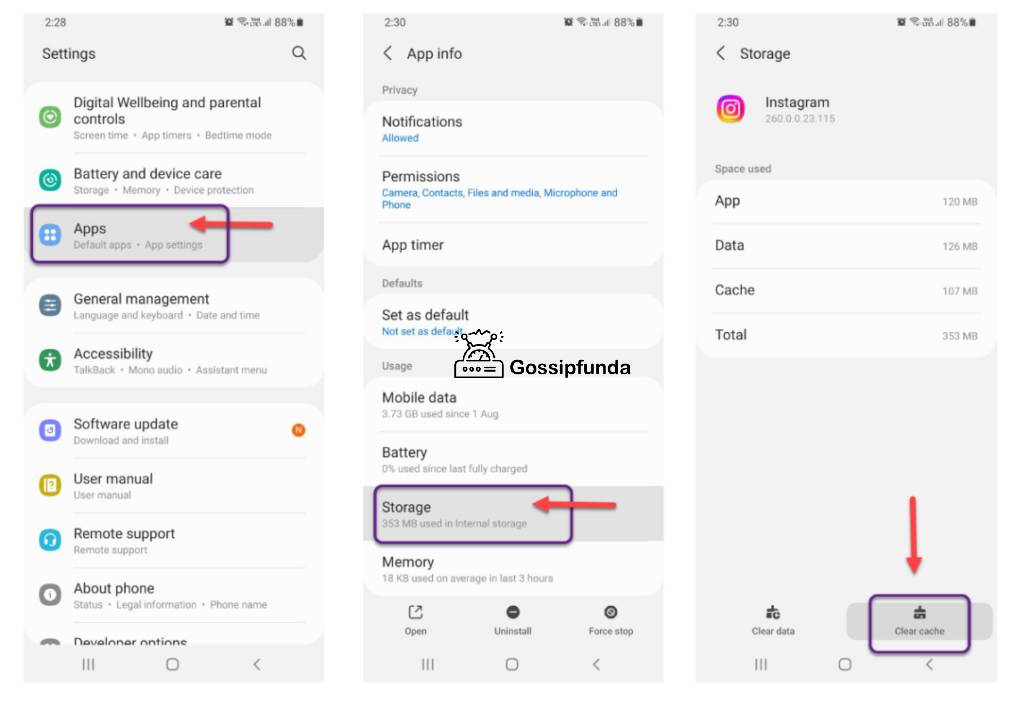 B] Through Phone Settings
Step 1:  Turn on your Android Device.
Step 2:  Go to the apps section of your phone.
Step 3:  Tap on Instagram.
Step 4:  Tap on the exclamation icon in a circle.
Step 5:  Go to Storage and tap on it.
Step 6:  Click on clear cache.
Method 2: Clearing Instagram Cache on iPhone
There is no way to clear your cache on your iPhone by keeping Instagram on your phone. There is only one method for clearing the Instagram cache, and that is to delete the app.
Don't be concerned; when you delete an App, all cache is cleared. However, it does not remove any account settings. This is due to the fact that all data is stored on the Instagram server. So, what you need to do is uninstall the app. Second, download the app and then finally log in to Instagram to use it. 
You need to follow the steps given below on your iPhone in order to clear your Instagram cache:
Step 1:  Turn on your iPhone.
Step 2:  Go to the settings option.
Step 3:  Scroll and find General, tap on it. 
Step 3:  Find iPhone Storage and tap on it.
Step 4:  Click on Delete App.
And you are done. This will clear and Instagram cache. Now you can go to AppStore look for Instagram and download it. And lastly, just login into your Instagram account and use it.
Method 3: Clearing Instagram Cache through Web Instagram
Okay, we explored how to delete recent searches on Android and iPhone. Is there any Third way by which we can do it? So the answer is yes, you can do this through your web Instagram. As Instagram is available on your android and iPhone it is also available for your PC. So so it's on users whether they are having desktop Instagram applications or are using the Instagram web itself. But don't worry the steps are quite similar to each other. So follow some quick steps mentioned below and quickly clear your Instagram cache: 
Step 1:  Open your desktop Instagram application or visit an Instagram website. 
Step 2:  Login into your Instagram account. 
Step 3:  Now visit your profile. 
Step 4:  Click on privacy and security. 
Step 5:  Now click on search history, then click on view all. 
Step 6:  Then click on clear search history in order to clear the search history. 
Step 7:  After clicking on clear search history, it will prompt a message asking you to confirm your action. So tap on Yes, I'm sure. 
And you are done. It was easy for you.
Method 4: Clearing search history on Instagram 
Another thing you can do is you can clear out the search history of an Instagram. Everything you search for on Instagram is saved in the Store, and you can see all of your search history in recent searches. So clearing this will again help you in clearing some of the memory space of an application. That is it will not clear anything other than searches. There are different two ways by which you can do this.
A] Through your Profile Page
Step 1:  Turn on your Android Device.
Step 2:  Go to the Instagram App.
Step 3: Go to your profile.
Step 4: Tap three lines.
Step 5: Click on Your Activity.
Step 6: Now navigate to Recent Searches.
Step 7: Click on Clear All.
Step 8: Tap again on Clear All.
This will clear all your recent searches permanently.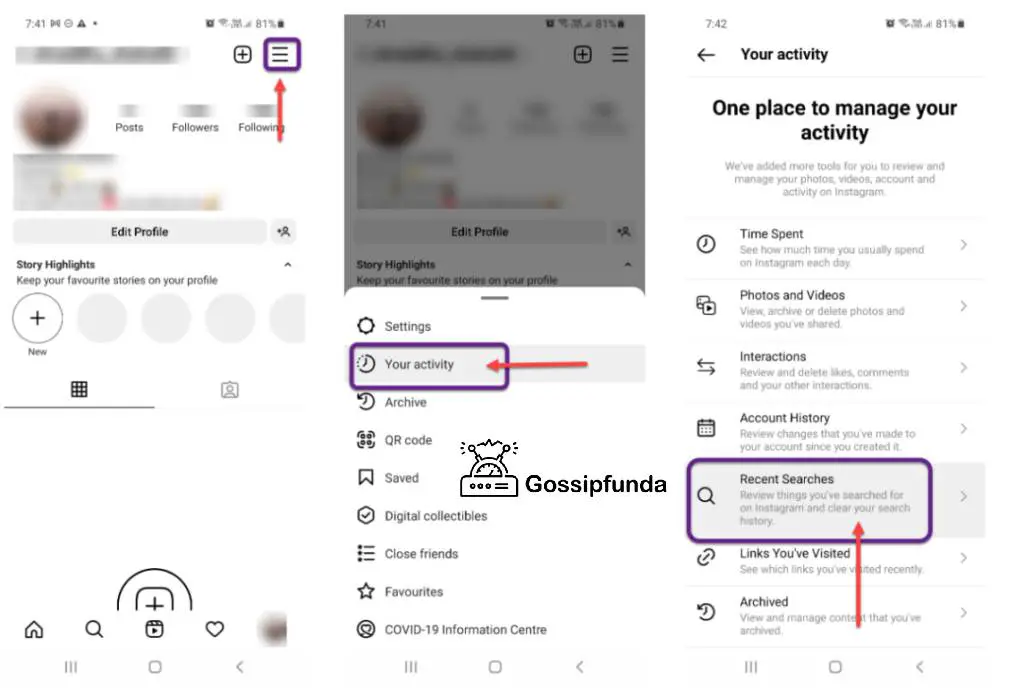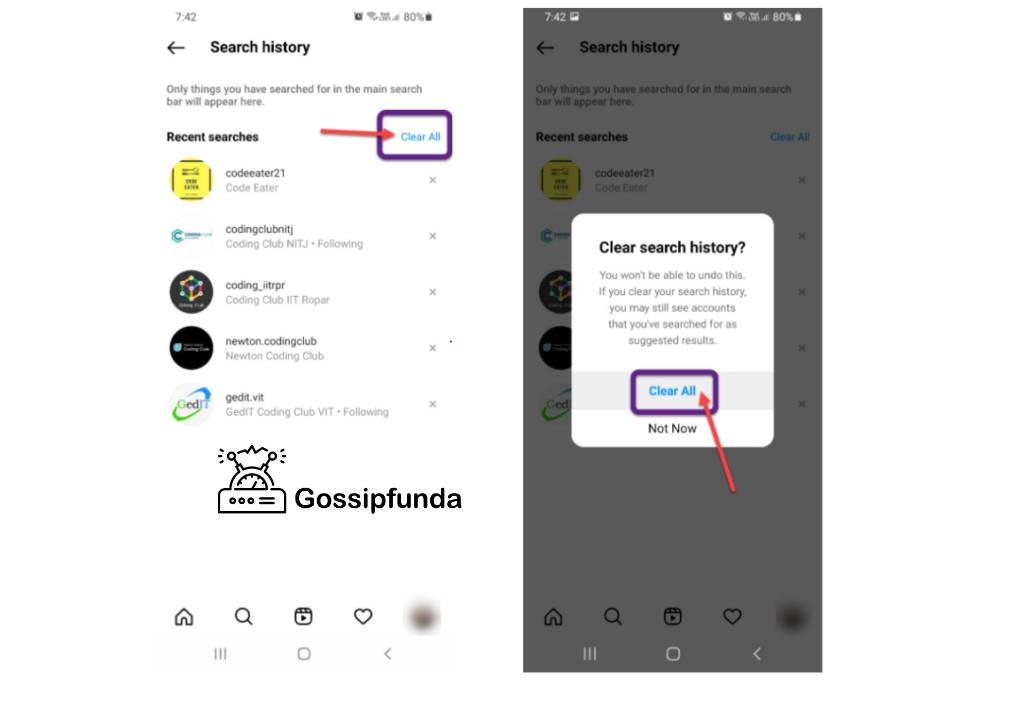 B] Using Bottom Menu
Another easy way by which you can delete searches on Instagram is directly through the search bar itself. This is applicable to both Android and iPhone smartphones. And also this method can be followed from your web Instagram as well. So follow some quick Steps mentioned below to do so: 
Step 1:  Turn on your smartphone or go to the Instagram web 
Step 2:  On the main page, tap on the magnifying icon presented on the bottom menu. 
Step 3:  Now tap on the search bar. Your whole recent search history would be visible to you now. 
Step 4:  If you want to delete only specific history then you can do so by clicking on cross marks in front of each recent search. Or else to delete the full of recent history, tap on see all. 
Step 5:  Now tap on clear all. And You are done. 
Note – If you don't want to delete all recent searches. You can also delete any recent searches that you don't want to keep. All you have to do is click the cross mark in front of each recent search that you want to delete. And you're all set to go. This will undoubtedly assist you in deleting the recent searches that you desired.
Bottom Line
Wow, you are at the end of the article now. Today you learned about cache and the Instagram cache. And we hope that you are much more aware of it now. This article would have given you probably the possible best solution to you. Clearing the cache must have definitely helped you to make your application run smoothly as possible. And if you liked our article or if you want to add something new to it. You are always welcome, we insist you mention your thoughts and let us know right in the comments section below.
Frequently Asked Questions