Apple won't give you any chance to do any unsuitable thing for your iPhone. There is no setting in Apple to change the default font on the device and iPhone did not provide much features that android provides such as font change, transfer of files through apps, and many more. but still, users prefer the iPhone rather than the android. iOS is a different software and is not related to android anymore. Functions in an IOS are too different from android but everything has a solution, only need to find it.
We can change the font on iPhone by some methods or tips for you. Before 2014 we had to jailbreak the iOS or iPhone to change the font or some other setting and after 2014 it is not at all required to jailbreak the device. I hope that I will share the right knowledge regarding how to change fonts on the iPhone. Let's Continue to learn. iPhone Device has in-built Fonts like Safari and Mail. Unfortunately, For a young generation like us, these fonts are not enough, and for that, I have many solutions for it. So, In iOS 13, 14, and more, Apple has introduced custom fonts with the help of a third-party app.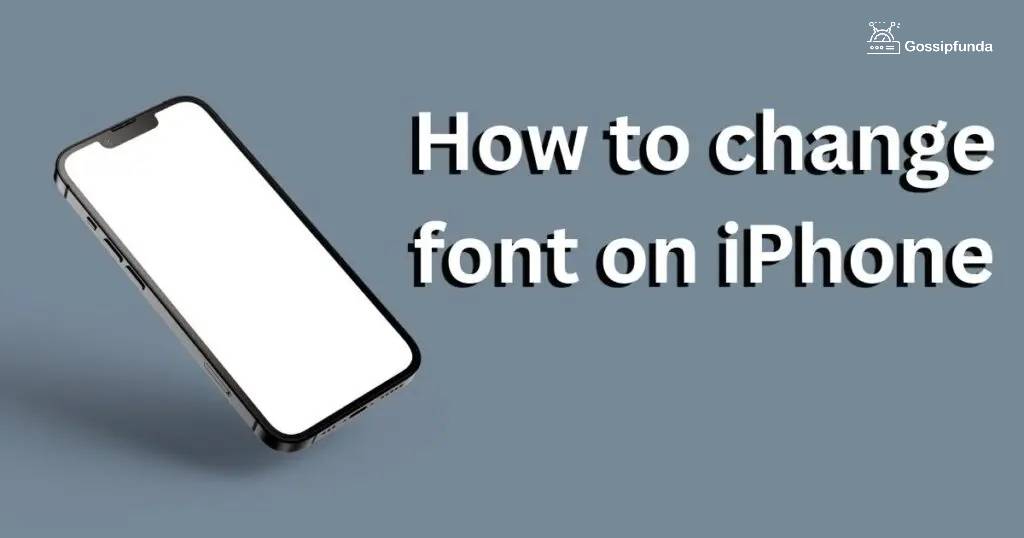 Many apps are available online through which we can use a different-different types of font on the device. We can even download fonts online without using an app. The iPhone is popular worldwide and people use and speak a different language as well and in that case, we want different fonts to express our feelings through that. So, it is hard to find which font is good for you and it can be clumsy for you. Fonts are good to use in different apps like WhatsApp, Instagram, Facebook, etc. Now we have talked enough so, let us find out how to use and add more fonts to your device by some method or app.
How to Change Font on iPhone without using jailbreak
Jailbreaking gives you full access to the system or the phone. It is almost similar to Rooting. Jailbreaking helps to gain full control of the device so that you can use its full feature. Anyhow this is not a good idea to do so because your device knows what's good and what's bad. Devices can misbehave after using this method. Now we have tools that do not require jailbreaking the phone. More than 100 tools are available on the internet and all are not good. We will see about the few best apps available. I recommend you not use jailbreak because it will remove all the warranty that apple has given to you and the device is of no use after this. Now you will know how to change font on iPhone.
Font app uses to add Fonts without jailbreaking
Probably the best and simple thing to use without jailbreaking. An app named Any font is best for changing the default font to an exciting font. Fonts are very popular because of the different styles in which we can write. A good thing about this app is that it has many popular fonts like TCC and TFF.
Let us see how to set up this app:
Download the app from the browser
Now Search for the font on the search engine which you have to add
Download the Font and send it as an achievement to your Gmail.
Tap on the attachment in the device and choose the font
Install the certificate first, then install the font
Close and restart the app. The installed font is now ready to use
Any font app has a drawback as well, it won't allow you to use newly installed fonts on the system app. So, in order to do that we have to install a different app.
ByteFont app to use Font
One More app which is used commonly by iPhone users to add different Fonts to the device. It is The Best Free tool available in the market and easy to use. Again you don't need to jailbreak your device anymore. Byte Font allows you to use many different fonts securely on the smartphone. One more thing is that the device backup is necessary for any condition so that you won't lose your data in any case. First, install the Byte Font app then I will let you know the next process to do. It will help in how to change font in iPhone. Now Follow me with the steps.
Firstly Open the Cydia, then find the Byte Font app.
Give the YES permission to it and proceed 
Tap on the app and press the browse font button
Select the best suitable font and download it
Again the Cydia package option will appear then install it from there
If done, again open the byte font app to activate the font
Change the font style as per your need
Manage the installed Font Setting and New font in the device
Apple has significant settings for this Font Feature. The iPhone has a Font manager option in the settings through which we can manage all our fonts, sorting by preference is an option in it, Go to settings > General > Font. You will see all the default fonts and installed fonts in them. Just for the preference tap on the desired font and you will find a lot of options regarding this. You can select the typeface to view the sample. You can swipe left to see an additional screen as well that displays the font.
If you want to edit some font that is not suiting you then click on the edit link button, select the font and delete it, again confirming the option to remove the font family. Everything is easy to do but it requires knowledge and I am here for you to give everything that I gathered about how to change the font on my iPhone.
How to select different fonts for different tools
The main point of downloading the font is to use it for different tools or apps. Apple iPhone has many in-built features like apple pages, keynote, spreadsheet, and many more. To use Font in this tool we have to add and then we can use it. I will show you how to add fonts. Before that, we need to understand that everything has limitation and apple also have a limitation which is, after downloading also in some iPhone this font may not work.
Add Font in apple pages
Go to Apple Page, Select the paintbrush icon on the top of it, Now you have to select the current font in the formatting pane at the bottom. The list of the font will appear. Default and downloaded Font can be seen through the list. Select the font which you want to use in Page Close the formatting panel and start writing or typing something. Your Favorite font is ready now to write something amazing. The best method for adding a font to pages.
Add Font in Spreadsheet on the iPhone
In the spreadsheet, we have to do the same thing which we have done in Pages. Select the number of cells and click on the paintbrush icon on top of it so that the formatting panel can appear. Select the cell preference to add font now go through the list and find the required font. Now the new font is ready to take over. One of the easiest steps is to add a font to a spreadsheet.
Add Font in Keynote
Keynote was used in the presentation to present some slides and for the slides user generally use different fonts for different topics and to use that I will guide you. In the Keynote, tap on the paintbrush icon to open the formatting option in it. A text option will show, click on it and select the font name. A list of fonts will appear then select from it. The new font is activated now for use.
How you can change the font size
Everyone knows how to add fonts but what about changing the font size. But why are you worried about I am here to solve each and every problem of yours? Apple has a setting for this as well. Just you have to find it and I will do this for you as well. Although it's not difficult to find, it requires a trick in that case. Follow the steps below to change the font size.
Open the settings option on your device
Scroll in the down direction and tap on Display & Brightness
Click on the Text size button
Use the Slider to change the font size
Even you can make your font bigger by some methods. Usually bigger fonts do not look good while writing but some users prefer them. So, I thought of sharing this also. Let's find out it.
Go to settings again
Chose Display and Text Size
Click on Larger Text
Keep Dragging the slider to change the size
Data recovery if you have lost somehow in the process
I would recommend you use software that can help you in recovering the data. FoneDog Software is used to recover the data, you need iTunes as well which can help you in recovering the data. Run FoneDog and connect your IOS device with it. Now Scan for the deleted data. You will get an option to retrieve your deleted data from iDevice to your PC.
Conclusion
This Looks cool while adding fonts to the device but to do it, efforts are required. Mainly I have talked about 2 apps that are good to use, named as AnyFont and BytaFont. Some other apps are also available online but I trust these two apps. Really they are good, These apps don't store your data. So, we can trust it. I have talked about data backup, everyone has to back up their data and in any case, if you forgot to backup then I did recommend software that can help in recovering. Fonts are best for changing typing style. Different fonts have different styles and every font is of no use. Selected Fonts are used worldwide.
Only the best way of adding custom fonts could be with a third-party app. We have talked about adding fonts in different apps and it makes them cool while writing something in it with different fonts. Apple restricts users in its iPhone, there are no direct settings for adding or downloading any font on iPhone devices. At last, I hope that you have understood well about, how to change font on iPhone after reading this article. The first discovery of Fonts and their impact on users is positive and loved by many people worldwide. Different IOS versions of the apple iPhone have different font styles.
FAQ
How do I get different Font?
Many options for getting different fonts, You can find some popular fonts in your iPhone's default font setting or if you want some custom font for your device then you have to download it online from your search engine. Many fonts are available online for your need and to make your device and text more attractive. Users' reviews are good regarding font usage. Apps are best for adding a different font to your style, they make the task easy and much more reliable.  
What Font does apple use?
Apple has many varieties of fonts such as SF pro, SF Compact, SF Mono, SF Arabic, New York, etc. it comes with apple devices like iPhone, iPad, and Mac. The user's favorite font used for this is New York. Many users use this as a default font. Apple plays this game smartly by not giving many fonts to its users. 
Why is my font so big on my iPhone?
In the case of a bigger font, and you have mistakenly done it or someone had do it. But no worries again can get back to normal easily with some simple steps. Open the settings of the phone or iPad. Go to the accessibility setting and select the zoom option. Turn it on or off as per your comfort or the required setting. Font size can be reduced or increased as per the user's requirement, like what he wants his font to be.