Feeling restricted because of your job's or school's web filter and need How to bypass securely?  Then this is the perfect space for you to gather all-round information about it.  Know all about the SSL, web filters, uninstallation.  This article has a solution for your windows or iOS or Android.  Get The safest way to bypass yourself from the net trap. Surely you can do the opposite means, learn how to stop bypass methods? Understand the logic behind and use the right way to do this,  Let's explore!!!…
What does bypass Securely means?
Securly is a student safety & device management software headquartered at Silicon Valley.  Aiming for positive web usage and prevention for cyberbullying and suicide, it operates for schools. Securly being a web filtration software, it is installed in devices that need to be kept under check.  In collaboration with schools and offices, all the devices used for web browsing in that particular place are taken control by that website.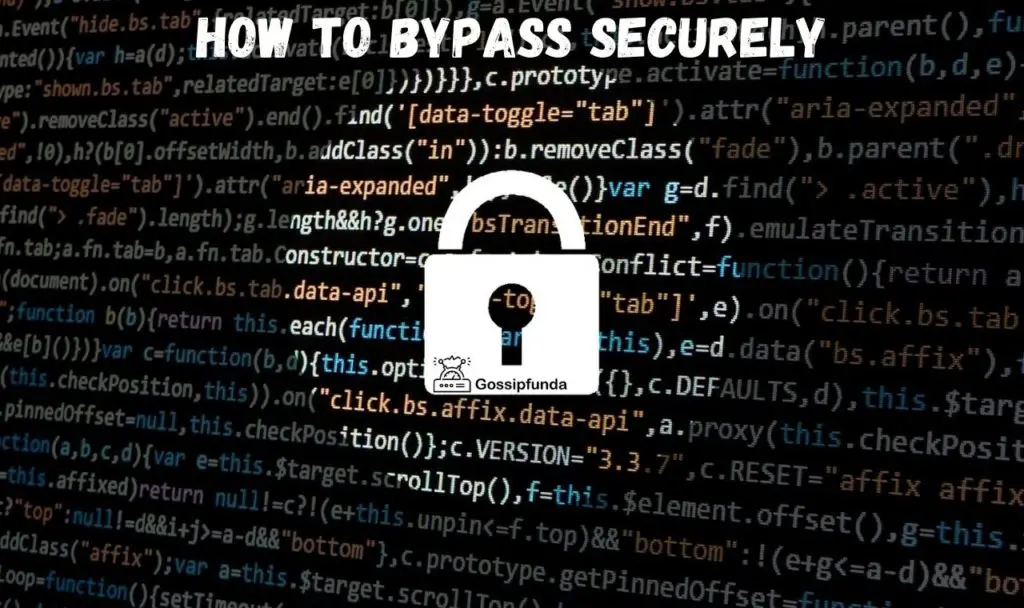 It restricts and controls browsing activity.  Even though, these restrictions act as a constraint for some exploration activities and bypassing it can help people to increase their utilization in web browsing.  Securely may over restrict users and their sudden views on such restricted websites can affect them a lot.  For example, children are restricted from p**n websites.  It is absolutely a correct move.  But, when a student goes out of the school or uses his personal phone and sees such websites will never know how to react and there are chances for their abuse.
Pagescan
It's a Securly initiative of auto-blocking new websites with controversial content.  Pagescan scans and analyzes the content and images of the website.  After this process, databases are saved and acts accordingly if request received to offer it to students.  In case, any of the websites is missed out, by screening each student's activities, websites are collected and analyzed by this initiative.  If controversial it will never grant access to any of the second viewer.  This shows that student's acts are undergoing screening and scrutiny of Pagescan.
Scrutiny
 Beyond the basic filtering process, the detection of grief, bullying, and even suicidal tendencies are identified.  Here, a sentimental analysis algorithm is used to understand a person's mindset by screening their social media posts.  All these data are updated continuously to make databases equipped to function accordingly.  Along with user-based filtering, IP address filtering is also done by restricting the browsing actions through the Ip address.  This process is used by the Guest network policy to make a log in essential to access the website.   
Achievements:  Since 2018, 24 teams have been involved in it as a career. Here, 20 lives have been saved, averted 5 severe bullying incidents among students.
Management of SSL certificate securly for well-functioning?
When you want to do some changes or avoid such websites, then you need to acknowledge your SSL certificate and permissions given to securly.  By knowing it, you can delete such permissions and bypass securly.
What is SSL?  
SSL stands for Secure Socket Layer.
Transfer layer security is the updated name of SSL, which deals with the categorization of filtered HTTP sites for the user.  It is required to submit it for an initial connection.  Later on, the client will process a certification path validation algorithm which includes the process of:
The subject of a certificate(hostname)
Signature of the trusted authority.
SSL comprises of three types which include Domain validation SSL, Organization validation SSL, ExtendedvalidationSSL.
Components:
An SSL requires various fields like the identity of the owner and a digital signature, in case if it is valid a key will be provided to reach the subject.
The following fields appear at the same order in an SSL:
Serial number – for unique identification of each applicant
Subject – Entity should be mentioned here whether it is an individual or an organization.
Issuer – After verification, the receiver will be the signing authority here.
Two fields namely, Not before and Not after is used to limit the time of usage.
Key usage – Cryptographic uses and digital signature.
Extended key usage – Application, authentication, email protection, and code signing.
Public key – priorly mentioned.
Signature algorithm – Algorithm used to sign the public key.
Signature – Sign of certificate body.
How to manage Securly SSL certificate in firefox?
Firefox doesn't obey common operating systems, instead, it demands few configurations.  Figure it out to manage it well.
Type "about config" in the address bar of the firefox browser.
If warnings occur, accept it.
Right-click to enter to create boolean value, and enter "security.enteprise_roots.enabled" as name.
Set value as true.
How to delete a permission set?
Log in to your classroom by Securly.
Navigate to the permission set which you need to delete.
Click delete.
Note:  Deleting any of the permission sets will deactivate classes; you won't be able to attend any of the live classes.
How to uninstall Securly SL certificate from BLOYD devices?
Windows
Go to Microsoft management console< Trusted Root Certification < authorities folder < Certificates < SSL certificate < Rh click < Delete option < Select and delete.
Mac OS
Open Keychain access < System < Certificates < Authorities < SSL < select and delete it.
Android
Enter Settings < Security < User credentials < Securly certificate < Tap Remove.
Note:  it may differ for a device to device but the removal option will be available under Settings < Security.
How to bypass securely?
If you really want to bypass securely, most of the people uses these tricks to do that:
The best way to bypass securely is by using Proxy websites.
If your IP is blocked by any country/port then use VPN to bypass securely
By Changing network proxies
Different Browser Extensions are available to anonymize you.
The safest way to bypass securely is the TOR browser in Kali Linux
Note: We do not suggest to use Stolen password, brute force etc to bypass any security. Use whitehat method to do this, do all the things on your own risk.
How to use securly to stop bypass methods?
Every problem has its own solution. Apply the steps to stop bypass:
Step.1:  access the securly website.
Step.2: Create a free account in it.
Step.3: Go to the homepage of the website.
Step.4: Login to the website.
Step.5: During the logging in process, a box will appear at the top. It will have the green text and all.
Step.6: While doing these procedures, be present in the location where you face restrictions and connect to the same wifi.
Step.7: by accessing whatsmyip.com, find your IP address.
Step.8: Now return to the website and paste it.
Step.9: Name it and use a dome shield.
Step.10: Do all the configurations on the website to stop securely bypass methods.
Read this useful article: How to fix a Hacked android phone?
Web filters
A web filter targets to restrict the browsing works of the user to a limited extent.  The main aim of the software is to make filters on the working limit of the user.  Filters are fixed by the superior of the user.  This software is considered as a tool to make censors on the internet usage.
ALA on web content filtration:  The American Library Association says about web filters as "compromises first amendment freedoms and the core values of librarianship".
By the above statement, ALA opposes web filtration as it may grab freedom and values of librarianship which will reduce the space of acquiring knowledge for all sections of people.
Applications of Web filters
   IT Companies:  In most of the companies, that provide internet usage for official purposes, detected it's misuse by employees for their net surfing needs.  To stop those works web filters are installed in many of the companies.
    Schools:  Nowadays, in many schools, the internet is misused by students as the 1:1 system is adopted.  Students are redirected to some p**n websites to which they attain an addiction in the future.  A web filter helps to avoid such situations.
Advantage of Web filters
Higher human productivity:  If web filters are used in a PC, redirections faced in it will reduce and the concentration of the user will increase to a great extent.  This has implications in the productive capacity of the employees. 
Reduced inappropriate content: When web filtration is on the process, irrelevant pages and content are avoided by the software.  This helps the website used to provide content with good clarity.  
Safety:  We humans feel safe whenever we are in a known and protected environment.  This gives our mind satisfaction.  Likely, using safe websites will be our selection to create safety.
Security:  I have already mentioned that such software is a powerful weapon for businesses.  In the same way, confidential data and documents should be protected by safe methods.  Hacking your PC by your usage and stealing your credential is not a tougher task.  It's better to take a defensive step by avoiding certain websites using this software.
   Not only for official users but also private users will be affected.  Hacking can pull out their privacy.  By the way of using bogus websites, information can be accessed easily.  In any way, the web filter can be used as a security shield.
Prevention from addiction: This move keeps children away from the games and entertainment forms.  There is a probability of children addicted to the gaming apps which can spoil the concentration and peace of mind. 
Disadvantages of Web filters
Over filtered:  Usually, some keywords are fixed at the time of installation and filtration is done accordingly.  In case the words aren't as much strong it will eliminate irrelevant websites for simple word usage.  It may not deal with the specified field itself.  Also, this will avoid the accessibility of sex education due to the continuous blocking of p**n(unwanted) websites. 
Under filtration:  Simultaneously, some websites fail to analyze the words well and miss a few web pages.  The key requirement for software is the word list offered.  It can function well only if it can analyze the terms.
An increasing number of web creations:  With technological advancements, accessibility to web designing has been eased.  If some websites are blocked, within a few days, the same website appears at a new name.  For example, a school uses a web filter that blocked a p**n(unwanted) website and the same webpage may come up with a new name.
Accidental access:  Students and employees may accidentally face some irrelevant content blocked by the organization.  But the filters may capture a screenshot which will lead to great misunderstandings.
Biased blocking:  The key requirements of the web filters are determined by private companies that have a profit motive.  This may be the wrong directive.  So, it is recommended to follow the government's rules.
Fear restricting efficiency:  Grown with a fear of using webpages, students in the future may not be able to function efficiently when such web pages appear accidentally.  Their ability to face such situations will be a failure.  
Curiosity:  Over restrictions can make children too curious about seeing such websites and information.  This may be done behind you as the internet is easily accessible but in case of over addiction, it will kill the calmness.
Some web filters include:
 Website, Spamtitan, Content-control software, iBoss, Forcepoint, 2scaler, Barracuda networks, McAfee, etc.
If you are bypassing Securly, you have left ahead alone with no guidelines.  When you are under the control of such a web filter, you don't need to worry about unsafe websites.  And about SSL, it would use information. Hope you are aware of solutions for web filter issues now…