If you have no idea what image editing software is, cropping photos can be a challenging task. We bet that you may have attempted to cut a picture, only to find that the quality has been compromised or that the image looks distorted.
Luckily, there are many services and applications available that can help you cut your photos without losing any of the original image quality. To help you narrow down the options, we have handpicked the five best iPhone services and applications for cropping photos. Whether you need to edit your picture for social media, print, or personal use, keep reading below for more information.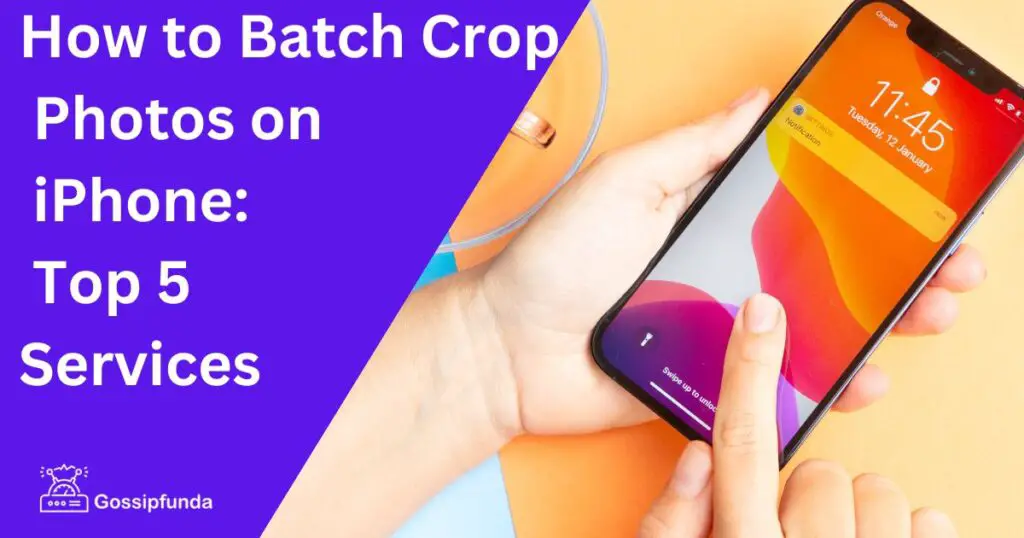 Watermarkly
Watermarkly Image Cropper Tool is a versatile and user-friendly online service that simplifies the process of cropping and watermarking photos. With just a few clicks, it is possible to crop photos online to any desired shape or size, from rectangular to circular and more.
One of the best features of the Image Cropper Tool is its batch-oriented interface. This means you can edit multiple files at once, which saves time and streamlines the editing process. Users can even straighten entire images or rotate them at user-defined angles, with increments of 90 degrees. This feature is especially useful for those who need to edit large numbers of images quickly and efficiently.
Watermarkly's free version allows users to cut, resize, and compress up to 10 files. The free version also includes the ability to add watermarks to your photos. However, the watermarked copies will have the words "Protected with Watermarkly" applied to them. If you don't mind this label, the free version is a great option.
But if you need more advanced features, you can upgrade to one of the paid editions. There are three different upgrade options with different feature sets, all of which will allow you to crop up to 2000 images at once.
Pros
●     No restrictions in image size and resolution
●     Excellent quality of cropped copies
●     Paid version of up to 2,000 files available
●     Guaranteed security of your files
●     A personalized watermark
●     JPEG photo converter
Cons
●     Limited free version of up to 10 images
●     JPG, PNG, GIF, and BMP accepted formats
ACDSee Photo Studio
ACDSee Photo Studio is a professional image editing application that provides not only comprehensive editing features but also offers powerful tools for searching, sorting, and organizing photos. In addition to these features, ACDSee Photo Studio also includes decent cropping capabilities that allow users to manually crop unwanted areas of an image. Users can choose from predefined aspect ratios or define their own.
In addition to its cropping features, ACDSee Photo Studio offers numerous customization options for photos, such as preset sharing and the ability to download actions developed by others. However, it should be noted that ACDSee Photo Studio is not an easy tool to master, and users may need to invest time in learning how to use it effectively. The ACDSee software can be downloaded as a one-time purchase for $149.99. Or you have another option accessed through a subscription plan starting at $89/year or $8.90/month.
Pros
●     Integration with cloud storage
●     Good performance
●     Powerful editing and organizing capabilities
●     Option for facial recognition
Cons
●     Absence of a free version
●     Inconvenient user interface/user experience
●     Cloud services require payment
Photo Crop
Photo Crop is an iOS app that offers users a simple and efficient way to edit their photos. One of its key features is the ability to rotate images in any direction using your fingers, as well as the ability to resize photos by pinching or spreading your fingers.
Another great feature of Photo Crop is its ability to cut photos into any shape, including circles, squares, and more complex shapes. This provides users with even more customization options when it comes to cropping their photos.
With that being said, it is worth noting that Photo Crop may not have all the advanced features that some users may require, as it is a relatively basic cutting tool. Additionally, the app appears to have a subscription cost of $8 per month or $30 per year, which could limit its accessibility for some users compared to Watermarkly's free plan with 10 files.
Pros
●     UX layout
●     Possibility to share files
●     Possibility to crop pics in various shapes
Cons
●     May crash used for a longer period of time
●     No cloud integration
●     Somewhat limited cropping options
Pixlr X
Pixlr is a versatile and user-friendly photo editing app that also offers a reliable image-cutting tool. With its intuitive interface, Pixlr makes cropping pictures an easy and seamless process. In addition to the basic cropping tool, Pixlr offers a range of other cutting tools, such as magic, drawing, lasso, and figure, providing even more options for users to customize their images.
Similar to ACDSee Photo Studio, Pixlr requires a subscription for full access to its features and assets, with three different plans available. However, users can test the app with a one-month free trial before making a commitment.
Pros
●     Intuitive UI/UX
●     Essential photo editing tools
●     Accessible across multiple platforms
●     Smooth and efficient performance
Cons
●     Subscription required to unlock full features
●     Dependent on a stable internet connection
●     No cloud storage or additional storage options
BatchPhoto
Another powerful and efficient tool designed for iOS users that allows the cropping of multiple images at once. The software is built for batch processing and offers two working modes, including the Auto Crop and Crop functions.
The Auto Crop feature enables the automatic cutting of images based on predetermined aspect ratios, including 1:1, 4:3, or 16:9. However, the Crop function allows users to set their own aspect ratio and manually select the desired area for cutting by entering pixel coordinates or percentages.
Besides its excellent cropping features, BatchPhoto also provides options for adding date stamps and watermarking images with text or logos, just like Watermarkly. This software is available for purchase as a one-time download starting at $34.95 and ranging up to $149.95.
Pros
●     Many graphic formats available
●     Straightforward-to-use
●     Great number of picture editing options
Cons
●     Pricey option
●     Limited cloud integration
●     Limited cropping options 
●     Overwhelming interface