It's frustrating to lose personal data when you own a smartphone, significantly if you upgrade it frequently. Those who have upgraded their cell phone more than once are familiar with this feeling. It is an excellent habit to often back up your data to the cloud, as this will allow you to recover it if something similar to what just happened to you occurs in the future. Let's learn how to backup your Samsung phone.
This guide will teach how to back up all of the data safely located on your Samsung phone. This includes photographs, movies, contacts, messages, documents, notes, songs, and a wide variety of other data. You will need a Samsung account and a Microsoft account to successfully complete this activity. Both of these accounts are required. Let's get started.
What exactly is Samsung Cloud, though?
The Samsung Cloud is a cloud backup that allows users to back up their phone and other device data onto Samsung servers. This service also enables users to keep their data in the cloud. It is possible to back up various information on your device, including your contacts, call logs, text messages, programs, home screen, calendar, and clock.
It used to be the case that all data could be backed up using Samsung Cloud, but in 2021, the company withdrew support for Gallery Sync and My Files from the cloud storage service. Since then, Samsung Cloud has been unable to back up any data.
Because of this, Samsung Cloud will no longer be able to back up your photographs, videos, and documents stored on your device. Instead, you need to use Microsoft OneDrive to accomplish what you want. In essence, Samsung Cloud will not save anything other than relatively light data.
Let's look at how you can back up everything on your Samsung phone now that you have some background information.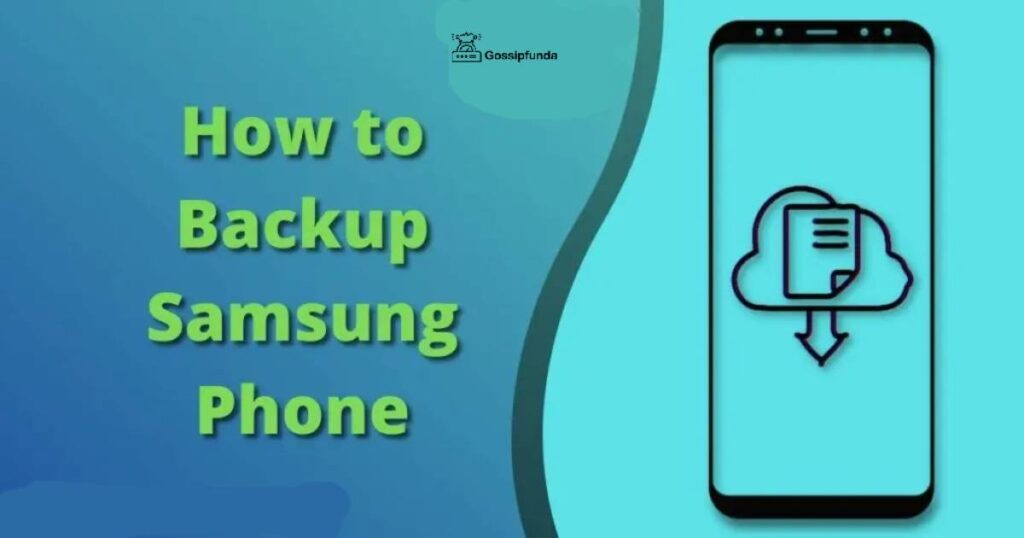 How to Create a Backup of Your Samsung Account on Your Galaxy Phone
Suppose you use Samsung Internet rather than Google Chrome as the default browser on your Android device. In that case, you will need to back up the browser independently from the app to keep all of your bookmarks, pages you've saved, open tabs, and shortcuts for easy access. This is the procedure for doing that:
Launch the Samsung Internet app, and then select More from the option that appears on the toolbar.
Navigate to the Settings menu, then select Sync with Samsung Cloud from the drop-down menu. Next, hit the Sync now button and wait for the procedure to finish.
If you favor Samsung apps more than the ones provided by Google, the process of creating a backup is essentially the same for all of them.
Guide to Backup Your Samsung phone Documents and Files to Microsoft OneDrive
Now that we've covered how to back up your Gallery material (including images, videos, and GIFs), let's move on to protecting how to back up your files (docs, sheets, slides, PDFs, audio files, etc.). You are going to want a Microsoft account to accomplish that. If you don't already have it, you should go ahead and make it.
Keep in mind that the longer it will take you to back up all of your data, the more data you have. You have access to a total of 5 gigabytes of storage space with the free plan of Microsoft OneDrive. Later on, you will have the option to switch to a premium plan if you find that you take a significant number of high-resolution images and videos.
Guide to backup Your Samsung Phone Gallery Content
Start the Samsung Gallery app, then hit the hamburger menu in the top left corner.
Touch the Continue button after selecting Settings > Sync with OneDrive from the menu.
After you have signed into your Microsoft account and linked it to your Samsung account using the Connect button, go to the Accept button.
Tap the Next button once the accounts have successfully connected.
You could be presented with the option to select a OneDrive subscription plan. Tap the icon labeled "Close," and then like "Stay Basic" from the selection.
When you are finished configuring your Microsoft account and have successfully connected it to your Samsung Cloud, tap the Done button.
After you have done so, you will be taken to the settings for your Gallery. From there, check that the switch labeled "Sync with OneDrive" is in the "on" position.
Tap the Sync with the OneDrive button to view any more choices. If you don't see your photos syncing to OneDrive immediately, you can force the Sync by tapping the Sync now button. You also can select which albums you want to sync and which you want to ignore when doing so.
The Step-by-Step Guide to Backing Up Your Samsung Phone's Files
Open the Samsung My Files app, and select OneDrive from the list of storage options to log in.
Tap Yes after you have successfully signed in to your Microsoft account. You are now able to store your files in OneDrive, which is a cloud storage service. Move or copy your files from the storage on your phone to the SD card or internal storage, and then upload them to OneDrive.
Hit OneDrive from the main page to view all of the relocated files, then tap the menu with the three dots and select Sync from the drop-down menu.
Look at our tutorial on how to back up your phone using Google services if you would instead use Google Drive and Google Photos than Microsoft OneDrive. It will show you how to back up your phone's content.
MobileTrans Walkthrough: How to Create a Backup of Your Samsung Device on Your Computer
MobileTrans by Wondershare is, without a doubt, the most user-friendly option for backing up your Samsung phone or tablet directly to your PC. You can back up all of the data on your device to your computer with just one click and then use MobileTrans to retrieve it whenever you need it.
It can back up eight categories of data, including contacts, audio, videos, images (Gallery), messages, calendar, call logs, and application data.
You have the option of backing up all of the data on your Samsung phone, or you may choose the different types of data that you want to keep.
Instead of overwriting existing backups on the device, the application has the capability to save multiple copies of them.
In the future, you can extract this backup onto the same or any other device using MobileTrans – Restore.
MobileTrans – Backup may be downloaded for free, requires very little technical knowledge to operate, and does not call for root access.
Using MobileTrans to back up the data on your Samsung phone to your computer involves a few simple steps outlined here for your convenience.
Step 1: Start the application and make sure your phone is connected
To begin, you need to download and install MobileTrans – Backup on your personal computer, then use the program whenever you need to backup your Samsung device to your PC. Establish a connection between your Samsung device and the computer via a USB cable, and then navigate to the "Backup & Restore" feature inside MobileTrans when you have done so.
Step 2: Select the various kinds of data that you want to store
MobileTrans: Backup will automatically detect snapshots if your device is linked to it. In addition, it will show you a list of the various data kinds that you can include in the backup file. To back up your Samsung phone, you must choose what you want to preserve and then click the "Start" option.
Step 3: Verify that the backup procedure has been completed
Because MobileTrans – Backup will save your data, all you need to do is wait for a while, and during that time, you shouldn't disconnect your phone. Your Samsung phone can be removed from the computer without risk once the process is complete.
How to Restore the Data on Your Device
After successfully backing up your data, the next step is to learn how to restore it. If you convert to the same phone or upgrade to a new Samsung smartphone, recovering your data will be more straightforward and take less time.
After that, navigate to Settings > Accounts and backup, Restore data, and choose your phone from the drop-down menu. The first step is to log in to your Samsung account. You can view all of the information saved to your Samsung Cloud. To get the procedure started, tap the Restore button. You may have to choose if you want to install the backed-up apps on your new phone; if so, hit Install.
And that wraps things up! Just be patient and allow the process to run its course. Even if you upgrade to a different phone brand, you can still access the information stored on your previous Samsung device. To accomplish this, launch a web browser and sign in to your Samsung Cloud account.
A Different Approach to Data Backing Up with the Samsung Smart Switch
Don't worry if all of this seems too complicated and like it will be too much work for you to handle. A more effective method is available for transferring all of your data from an older phone to a more recent one. Enter Samsung Smart Switch. It's an app that the corporation built for data transfer that makes importing your data as simple and quick as it possibly can be.
You may find the software in the app drawer on your Samsung phone, or you can navigate to Settings > Accounts and back up > Bring data from old devices under Smart Switch. The app comes pre-installed on all Samsung phones. The program can be downloaded from the Google Play Store for free for phones that are not Samsung models, and it can be used to transfer data between mobile devices running Android, iOS, and Windows.
Conclusion
When switching to a new phone, it is unfortunately quite common for people to forget to back up their valuable data to the cloud. If they need to perform a factory reset to fix a problem with the device, they may also lose their data because they forgot to perform a backup before resetting the device to factory settings.
You now have the knowledge to choose an approach that works best for backing up Samsung phones because you are familiar with three distinct options. If you would like to back up your Samsung phone to a cloud-based service, you have the option of using either Google Drive or Samsung Cloud. 
On the other hand, MobileTrans – Backup is the program you should go with if you want to make a backup of your Samsung phone on your computer in a short amount of time. Fortunately, the process of backing up can be simplified using applications such as Samsung Cloud and the OneDrive integration that Samsung offers. We strongly suggest using these tools to assist you in maintaining the security of your files, apps, and settings at all times.
FAQS
What kind of backup system does Samsung have?
provides you with access to the backups of your device. It is possible to make backups of your data and clear up local storage space on your Samsung smartphone by using Samsung Cloud, which is a cloud storage service that enables you to keep apps, music, and other items online and access them from any device. You can also use Samsung Cloud to free up local storage space on your smartphone.
How do I manage my Samsung backup?
Choose the option to Restore data from the menu that appears on the Samsung Cloud screen of your mobile device. Tap the storage device that contains backups you wish to remove. Select Delete backups from the menu that appears after you tap the More choices button (it looks like three vertical dots). From that point forward, you can select the kinds of files—Contacts, Clock, and so on—that you want to erase.
While backing up a Samsung phone, how long does the process typically take?
If you have the Automatic backup function enabled in Samsung Cloud, your data will be backed up automatically once every 24 hours, provided that your mobile device is connected to a charging source and a Wi-Fi network. Additionally, the screen should be turned off for at least one hour.