Freestyle Edge : The sole weapons of a PC gamer are the mouse and the keyboard. And owning the correct set of lethal weapons, gives you an edge over your opponents in the battlefield. In recent times the gaming industry has received a boom. Products like Liquid Cooling Systems, RGB lighting, and Mechanical Keyboards have flooded the market. But the one, about which we are discussing today is a bit different.
A device that has created a buzz in the market since its arrival.This keyboard by KINESIS is a mechanical split keyboard accompanied by  RGB lighting. And is named Freestyle Edge. The left module of the keyboard is solely for gaming. The mouse can be placed between the two modules so as to have a better grip and aim.
Freestyle Edge: The First Impression
The mere sight of this device gives you the sense of a gaming beast. Using the MX brown mechanical key setup this keyboard boasts the life of a key to be 50M clicks. Freestyle Edge comes with RGB backlighting with ten customizable effects. For instance, wave spectrum, rebound, pulse, rain and much more. The modules or the individual halves can be split upto 20 inches. The device is fully plug-and-play across all operating systems, through USB port. Freestyle Edge also gives you access to the SmartSet Programming Engine, by KINESIS. It is a device that catches the attention of any gamer. Since its design resolves many of the issues faced by the digital warriors.
Key Features
Now that we know the basic features of the product let's dive deeper. So that we understand why one should go for it. Here, I provide you a detailed analysis of various features of the product one by one.
Built Quality:  The body, made of PolyCarbonate gives you a feel of solid and premium built quality. Freestyle Edge uses the Cherry MX fully mechanical switches. The bridging cable is 20 inches in length. So that HOTAS, Stream microphone, or gaming mouse can be easily placed in your custom rig. Weighing 2.5 pounds, the keyboard's chassis dimensions are 15.5 x 10.3 x 1.3 inches.  
Keyboard Specifications: The keyboard is fully equipped with 95 mechanical keys. Freestyle Edge comes with genuine Cherry MX brown mechanical switches. With low-force tactile feedback, these switches offer pro level responsiveness and extreme durability. The company officially claims 50M clicks without fatigue. Loaded with RGB backlighting and customisable lighting effects.
Connectivity: Freestyle Edge uses USB 3.0 for connectivity. The device offers 100 percent plug and play support across all operating systems. No special set of drivers required. The connecting winter is 6 inches in length. 
Warranty and Support: Freestyle Edge comes with a 2 year limited warranty from the manufacturer. Also the company provides a risk free try out offer for 60 days.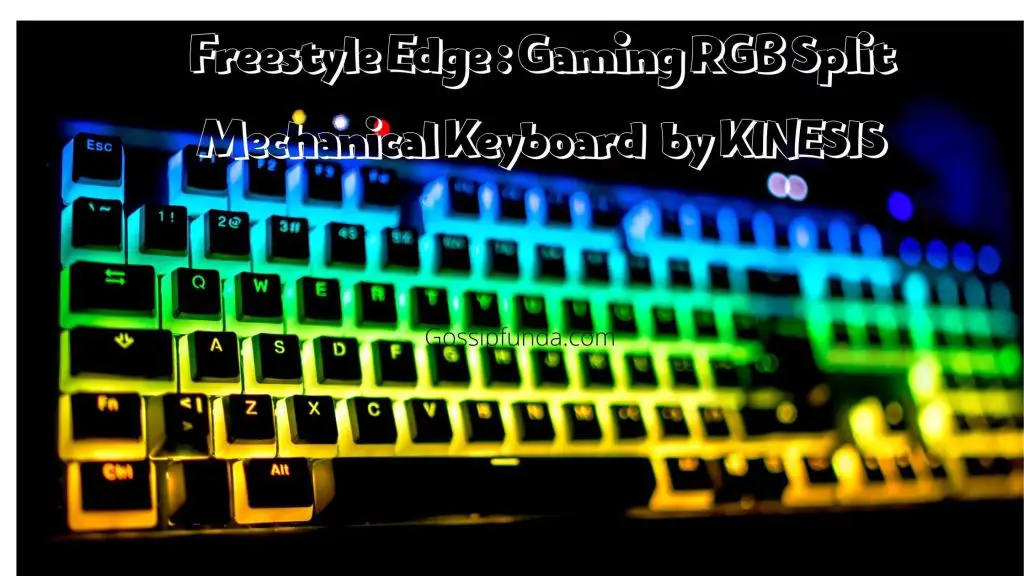 Alignment Modes:
Freestyle edge comes with different layouts. Whether you are a gamer or a typist, you can align it accordingly.
For the virtual warriors: Freestyle Edge keyboard can be converted to a compact gamepad anytime, all credit goes to its unique design. Just shift the right module apart and let your mouse be closer. Then enjoy hours of gaming without strain in your wrist. If the mouse is positioned in front of your shoulder you get more comfortable. Also enhanced precision, and less fatigue helps you play better longer. There are 9 game keys which can be remapped according to usability. Custom key layouts for different purposes is another feature that excites gaymers.
For the Editors: No worries if you are the one, running fingers over the keys for hours. This masterpiece turns into a full size keyboard in no time. Thanks to the bradging cable that contracts easily. 
Don't miss: Corsair keyboard
The Different Layouts:
Thanks to the unique design of the freestyle edge keyboard, you get four possible layouts of the modules. Here I discuss all the layouts in brief. Also by the end of this segment you'll have an idea about which layout to go for. According the requirement of the user the layouts are classified as:
Conventional: For a standard keyboard layout and classic typing experience, place the key modules together. It is recommended to begin with this configuration and gradually slide the modules apart until you find the perfect configuration. A configuration that suits your working style and body type.
XL Split: Segregate the modules 20 inches apart to place your HOTAS, streaming microphone, or mouse within your range. Freestyle Edge vaccines some amazingly precious space right in the centre of your workplace. It then depends on you to make the most out of it.
Free Rotation: When using WASD, the left module can be rotated independently for accurate key coverage of Ctrl and Shift. This is made possible, without crowding your mouse or hanging the keyboard off your desk. This layout also comes to your rescue when you're typing. By rotating the modules wrists can be kept straight, eliminating harmful ulnar deviation.
Tented: This layout requires additional products, the Lift Kit with Palm Supports or the V3 Pro without the Palm Supports. The choice of product depends upon the amount you are ready to spend for comfort.
These popular tenting accessories could be added irrespective of whether you're typing or gaming. This layout keeps your hands and arms in a neutral position to reduce the painful forearm pronation caused by basic "flat" keyboards.
The Lighting Effects:
This gaming beast by KINESIS offers 16.8M color per key RGB lighting. Adding to this you get 10 customizable lighting options. In this segment I discuss a few of them.
Rain
Light ripples down the keyboard in droplets. The color and speed of the rain droplets can be selected. Also the base color can be chosen in this custom lighting.
Reactive
This customization makes the keys light up in response to your typing. The color, duration, and the base color of the lighting can be selected as per your wish.
Loop
In this customization, bands of light move across your keyboard. tThe speed and direction of the light are customizable. Also, the color of lighting and base color can be chosen
Freestyle
As the name suggests, this customization allows you to freestyle the keyboard. All the 95 keys can be assigned custom colors. You can use the different colors to designate custom programming and never lose a hotkey.
The Keys
Freestyle Edge RGB keyboard by KINESIS uses MX Brown keys. Now, you must be thinking what's so special about these keys. The cherry MX brown key setup is a good blend for gaming and typing. These mechanical keys provide a stronger feedback during the bump. The tactile behavior and  producing less sound makes them the perfect pick for a gaming keyboard.
Read also: Logitech Keyboard
Specification Table
| | |
| --- | --- |
| Product Dimension | 15.5 x 10.3 x 1.3 inches |
| Item Weight | 2.5 pounds |
| Manufacturer | Kinesis Gaming |
| Item model number | KB975-BLU |
| Switches | 100% Genuine Cherry MX Mechanical |
| Lighting | Per-Key 16.8M Color RGB Lighting |
| Performance | 1MS Response Time, NKRO Mode, Game Mode |
| Warranty | 2 Year Limited Warranty |
Pricing: A single unit of the Freestyle Edge RGB keyboard by KINESIS costs you around 199$. Though you can get a price during offer periods or by applying exchange discounts.
Get some other deals here: click now
Additional Products:
As discussed above, the tenting layout requires certain additional products. To make the most out of the Keyboard while tenting, get any one of the products mentioned below:
Lift Kit with Palm Supports: This addon comes with additional palm supports so as to get the most out of the keyboard.
V3 Pro without the Palm Supports:  A basic add-on accessory. Palm supports are missing. Still can be used for basic comfort level while using the Freestyle Edge.
A Few Cons:
Freestyle Edge having so many advantages and key features comes with cons as well. Since this is an unbiased review, the faults of this device need to be discussed here.
Sluggish Software: The key mapping and lighting control software of the keyboard, SmartSet Programming Engine is a bit sluggish.
Over Priced: I know I am being a bit harsh out here but still this is my verdict for the keyboard, this product is a bit overpriced as compared to others in the market.
A Close Competitor
Kinesis Freestyle: The best pick for a non-gamer. If you are typing or coding for hours, this is a product that would aid your wrists. Though with regular keys this one does not give you the feel of a typewriter. Also, the keyboard does not have RGB lighting. Simply it can be said that it is a regular keyboard that comes in two modules with a bridging cable. A sum of 115$ is what you gotta pay to get a hold of this device
Closure:
Closing my write up, I advise you to go for this keyboard. Just keep in mind the major use of this product is for gamers. Though it can be used as a substitute for a regular keyboard. But If you are the one who is not connected to games, you won't be able to exploit all the features if this rig.You can go for this product for comfort. But make sure to buy the additional accessories as well. In the end it depends on you to ensure its perfect use.
I myself am a night gamer and in my opinion gamers should go for this. And not to mention that budget gamers should wait for this technology to become a little cheaper. I tried my best to make this review fully loaded with information. Also not forgetting to be unbiased the cons of the device are also mentioned. Finally the review can be summed up as, go for it if you are a gaming geek.