"FAILED TO OBTAIN IP ADDRESS"   this message hits everyone badly.  Whenever people try to connect with third-party wi-fi connections, it takes time to connect and shows the above-mentioned message.  Is this notification distracting you a lot? Wanna get rid of it?  Read this article and explore numerous fixes from wifi failed to obtain IP address. Gossipfunda can help you to obtain IP addresses easily when connecting with a new wi-fi connection.  
How to Fix Failed to Obtain IP Address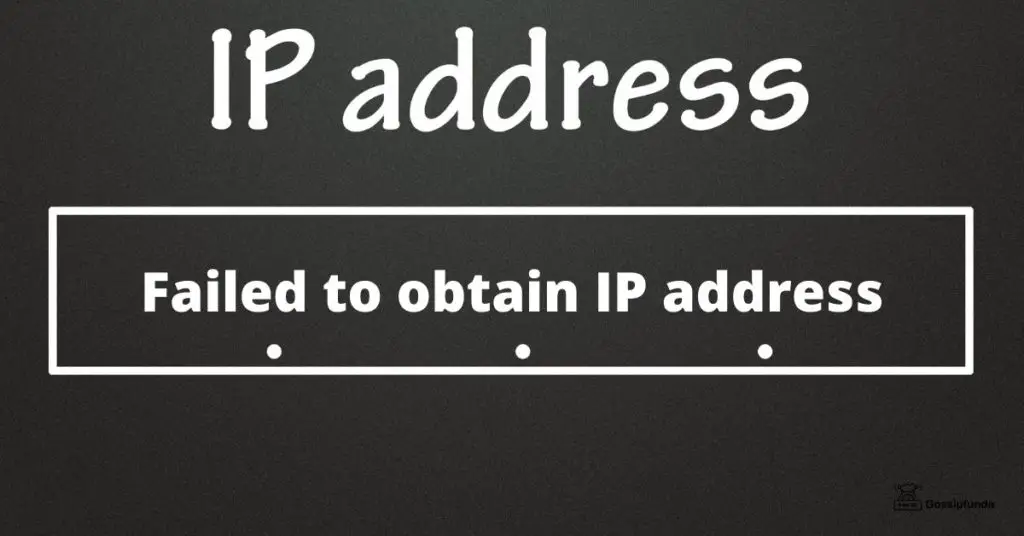 We are going to present 11 different methods to fix the error:
1. Restart the router
If you are facing Failed to obtain IP address on your android phone or PC then simply restarting the Wifi Router help you to gain the IP address. If you are using mobile not connected to a router then restart your mobile first. Again, If the problem is not fixed by this then apply other methods too.
2. Rename your device
Renaming may look like a silly option.  But users have seen and change in it. you can see our other article Changing Your Devices Name for this
Read also:
3. Change the IP address: 
IP address change can help the user to do a fresh start in detecting wi-fi and tracing it easily.  Follow the below-mentioned steps to change the IP address.  More or less, the steps will be the same for different versions of mobile phones.  Only slight changes are seen.  So, reading this can benefit any mobile user.
Go to settings.
Select Network and Internet.
Turn on your wi-fi connection by toggling on the button.
Some network connections will be listed that are present around you.  Select that you wish to connect with.
Then go to more options or long-press that particular network name.
Tap on the option "modify".
In that select advanced settings.
Choose IP settings.
Change the default settings from DHCP to static.
Type the IP address and click done.
When typing your IP address, type any numbers from 1 to 225.  But before deleting your old IP address.  Note down that as the same IP address repetition is of no use in this process.
4. Remove bloatware
Some time bloatware like chocoEUkor, coolEUkor, roseEUkor disturbs the IP system and we get message failed to obtain IP address. Removing such bloatware can fix the error.
5. Forget network
When your mobile malfunctions, you will restart to see an energized effect.  In the same way, removing the pre-installed network and adapting to a new one can gain an IP address from the source.
Go to settings.
Choose "network and internet".
Select wi-fi and long-press the network you want to get connected.
Tap on forget the network.
Close the Settings app and refresh your device.
Log in to the same network connection newly. 
Don't Miss: Instagram unknown network error
6. Use airplane mode
Disconnect your Wi-fi connection on your phone.
Turn on airplane mode.
Wait for 30 to 50 seconds and keep it aside without any functioning.
Turn off the airplane mode and switch on your wi-fi connection.
The second connection can help you to do a direct reconnection easily.
7. Encryption usage
Encryption that the user is holding on with is important.  The advanced encryption standard is a strong security standard.  Cybersecurity and government statistics or data are saved securely using this encryption by the government of the U.S.  This encryption is over-secured and over-qualified for common people's usage. That is why it is usually disabled by common users.  Similarly, TKIP is considered as unique encryption with mix-matching symbols, characters, and punctuation marks.  A small effort in encoding these works can increase the level of decoding effort that had been put in it.  Both AES and TKIP like encryptions are bit tougher to analyze and IP address is failed to obtain even if very small errors are done.  Same as AES encryption TKIP is also over-protection that is felt unwanted for common usage.  It is recommended to adopt with WPA2-PSK. 
Open the wireless settings of your router.
Go to the wireless security option.
Many fields like authentication mode, encryption mode, and WPA pre-shared key.  From those, select encryption mode.
Tap on the drop-down icon, options like AES, TKIP, and WPA2-PSK will appear.  Remember which mode is now applied in the router.
Change the encryption mode from WPA2-PSK.  If WPA2-PSK mode is available, choose it. Again, If AES and TKIP are only present, then choose the other one that was selected before.  If AES was already selected and the router was working in that encryption mode, then change to TKIP mode; If TKIP was enabled, change it to AES; It is preferable to use WPA2-PSK encryption mode, as it will not expect a tough decoding procedure.  This is because when wi-fi password analysis takes time while using AES and TKIP.
Click on the Save button.
8. MAC filter (black and white list)
Mac filter is a method used for security among wi-fi connections.  Two lists are prepared by the filtration software.  It helps the user separates network connections that can be allowed to contact the user's device.   The blacklist is the list of IP addresses restricted for connection with the user's device.  The white list refers to the IP addresses that are given entries to the network connection.  Accidentally, if some wi-fi connections are added to the blacklist, then the user may not be able to obtain an IP address and gain network connection. 
  So, when a dialog box mentioning failed to obtain an IP address appears, then try this option to have a good result.  Remove your IP address from the blacklist if it is present in it and check whether your network is on the white list.  If it is not present in the white list, then add it immediately.  This is because, when a connection is not listed under the white list, then there are possibilities for a slow connection.  The device may see it as a new one, and fail to obtain a new IP address.  Even after, listed under the white list, if your device failed to obtain an IP address, then try disabling the MAC filter.  It is the only solution if the MAC filter is the reason for failure in IP address obtainment.  If not, then other options given below can help.
How to disable MAC filtering?
Go to your router's settings.
Choose "MAC filter configuration".
Tap on the disabled icon.
9. Clear your Google play services cache
You may think how does clearing cache with a specification to Google play services can help IP address detection.  The reason behind it is, when you download apps, unwanted data and memory is saved as cache in this system app, Google play services.  When the user tries to get connected to any other form of internet source, then this cache disturbs that function.  This may look like a small reason but it is capable of doing so. 
How to clear cache in Google play services:
Go to settings.
Choose applications.
Search for google play services and enter it.
Tap on a clear cache option.
10. Clear malware in the device
Malware does the same function as a cache.  But the difference is cache is unwanted and disturbs the functions by consuming the resources of the device.  When considering the malware, it includes spyware like software virus affecting the function of mobile.  Even such malware is installed with few apps that are installed with essential applications.
Avast antivirus:  Avast antivirus is a wholly free app with less in-app purchases in it.  Most of the services offered by this app are free and don't require any purchase fee.  Ransomware and malware protection is installed in it.  To enjoy extra benefits, a pro version is available.  A device scanner facility is present to identify devices connected with the wi-fi of the user's phone.  When a user opens any illegal or unrecognized website, notifications are sent to avoid such danger web browsing.  When the user's device that was connected before, is lost it helps to find by tracking the location.  Microphone and camera protection service is seen in this app
360 security:  360 security app provides options to the user like junk cleaning, cache cleaning facilities.  Phone boosting and CPU cooling is available.  The virus detector option helps you to identify any virus present in the device like ransomware, or any malware.  The notification provider is present to remember you about periodical junk cleaning.
To stay away from malware, use a VPN when connecting to wi-fi in public places like coffee shops and libraries.  Maintain tough passwords but no need for tough encryption level and all.  WPA2-PSK is more than enough for a basic user.  Or else, maintaining a password manager can help to rule your apps safely.  Update all your apps regularly from formal sources – unfamiliar links
11. Factory reset wifi failed to obtain IP address
A factory reset can help your device to gain refreshment and work efficiently.  After a factory reset, third-party apps that function for the exploitation of resources are force stopped or permanently deleted from the device.  If you cannot detect the problem, then try the factory reset. This must be the last option
Go to settings.
Tap on system field.
In the advanced options, select reset.
Choose the "erase all data" option.
Now, reset your device.
Failed to obtain IP address get fixed
Conclusion
So, try the solutions mentioned.  Only after recognizing the root cause of this inability, solving it is possible.  Match the above-mentioned reasons with your device and compare it with the device. If somethings appear to be similar, then use the fix given.  By fixing this problem, your mobile can get refreshment as well.  By installing a malware protection app and by doing periodical checks, you are not only getting instant network connections but also providing double security to your handset.  Much needed facility for a phone is security than speed and all.