Facetime is the best facility introduced by Apple to make audio calls and video calls. It gives an excellent experience during calls. Facetime displays a real-time picture of the user through the front camera and connects to another person's device in video mode. During a facetime video call, you can change the camera from front to back and mute or unmute audio. But, Facetime is not working– How to 100% fix it?
You have to go to the settings app for active facetime mode, tap on Facetime, and switch on Facetime. FaceTime allows Apple users to make free calls over a cellular connection or wifi to other Apple users. We will be surprised that Facetime can work without having a Sim card on your mobile. Facetime generally requires good internet access and is compatible with all Apple products like iPods,iPad, Macs iPhones.Facetime is an essential feature of a device. If it does not operate smoothly, it becomes very irritating. It's a widespread problem faced by users that Facetime is not working. There will be minimal setting mistakes, which leads to trouble in Facetime.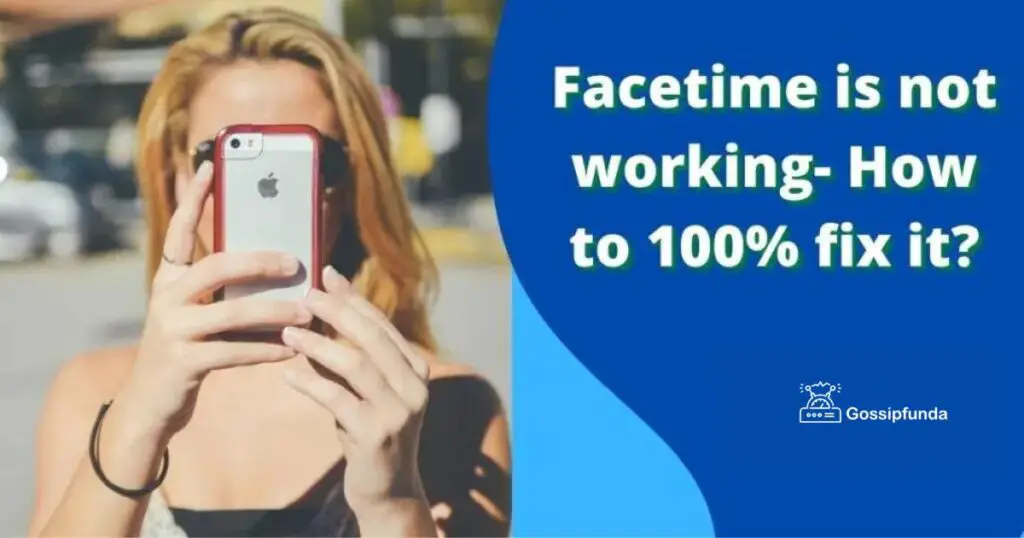 What happens if Facetime stops working? How to fix this issue by yourself? What are different methods for that? This article will explain why FaceTime is not working on your iPhone and how to fix it in simple steps.
1. Make sure Facetime is on
First of all, go to the settings app and check that Facetime is missing from your iPhone, and if so, we have to fix that. We may turn off Facetime by mistake and don't remember that. So checkout for the facetime switch is on or off. 
For fixing it, open the Settings app, tap on screen time, tap on content and privacy restrictions. Now tap allowed apps, and then make sure that the switch next to face time is on.
2. Sign out and in into Facetime
Sometimes signing out of Facetime and again signing in of Facetime can fix the glitches in an iPhone. So, to resolve facetime issues, use the sign-out, and after that sign in of Facetime using apple id.
For that, scroll down to apple id, you will see a blue link, tap on that, next tap on sign out from your apple id, after that just sign in into your apple id.
3. Closing and reopening facetime
The third method to resolve this is to try closing and reopen face time. It might be a minor software crash within the app itself, so closing and opening can fix that crash. Many times this method helps to start working on Facetime. 
For that, go to the apps feature, swipe up from the bottom of the screen if you have a home button on your iPhone, just double press that. Now swipe Facetime up and off the top of the screen.
4. Check for internet connection
You have a reliable internet connection for working on Facetime, and poor internet connection causes problems with Facetime. Internet connectivity may be cellular data or wifi connection, which is causing trouble in making facetime calls.
Make sure that your cellular data or wifi is on while using Facetime. If you are on wifi, try disconnecting from wifi and using cellular data to make phone calls, then you can find out it's the network's fault or not. And, If you are using data, try to use wifi to make phone calls. If there is a problem with the web, then contact your wifi service provider. For that, open the Settings app on iPhone, tap on cellular, observe the list of apps, and check for Facetime.
5. Call another person
It may happen if you face a facetime working issue with only one person and make calls to all other persons. Sometimes due to some software issue or not enabling Facetime in another person's iPhone causes facetime problems. It can also be possible that the person you are calling is not connected to the internet, so you face a problem during the connecting call. So try to call another person to identify the problem. Maybe it's just an issue with one person.
6. Check date and time
An unusual fix to a common facetime working issue is found in date and time settings. For smooth working of Facetime, the date & time should be set to set automatically. We have to check all minor settings to find out the problem with Facetime. For that, Go to the settings app, scroll up to general, tap on that and then tap on time and date. Make sure that the date and time are set to set automatically.
7. Restart iPhone
It is a simple way to fix facetime issues. Just try restarting your iPhone. It could be a minor software glitch, and it is the most common solution for fixing facetime issues. Go to the Settings app, scroll down, and swipe left to shut down option right. Press the side button or power button to turn on the iPhone.
8. Check for IOS updates.
It can be irritating to stop what you are doing and wait for a software update, but it's worth it. Face time is a native app, so you have to keep it updated. The update process introduces new features, and the update is Mandatory for working Facetime smoothly. Without updates, it is not possible to work Facetime properly. 
So go to the general settings app and check the software update. Tap on that if an update is available, then download and install it, or if it is already downloaded, then only install it.
9. Confirm whether Facetime works or not in your country
Another way is to confirm whether Facetime is working in your country or not. Facetime is free internationally however; it is not available worldwide. Facetime does not work on products purchased in Saudi Arabia, Pakistan, United Arab Emirates, and Dubai. Later on, new generations of iPhone give the facility of Facetime in the above countries, but an old piece of iPhone does not provide the facility of Facetime.
10. DFU restore
If all the above method is not working for Facetime, then another way can be used: DFU (device firmware update) restore, which is the deepest restore in iPhone. Keep in mind that DFU (Device firmware update) will clear all your data from your iPhone, .so make sure that you have backed-up all your data from iTunes,iMessage, and iCloud to the new Mac. Hopefully, this will work.
11. Contact customer support service
Every company has its support service for solving issues their users face, and apple company also provides support services for its users. First, try all methods posted below to solve facetime problems at home. If Facetime is not working using all the above techniques in any condition, it could be a significant issue with your iPhone or settings. So the best way to solve your problem is to contact Apple support.
Conclusion
Facetime gives the best calling experience to users, so Facetime is most used and loved by users. But trouble while making audio or video calls causes frustration to users. Facetime not working is familiar problem users face, so fixing that trouble is necessary. It can be solved by using minimal steps like restarting the iPhone, checking updates, etc.
There are several methods for solving that issue at home discussed in this article.98% of users' problems can be solved using the above home methods. Still, you have to contact customer support in rare situations, and the Apple service provider can fix your issue.
FAQ
Can I use Facetime without using cell service?
Facetime only requires an internet connection; it may be wifi or cellular data. Facetime audio or video calls can be possible even if you don't have a Sim card on your mobile. It needs an internet connection, so connecting to wifi is sufficient for making calls irrespective of cell service. 
Why can't you see other people on Facetime?
Facetime requires sign-in for it's working. Suppose another person does not sign in to their facetime account using Apple ID. In that case, this issue is raised. So both people have to sign in on Facetime and have good internet connectivity for making successful calls. 

Can you Facetime use an email ID?
Yes. You can use an email ID for Facetime, and for that, first, sign in to Facetime using Apple ID. After that, tap on another Apple ID and use the credentials you want to use, i.e.enter the email ID you wish to use instead of Facetime. 

Who pays for facetime calls?
This is a common question that arises in users' minds because Facetime does not require cellular minutes, and Facetime only uses data such as wifi or cellular data. If you are using cellular data, you will pay for facetime calls, and if you are on free wifi, you don't have to pay for facetime audio or video calls.