Have you been trying to text a person but keep getting this recurring message stating "error 98 SMS termination denied"? Well, there is not much to worry about as you have come to the right place after googling, to get your problems solved in minutes, if not seconds. The "error 98 SMS termination denied" is reported as one of the most often caused issues by the handset users, and as common it is, the solution to this problem can also be found easily on most of the situation. So here, we have got you covered about all that you need to know about this error and how to get it out of your device. So dive in this article and 100% fix your issue!
Why are my SMS failing to send?
If your android is causing trouble while sending messages, the first thing you should do is check whether you have a decent signal- without cell or data wifi-connectivity, those texts are going nowhere. A soft reset of your android is most probably to fix an issue with outgoing texts, or another simpler method could be if you force a power cycle reset.
What is SMS termination?
Basically, SMS termination refers to the delivery of the SMS message from one mobile user to another (P2P) or an application to a mobile user (A2P). The termination means that the message was delivered to a mobile phone user respectably.
See the process on our YouTube channel:
What does SMS termination denied mean?
SMS or short messaging service is the most used name for text messaging. The cellular carriers use a complex network and even complex method of communication between both ends and computers to transmit text messages and voice data both internally and between other carriers. When the recipient of the text messages is facing issues in receiving them, you are most likely to receive the SMS termination denied error.
What is generic failure in sending SMS?
The Telerivet Gateway Application has helped have and determined that the most common error encountered by mobile phone users while sending messages is the "generic failure." This usually means that your Android phone does not have sufficient balance or credit with your respected mobile network. You need to make sure that there is enough credit to send SMS messages in your handset, and after doing a double check, it would be in the best interest that you try again.
Don't miss:
Why does "error 98 SMS termination denied" occur?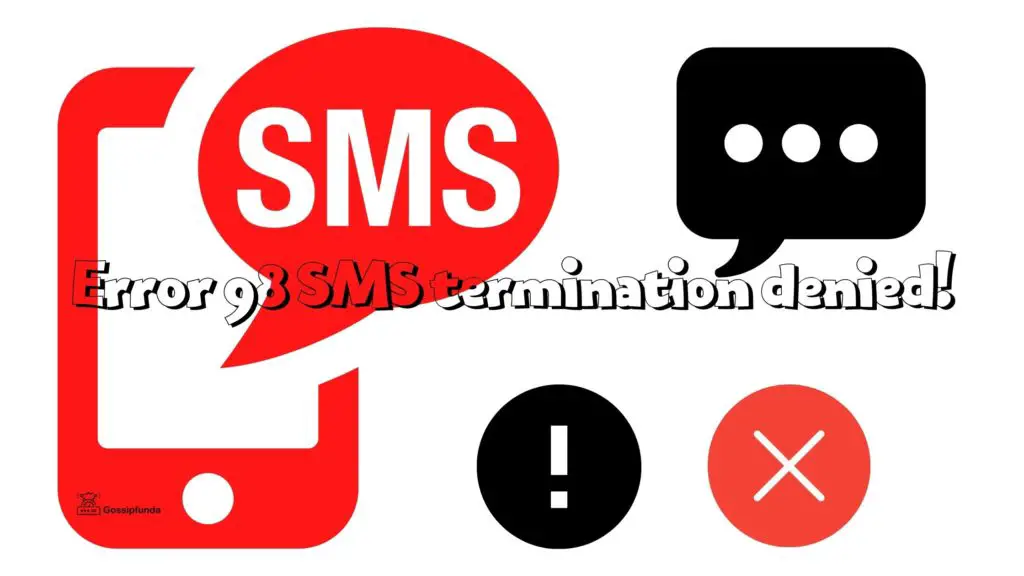 Several users have frequently reported this error. As per our reports, we have found that it could occur due to several issues that are fortunately curable and solve the problem completely.
1. Improper sim installation
A lot many times, this error occurs due to some issues regarding the insertion of the sim card. There is a high possibility that when you were inserting the sim card in the sim tray, it might not have installed properly while you were at it. If the sim card is partially connected or disconnected to the tray, this error could be triggered unless taken care of first hand.
2. Service outage
In most cases, this error is caused due to a service outage on the carrier's end. This service outage may be due to a maintenance break or due to other reasons. It is best to call their customer support and inquire about the issue.
3. Glitch
This error might be rare but is often reported by a substantial amount of users. This error can be caused due to some minute glitch with the mobile phone. It could be that during the start-up, the mobile might get glitched and not load the sim card properly.
4. Outdated phone
Another likely possibility could be that your phone might be outdated and not available in the market anymore. The reach might have been limited by your service provider, causing this error. You might not be able to send messages from your cell phone because your device might not be able to corporate along the service lines of other available products. Changing your handset could be the only solution in that case.
5. Pending system updated.
Most android handsets periodically drop updates to enrich the features of the system of the mobile phone. However, when you don't update the system on time, it might start causing troubles that can be tackled if taken proper measures. The system updates anyway help your device to function in a more enhanced way, so we don't think there could be any problem with proceeding with that.
How to fix Error 98 SMS termination denied
The above are the issues that are most likely to cause "error 98 SMS termination denied" as per the numerous reports that we have been receiving from mobile phone users. Based on the above-provided information, we can say that you have now got a basic understanding of this situation and grasped the nature of the problem you are currently facing. So now, we can move towards the solution of this problem and implement them in a specific way in order to avoid conflict.
Restart the handset
No matter how big the problem may look, a simple restart can more, often than not, fix it in no time. Hence, you should try powering down your mobile phone completely and then restart again by working through the following steps.
Long press the power button
Tap on the "power off" option and wait for the device to turn off
Press and hold the power button key again
Wait for the mobile phone to turn on and check if the error is still there or if the problem has stopped to persist
Check for updates
this issue is very likely to be triggered in case you have an outdated device. In certain instances, the problem persists if the software update is now continued and installed on time. Therefore, in the following step, we shall understand how to download and install the software updates lingering on your mobile phone.
Drag down the notifications panel and click on the "Settings" icon or you can manually open the "settings app" from your home screen
Navigate to the bottom and select the "system" option
Click on the "software update" option and tap the "check for updates" button.
Wait for your device to automatically check for updates if in case there are any.
If found, download and install the new updates
After this process is done, restart your mobile phone and check if the issues still continue to persist.
Do the re-installation of the Sim-card
In some cases, improper installation of the sim card might be the root cause of this issue, triggering the forthcoming error. Therefore, in the following step, we shall be manually removing the sim card and then inserting it again in a proper way.
Switch off/power down the cell phone completely.
Take out the sim tray using the sim ejector tool. (In some android handsets the sim card area is under the battery, so removing the battery would be the needful)
Remove the sim card from the tray and rub it gently on a clean cloth
Reinsert the sim card, keep the battery back on the place, and power on the device.
Check to see if the error still continues to persist.
Check account or credit details
More often than not, this is found to be the root cause of most of such errors, as reported by the handset users with this recurring issue. This can be easily dealt with by making sure that there is enough credit on your mobile phone to be able to send outgoing messages. Most carriers charge per text message unless the account holder opts for another service regarding text messages. Some users also often opt to remove text messaging services from their account to avoid running up their bill.  You can also check the same by contacting your service provider to normalize things on their end with the help of their experts.
See also: Message+ keeps stopping: Let's fix it.
Point to remember
Remember that these happen to be the most basic troubleshooting steps that can be taken to get your device in a better condition in case of minor inconvenience. However, these steps will help you ensure that the problem occurring in your handset is at least not triggered from your end. If the above-given solutions don't solve your problems, the recurring error is most definitely caused due to a service outage. If that really is the case, it is best to contact your customer support or service provider to get this figured out as soon as possible.
Conclusion
The above article has been written to provide the reader with insight into the issue of error 98 SMS termination denied, they have been facing with their device while sending messages. The article has been constructed in a very easy-to-read manner so that every age group is comfortable with the solution while they are at it. We hope that the above article was simplified enough to help you navigate your issues and get to an appropriate solution by the end.