Duplichecker: All in one SEO Tool
                          Does your profession include writing creative content? Or does it include to check if the content created is not plagiarized?  Are you looking for some plagiarism checker? Then you are at the right doorstep. Your quest ends here. Have you heard of Duplichecker? Well! It is basically a convenient method of checking plagiarized content available online without having to burn a hole in the pocket.
But do you know what plagiarism is? Plagiarism or Piracy is defined as stealing or the act of practicing of taking someone else's work, thoughts, language, text, or ideas and passing them off as one's own or original. Detection of content similarity detection is a process of locating instances of plagiarism or copyright infringement within a document.[ref] And that's what exactly Duplichecker does. Plagiarism in itself is not a criminal offense, but copyright infringement is. Legally, it is dishonesty in academics, unethical in journalism, and also punishable. Duplichecker not only keeps a weather eye on plagiarism but also provides the privilege of using a free tool online for your daily needs. It is all in one tool we will need while doing SEO (Search Engine Optimization), Image search, web management, text analysis, PDF converter, and many more. Let's have a look at them.
  Text Analysis Tools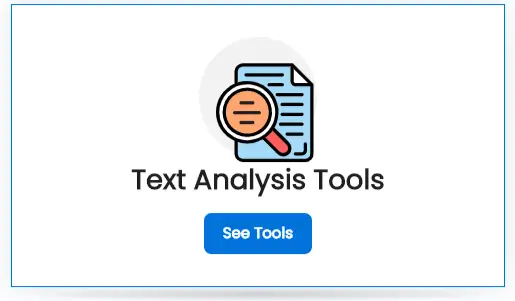 To begin with, the internet has a massive amount of content available online readily. Everything is just a click away. But it is not easy to distinguish the content as good, bad, worse, and the ugliest. Keeping your readers engaged throughout the article with the same magnitude of interest till the end is often a strenuous task. If you are into the profession of checking of plagiarism then you seriously have remembered about the writer of the content and the way it was submitted after the plagiarized document is checked. Did those moments hit you? Are you feeling cringe? Don't worry! The free Duplichecker tools of text analyzers will pitch in to finish your work with excellence to another level. They include small SEO tools:
Plagiarism Checker–
To check the content written is plagiarized or not. It is most important because plagiarism will be penalized by Google for your mistakes whether you did it in purpose or without purpose as it detected plagiarism. If you are interested in high Search Engine Optimization, then we will recommend this for you.
Word Counter–
It takes a lot of time while counting the number of words. Or at times, you need to track how many words are left to reach the target. The function of this tool is to count the total number of words in the document.
Change Text Case–
It tool changes the text or group of text from upper case to lower case and lower case to upper case.
Spell Check–
Often, it is noticed that typing fast gives rise to spelling errors. Your writing skills might impress any writer, but any spelling error can confuse the reader. To illustrate, it's more or less like a clove in your biryani. This tool checks the spelling errors in the document and rectifies them.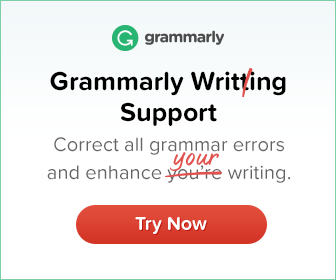 Merge Words–
It combines different files into one document. "Merge Words" merges different words, and it provides a unique keyword for those groups of letters. It also allows the user to surf the internet for footprints, keywords, and best words suitable for your text. 
Grammar Check–
This tool looks after the grammatical mistakes in the document and corrects them.
MD5 Generator–
It is designed to secure your cryptographic algorithm for authentic digital signatures. Genuinely, this generator helps you to invent your own MD5 hash from a string.
Image Text Converter–
This tool has the privilege to translate any picture into any language you want. Just choose a picture file which you want to translate and then copy-paste it here. That's so simple and easy.
Translate English to English–
Translating your content his tool allows you to translate the British English written text to translate it into American English. If you want your content to reach a wide range of audiences, then you definitely need your content to be in English. Because approximately, out of 7.5 billion inhabitants in the world, a total of 1.5 billion people read, write, and speak English.
Use tool: Click Here
Duplichecker Website Management Tools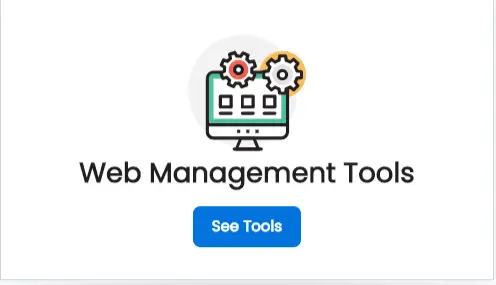 If you have ever been in charge of a website of an organization, institution, or company, then you know better what all hardships you go through. Updating new features, according to the circumstances, is a difficult task. Most importantly, it promotes the brands, and that is why e-commerce companies use this app to maintain their website. Not only that, but it also helps the consumers make contact with the supplier and vice-versa. If you want your business to flourish, it does not matter if your shop is small or huge. Here are some Duplichecker Website Management tools to help you with your continuity of serving.
1. Page Speed Checker–
You might be misunderstood by the tools website speed and speed of a page. Page speed is defined as the load time of the page. This is also referred to as the time taken by the webpage to display the content. This tool makes it convenient for beginners as well as professionals to get necessary information about the webpage loading speed.   
 2. Open Graph Checker–
This tool is used to integrate with other websites. This allows the website to get concerned with their social graph. With this tool, you can create an open graph for interactive social content. It creates a code that can be copied and added to the header of your domain. After the link is generated, you need to check if it is working properly or not.
 3. Internet Speed Test–
This tool's function is to check the speed of the internet. Once you click on the button Begin Test button of begin test button, the tool will access the speed. It comprises the minimum and maximum uploading and downloading speed.  
4. Twitter Card Generator–
 As Twitter is the most eminent social media platform worldwide. Many bloggers, e-commerce websites, use twitter cards to expand their business. The Twitter card has the privilege to add highly rich content such as GIFs, photos, and videos. You can easily create a twitter card by adding a few HTML lines then you can control the traffic on your website.
5. Google PageRank Checker–
 If you are creating content for an SEO ranking, then you might have come across this word several times. This is an essential Web Management Tool to check Google's link-analysis algorithm. It calculates the links that direct you towards the website as well as the quality of the content. The measure of the link is in the range of 0-10 scale. On this scale, 1 is the highest PR, and 0 is the lowest PR.
6. Website Page Snooper (HTML Viewer)–
 It shows the HTML code of any website on the internet as well as it can uncover the source code of the webpage. It highlights the HTML source code. The one highlighted in blue is the HTML, the one in red is the Parameter and the one in green is the value.
7. AdSense Earnings Calculator–
 Good news! You can calculate the amount of money you can make through AdSense. It is often a difficult task when done manually. This tool can inspect and estimate the amount of gain of money on AdSense.
8. Website Click Counter–
 This tool functions to count the number of visitors on the website. It not only shows the real-time tracking of the visitor when they login to the website but also displays every time when any new visitor opens the website. Moreover, it neither affects the working of the website nor affects the efficiency of the website. Even if the user refreshes the webpage, then it would not count the same user as a new visitor. 
               The Web Management tools also have other features such as Instant Search Suggestion, Email Privacy, CSS Minifier, Robots Txt Generator, Htaccess Generator, AVG Antivirus Checker, Mobile-Friendly Test, HTML Minifier, URL Shortener, Google PR Checker, Web-Page Size Checker, XML Sitemap Generator, URL Encoder Decoder, OG Generator, Get HTTP Header, WP-Theme Detector, Screenshot Capture, Video Downloader, JS Minifier, Website Pinging Tool, Web-Page Snooper, URL Rewriting Tool, Adsense Calculator, QR Code Generator, Website SEO Score Checker, Website hit Counter and Screen Resolution Simulator.
Get a free trail of best SEO tool: Click Here
Keyword Research Tools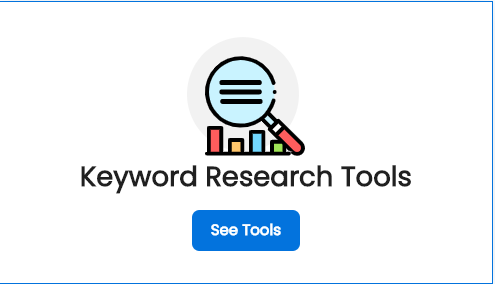 Does your profession include looking after how people are looking over the products, information, and reviews on the website? In order to organize the traffic at these online sites, thereby making the organization's Search Engine Optimization durable. Moreover, you don't need to worry about if you were a beginner use Duplichecker.
a) Keyword Position–
 If you have creative content, you need to ass eye-catching keywords for Search Engine Optimization. By using this tool, you can check to know on which website the keyword belongs to.
b) Keyword For Websites–
 Well, we know that many times Search Engine Optimization has irritated its users. If you wish to uncover the most searched keywords, such as phrases and idioms related to your content, this will help you out. 
c) Find Long-Tails Keyword–
 If a keyword has more than two words, it is considered as a long tail. This tool will copy your keyword generally a phrase or idiom and search it in the search engine, and it will let you into a webpage of similar long-tail phrases or idioms.
d) Keyword Finder–
 This tool looks after your keyword to the main keyword. It helps the beginners who have no experience with Search Engine Optimization. Type the main keyword, and start searching. Click on stop searching once you get enough options for your keyword.
e) Keyword Density Checker–
 To invite customers from all over the world, you need to engage your readers with thought-provoking statements. Thus, this tool allows you to run a density analysis on the existing webpage.
f) Keyword Competition–
 With this tool, you can check all the alternative keywords which are competitive with your keyword. You can use this tool to check those keywords.
g) Find Keyword Rich Domain–
 To start your business or in e-commerce, your domain name should be eye-catching, precise, and fashionable. With this, you can lure customers towards your domain. This tool will help you chalk out numerous domain names over the internet by providing you with rich domain names. You just need to enter the keywords and submit them to be presented with suitable domain names.
h) Keyword Analyzer–
 This tool will help you to analyze the density of the keyword. It is calculated on the basis of the percentage of how many times these keywords pop up on the webpage or a website. It also gives an opinion about the content if it needs improvisation for Search Engine Optimization.
i) Keyword Suggestions Tool–
 It takes a lot of time to search for the accurate keyword for the article. Duplichecker has other free keywords to get fed to your article. Once you do so, it will appear on the screen, and you need to choose which one will best suit your content.
The Keyword Research Tool also includes these features. Those are as follows- LSI Keyword Competitor, Meta Tag Generator, Find PPC Keyword, Keyword Overview, Keyword Difficulty.
IP Tools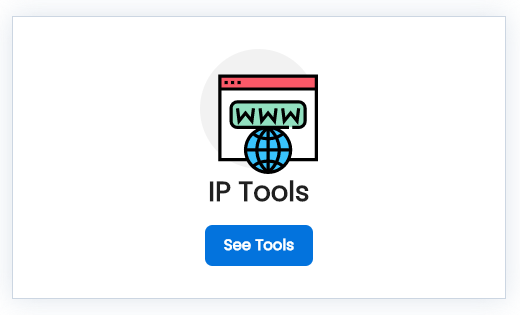 The Duplichecker IP Tools has the privilege of tools that will be used in an IP address. Through this, you can go to various websites for the company's name over the internet and surf the internet safely without any hindrance. If you want to send emails, notes, and media through the internet, you can only do it with an IP address. This IP address is specially assigned to one and the only website; thus, every IP address is unique. Even if the IP address of the website keeps changing, but it does not affect the proficiency of the website.
What is IP?
 Here, IP stands for Internet Protocol. This is the secret, personal, and unique address provided by the internet to the user as an identification card. That is why the IP address of a person or a website is kept covered so as to avoid identity theft and misuse of the IP address. This helps you to surf the internet freely. But in the case of gamers, they share their IP address in order to connect with other gamers using the internet.
IP Location Finder–
 If you want to find the IP address of any website, then you can use any online free softwares available. It not only leads you towards the website but also gives information about the location from where it is hosted.  
Free daily proxy list–
 Do you know that if someone has your IP address, then they can track you as well as they can see your browsing history? Even you are going Incognito. Some websites can track a new user on their website and also can gather all information about you. Because of these reasons, proxy servers are also involved on the internet. But this can be avoided as they can only detect you as long as you are online. 
Reverse IP Domain–
 It is a well-known fact that hosting services are shared amongst the circle of your surrounding. But this is an excellent platform for hosting providers. The best thing about them is that they are cheaper. With this, you can also detect any malicious software while being online.
GEO IP Locator–
 If the internet or working on the internet is your job, then it is equally important to check the traffic on your website. By browsing your IP address, an anonymous person can find your location and all the pieces of information regarding you, including your passwords and IDs. This tool is designed not only to help you acknowledge about the last visitor but also keeps a record of all the visitors.
Check Referring IPS–
 If you are facing some issues regarding your IP address, then it is time to inspect and keep a weather eye on your IP address. Sometimes Class C gets duplicated accidentally. Anyone who used Internet Service Provider (IPS) has a Class IP address. Even each device connected to the Wi-Fi has a unique IP address. Thus at times, it gets duplicated.
Use tool: Click Here
SEO BackLink Tools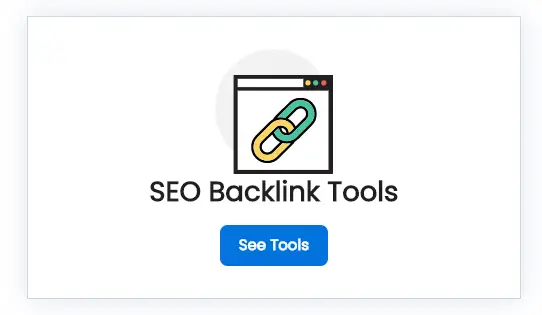 If you want your business or e-commerce to bloom and increase manifold, then your website content should have high SEO performance. Because this organizes traffic on your website, thereby giving it more top search ranking. In the search query, google promotes and considers those websites which have high-quality backlinks and also makes them relevant to the search query. This backlink not only manages traffic but also helps grow the reputation of the site and even relationships with the customers. This tool is a must if you want your Digital Marketing system to escalate. This Duplichecker tool is overall the building block to SEO.
Link Tracker–
This tool not only helps you to find those links which point towards your website but also estimates and informs you that if those links are being helpful or degrading your website. It will show you those websites listed in a document. The anchor will show your Page Rank, including whether or not the website link is live. This tool is not time-consuming but can safeguard your relevant information online.
Broken Link Checker–
 This tool inspects if your website link is active or broken or strong. However, a strong link of the website privileges no hindrance to the whole website. If your link is broken, then it is called rot. This tool will not only track the broken links but also rectifies, refreshes, and keeps them up to date. 
Line Analyzer Tool–
This tool analyzer your profile on the website and compares it with others on the internet. This tool is also used to analyze and review all links on the web with ease. 
Reciprocal Link Checker–
If you want to experience new heights for your website, then a partnership is essential. And a reciprocal link will chalk out your way to succeed. To illustrate, a Reciprocal Link is a link shared and used by more than one website. Not only that, but it also tracks which website is collaborating with which domain. 
While you are doing collaborations and promoting each other, then this tool will save you precious time by checking those websites on its own.
Link Price Calculator–
 This free tool is used to plan and estimate how much capital is needed to charge per month
BackLink Maker–
 Like the other tool mentioned above, this tool is also free. The function of this tool is to create backlinks for clients. The backlink searches for relevant links when the website URL is entered.
Link Count Checker–
It not only checks the total number of links online but also inspects external links, internal links, and no- follows. To illustrate, External links are simply those links that lead you towards other websites. More the External link more is the growth of the website. Internal links are the shortcuts that chalk out the proper path for other websites. And talking about No Follow websites, these are a treat to your site. This tool detects and highlights them.
Backlink Checker–
 This is common that a website can have multiple backlinks to support business worldwide. But this issue may arise that those backlinks are not working proficiently. Backlink Checker comes into play when you need to change or create a new backlink for the existing backlink to boost your website's performance. This tool also keeps an eye on inspecting whether or not your backlinks are active or dead. 
Also, the Search Engine Optimization BackLink Tools have the significant features such as BackLink Counter, Web Link Analyzer, Broken Backlink Checker, Find BackLink Competitor, Broken Link Checker, Link Price Calculator, BackLinker Generator, BackLink Tracker and Valuable Backlink Checker.
 Other major tools of Duplichecker include Domain Tools, Image Tools, Password Manager, Website Checker Tools, PDF Converter Tools, Unit Tools, Binary Tools, and many more to explore.
Conclusion
                  This website Duplichecker is for all those who are planning or pursuing their business online. They are a team of professionals on the mission to privilege its users with the best quality SEO and text for text analysis.  Their main purpose is to benefit their clients by making the best of available online services.