Wanna explore on Droid Turbo 2? Here comes the right article.  Know about the Droid series and acknowledge its predecessors too.  Take back a guide on Droid Turbo 2's functions, errors, and fixes.  Acknowledge the efforts of Motorola towards recycling.
Droid turbo 2
Droid turbo 2 is a product of the company, Motorola mobility.  Rolled under the series of Droid series, it was expected as an updated model from its predecessor Droid Turbo.  Whereas its successor Moto X4 and Moto Z force outperformed it with advanced features.  The region of product availability is the United States only. You need to know about com.motorola.launcher3 and Motorola edge plus.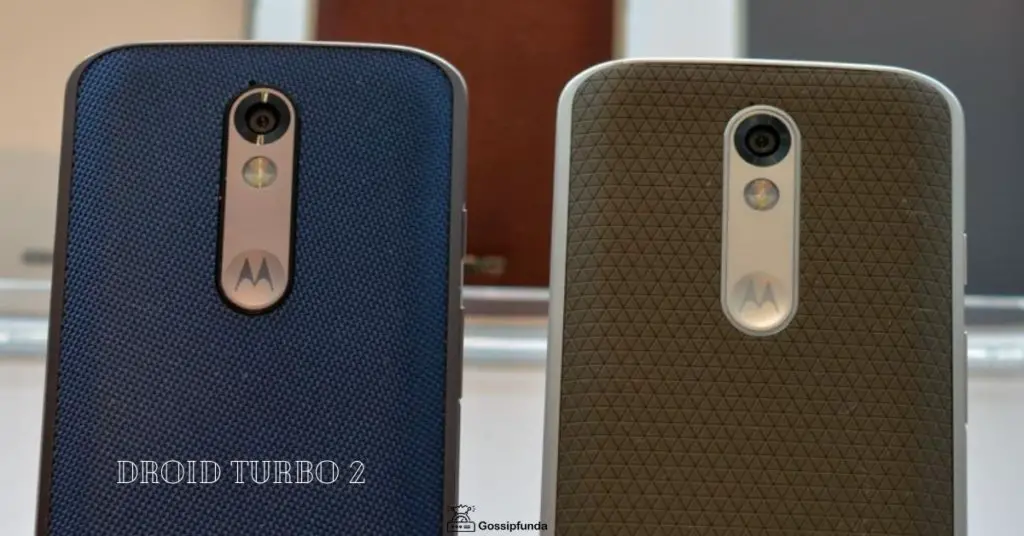 Origin of droid series
Droid Razr was the thinnest ever smartphone (while it's release), at 7.1mm thickness. It was compiled with an advanced Pentile display covered with a gorilla glass screen and a Kevlar backplate.  
It comes up with a diamond-cut aluminum chassis.  Usually, the droid series has the below-mentioned features compiled with it.
Capacitive screen with Corning Gorilla Glass with oleophobic fingerprint-resistant coating.
It is installed with version 2.3.6. Gingerbread and has a user interface Moto blur (same software with updated versions are used). 
It enables unified contacts, pre-installed google apps, smart actions, and Webtop.  It is upgradable to version 4.1.2. Jelly Bean.  It also has official support from the Lineage OS project.
Specifications
| | |
| --- | --- |
| Parameters | Specifications |
| The dimensions of Droid Turbo 2, | it has a height of 149.8mm (5.90 inches), a width of 78mm (3.07 inches).  The curve of it measures from 7.6mm to 9.2 mm and weighs 169 grams (6 ounces). |
| Storage | Stores up to 32GB to 64GB and avails an extension of it by using a Micro SD up to 128 GB. |
| battery | store up to 3760mAH |
| display | measures 5.4″ (2560×1440) with an AMOLED screen |
| rear camera | 21MP and front camera with 5MP.  |
| Sound facilities | front-ported loudspeakers |
When considering the software of it, it is Android 5.1.1. version and has a memory of 3 GB.  A salient feature of the device is the Shatterproof screen.
Shatterproof screen
Shattershield is a unique feature of the handset and consists of five-layer protection.  Motorola took three years to create such a screen and it is piled up with durable aluminum core, a flexible AMOLED screen, and two touch layers.  It was dropped continuously to explain its shatterproof and never got damage.  This five-layer method was introduced to save the display of a phone from repeated damages by falls.  This offers comfort to the user so that they can use it in a cool way. 
Storage support
Cloud storage has become a basic feature in upcoming models of smartphones.  Beyond that users expect vast expandable memory.  To support such spacious storage in a device, this handset avails 2 TB memory card, which is most faithful than any other apps which don't gain your 100% affordability.  You can use Motorola Migrate for an Easy Way for Switching.
Note: There a an bloatware named ChocoEUkor you must know about this.
Wireless power
Droid Turbo 2 supports both Power Matters Alliance and Wireless Power Consortium. see the power of Motorola Talkabout.
Power material alliance
PMA was a global, non-profit industry with an aim of improvising the standards and protocols for mobile electronic devices.  In 2015, it was merged with an alliance for wireless power (A4WP).  Its key features are inductive coupling, digital transceiver communication, and cloud-based power management. 
Starbucks announced it would offer wireless chargers at the coffee houses in the US and selected European and Asian markets.
Wireless Power consortium
Wireless power consortium is a multinational technology consortium with a mission to create and promote wide market adoption of its interface standards Qi.  A basic stimulator for creating such a wireless standard was to charge a portable water purifier called espring.  Technology developed for it is eCoupled.                                                                                                
Droid Turbo 2 and other models
| | | |
| --- | --- | --- |
| Device name | Model | Specialty |
| Moto X Force | XT1580 | Single sim, global model |
| Moto X Force | XT1581 | Dual sim, a Chinese model |
| Droid Turbo 2 | XT1585 | Verizon exclusive |
Major drawback
The absence of a fingerprint scanner is a great failure of the development.  Unlocking the handset by usually typing the password won't offer comfort and ease to access.  Nowadays, even payments are done with fingerprint access.  This is irresistible by the users.
Usage of Droid turbo 2
After analyzing the features and specifications of the device, now we can explore some functions of it. 
How to restart in safe mode?
Long press the power button till the options to power off and restart appears on the screen.
Long press power off option on the screen to reboot.  Tap until "reboot to safe mode" prompt appears.
Tap on the "reboot to safe mode" option and confirm by pressing OK.
Next, check it's working in safe mode.
Safe mode is done before a factory reset.  It helps you to troubleshoot third-party apps disturbing the user with some issues.
This process helps you with the temporary disable of apps.  If the safe mode icon appears on the home screen, then it means that safe mode is enabled.
Difference between Droid turbo and Droid turbo 2
Droid turbo has Android 5.1 and droid turbo 2 is installed with android 5.1.1.
The camera app is the same for both models.
The processor used in droid turbo 2 is Qualcomm Snapdragon 810 with Adreno 430 GPU and droid turbo has Qualcomm Snapdragon 805 with Adreno 420 GPU.
5.4-inch P-OLED display with shatter shield is available in droid turbo 2 whereas its predecessor has an only 5.2-inch AMOLED display with corning gorilla glass 3. 
When both the devices have the same amount of RAM of 3 GB, storage is 32 GB or 64 GB expandable and non-expandable for droid turbo2 and droid turbo respectively. 
Both weigh the same with 169g and have Nano sim.
To consider the battery, droid turbo 2 has 3760 mAh worth one which is non-removable and accepts Qi wireless charging as well as turbocharging.  Droid turbo has a 3900mAh non-removable battery with Qi wireless charging and turbocharging.
Droid turbo 2 Functionality
How to check safe mode?
Make and receive calls and text messages.
Use the internet.
Enter into all the apps installed on your mobile, just for a check.
Even now the issue is on, then have a check on the parts.
Ensure that the buttons aren't damaged.
How to turn off automatic restore feature?
In Menu, select settings.
Tap back up my data.
Then toggle automatic restore switch to off.
"Automatic restore" is an option that helps to restore the data and memory that was deleted after reinstallation.  
How to regulate fast charging in the device?
Check the charger
Make sure that your micro-USB plugs perfectly to the device.
No damages should be present in the transformer.
Usage of the same brand charger is preferred for quick charging.  This is because any other brand chargers may take time to charge.
How to check your android version number and update the software?
Go to settings.
Select "About phone".
And click the android version.
Now, follow the steps to update the software.
Enter settings.
Select system updates.
Check for the new system update and update it.
You can't revert the up-gradation act in the device.
Safe usage
Wanna be safe with the gadget?  You've got a sanitizer for it.
Use disinfectants with 70% isopropyl alcohol or Clorox.  Also, include the charging port, headphone jack, microphones, and speakers.  Strictly avoid submerging the device in any disinfectant. Direct spraying can moisturize any of the parts, so use any cloth to wipe it off.  Ensure that during the cleaning process, the device is switched off.
CDC advises usual touching parts of the device to disinfectant even daily.
Note:  These instructions were obtained from Motorola's official website only.
Battery calibration
Force reboot by a long press on the power button.
Plugin the charger.
Charge the device until 100% is reached, even after wait for an hour.
Casual problems/Error of Droid Turbo 2 and fixes
No incoming call notification on Droid Turbo 2: 
Some simple disturbances like this occurs.  Until the phone is unlocked the caller name isn't shown. 
It can be altered by doing as follows:
Enter settings.
Select Apps.
Tap on the three-dot icon on the right corner as additional options.
Tap on "Reset app preferences".
Stuck pixels on Droid Turbo 2: 
Pixels being stuck in the menu screen doesn't feel comfortable for the user.  It can be solved by installing apps like Pixel fixer which helps to manage the pixels in the device.
Pixel Fixer is a free app that welcomes donations if interested that helps to remove hot pixels from raw files, remove hot strips from raw files, perform dark frame subtraction on raw files.  
OK google doesn't work in Droid Turbo 2:
When trying to open OK google account, a pop-up appears saying "can't use the microphone, Restart the device".  This distraction occurs due to Moto Voice.  You need to decide whether to use OK google or to switch over moto voice.  Even moto voice is enriched with more functionalities.  Anyway, it's up to you to decide. 
If you wish to use Google Now, then do as follows.
Enter apps field in settings.
Disable Moto Voice.
Even after that, the same problem occurs, then Moto's voice is no obstacle.  Set up your default language to the local language.
So, this is all about Droid Turbo 2 and its series too.  Hope you've acquired needed information about it to get decide about its purchase and usage after it.