Most of us love gaming, then you might have heard of Cyberpunk 2077 which is an action role-play video game. You landed on this page because you got an alert message "Cyberpunk 2077 encounter an error", you want to resolve it, right? When you encounter this message you will not be able to access the game. In this article, we will look into the issue, the reasons for this issue and some of the fixes to resolve "Cyberpunk 2077 encountered an error".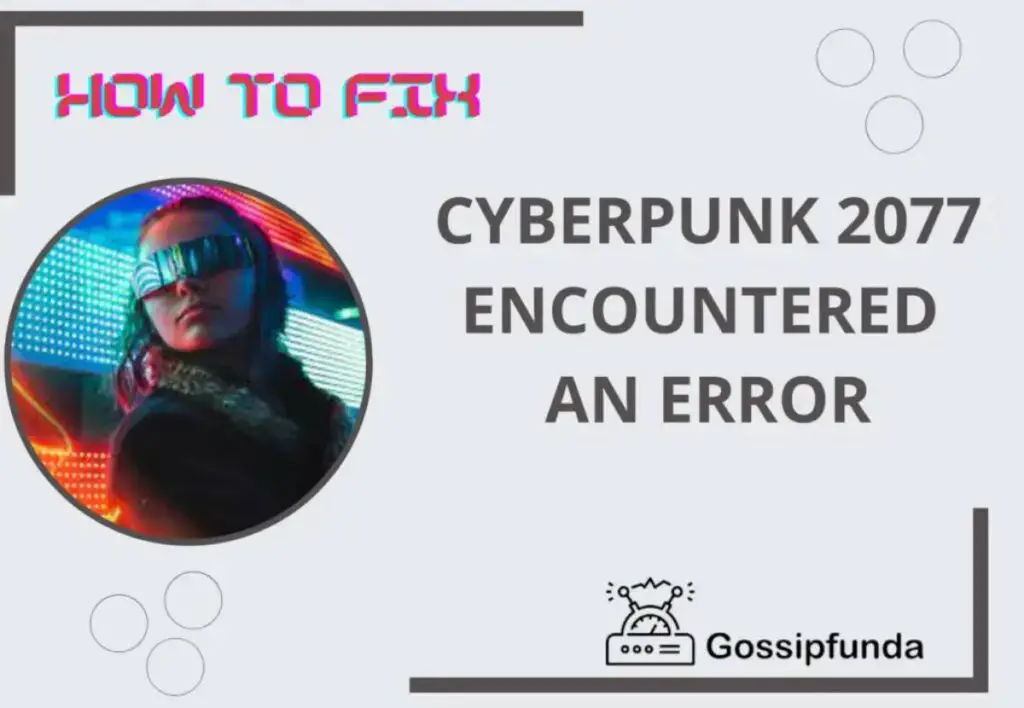 Cyberpunk 2077
The much-awaited video game Cyberpunk 2077 was created and released by CD Projekt Red, a Polish video game studio best known for its critically acknowledged Witcher series. For PlayStation 4, Xbox One, Google Stadia, and PC in December 2020, and eventually for PlayStation 5 and Xbox Series X/S. Nevertheless, despite all the fanfare, the game's launch was complicated by several technical problems. This led to players running into a number of errors, including the "Cyberpunk 2077 encountered an error" notice.
Cyberpunk 2077 encountered an error
One of the most frequent issues players get while playing Cyberpunk 2077 is the alert "Cyberpunk 2077 encountered an error". Hardware problems, software conflicts, out-of-date drivers, corrupted game files, and flaws in the game itself are just a few of the potential causes of the error. Players who run into this mistake typically experience a game crash, which prevents them from continuing the game.
Reasons for "Cyberpunk 2077 encountered an error":
1. Poor Optimization:
The main cause of the "Cyberpunk 2077 encountered an error" message is the game's lack of optimization. The extremely ambitious computer game Cyberpunk 2077 features complex narratives, an extensive open world, and cutting-edge graphics that are more advanced than what is currently possible with hardware. Due to CD Projekt Red's tight development timeline and many postponements, the game was not fully optimized for all platforms when it was released. This led to a variety of performance issues on older platforms, such as the PlayStation 4 and Xbox One, including frequent frame rate decreases texture pop-in, and other graphical faults.
2. Software Conflicts:
Antivirus software, firewalls, and other security software are just a few of the many software applications that might inadvertently interfere with Cyberpunk 2077. The files and processes used by the game can occasionally be affected by these programs, despite their intention to safeguard the computer against dangers. Cyberpunk 2077 may also experience software conflicts from other background-running apps. For instance, a program can interfere with the game if it is running at the same time which requires a lot of memory or processing power such as video editing software, and complex applications.
3. Hardware issues:
Hardware problems could also be the root of the "Cyberpunk 2077 encountered an error" alert. When the system's hardware does not fulfill the game's minimal requirements or when there is a hardware issue, this can occur. High-end hardware is necessary for the demanding game Cyberpunk 2077 in order for it to function properly. For the game to work smoothly, players need a good graphics card, enough RAM, and an efficient processor. The game might not launch or run smoothly if the player's hardware is incompatible with the minimum requirements. Cyberpunk 2077 can also experience hardware problems. For example, a damaged graphics card or an overheating CPU can cause the game to stop or crash.
4. Outdated drivers:
Cyberpunk 2077 may experience problems if the drivers for certain hardware components are out-of-date. The game's requirements may not be fulfilled by outdated drivers, or they may have bugs that interfere with the game's files and processes. Players may try updating their drivers to the most recent version to see if that fixes the problem if out-of-date drivers are what's causing the error message. Additionally, updating drivers can enhance overall system performance and prevent other hardware-related problems.
5. Corrupted Game Files:
Corrupted game files are another potential source of the "Cyberpunk 2077 encountered an error" warning, which occurs frequently. When the game is downloaded or installed, certain game files could become corrupted or damaged, which would be harmful. File corruption may be caused, among other things, by malware infections, system problems, or interruptions during downloads. The integrity of the game files can be checked in these cases. This involves comparing the game's data with an actual copy and replacing any damaged or missing files with good ones.
6. Bugs in the Game:
The alert can be caused by faults or bugs in the game itself. Cyberpunk 2077 encountered numerous errors and glitches at launch despite CD Projekt Red's best attempts to fix problems throughout development, many of which were game-breaking. The "Cyberpunk 2077 encountered an error" notification could be displayed to players as a result of these issues. The game still contains some errors and glitches that need to be fixed, despite the fact that CD Projekt Red has since published a number of patches and updates to address these problems.
7. Antivirus Software:
Computer security hazards including viruses, malware, and other harmful software are protected from by antivirus software. It manages to protect your computer by continuously scanning the computer's files and processes, and it occasionally flags good files as harmful. This can also happen with game files since some antivirus programs may incorrectly label game files as malware or viruses.
The alert message "Cyberpunk 2077 encountered an error" can appear when antivirus software labels a game file as dangerous. It can also prevent the game from starting or cause it to crash. Antivirus software can occasionally interfere with the game's network connectivity, which can affect online play. Players can disable antivirus software from impacting the game's files and operations by temporarily disabling it, allowing the game to function without interruption. It's crucial to keep in mind, however, that turning off antivirus protection may leave the computer open to security risks. So, it is recommended to be done cautiously and temporarily.
How to Fix "Cyberpunk 2077 encountered an error":
1. Update the System Software and Drivers:
It's important to update both system software and drivers, in order to fix the "Cyberpunk 2077 encountered an error" alert. Software conflicts can be avoided by making sure all hardware, such as the sound and graphics cards, are up to date with their drivers . Along with be sure that the system requirements for the game are satisfied. Users can update their system software and drivers using the Device Manager in Windows or the Software Update app on macOS.
2. Verify the Integrity of Game Files:
If a player encounters the "Cyberpunk 2077 encountered an error" warning as a result of corrupted game files, they may attempt to examine the integrity of the game files. This technique replaces any damaged or missing files by comparing the game's files to a known-good version. Here are the steps to verify the accuracy of the game files on Steam:
Step 1. Open Steam and go to your library where Steam refers to a digital distribution platform developed by Valve Corporation. 
Step 2: Select Properties with a right-click on Cyberpunk 2077.
Step 3: Under the Local Files tab select Verify Integrity of Game Files 
Step 4: Wait until the procedure is finished so that Steam can replace any damaged or missing files.
You can get instructions on how to play the game on GOG or another platform by visiting their help website.
3. Lower Graphics Settings:
Because of its complex graphics, Cyberpunk 2077 can become unplayable or crash on older systems. Players can try lowering the graphical settings if they experience performance issues and receive the "Cyberpunk 2077 encountered an error" warning. Here are the procedures for lowering Cyberpunk 2077's graphical settings. 
Step 1: Launch the game, then select Settings.
Step 2: Select the Graphics tab, then change the settings to Low or Medium.
Step 3: Apply the adjustments and restart the game.
The performance of the game can be enhanced and the "Cyberpunk 2077 encountered an error" warning can be avoided by lowering the visual settings.
4. Check for the Games update:
To fix problems and errors with Cyberpunk 2077, CD Projekt Red has made a number of upgrades and updates available. whether a bug or glitch causes the "Cyberpunk 2077 encountered an error" warning. Players should see whether there are any updates or patches available. To update Cyberpunk 2077, follow the below steps:
Step 1: Launch the game.
Step 2: Select the main menu.
Step 3: After that select Update under Options.
Step 4: If a patch or update is available, select Download and Install.
Installing the most updated version can fix the "Cyberpunk 2077 encountered an error" warning.
5. Disabling Antivirus software temporarily:
Antivirus software is designed to safeguard your computer from harmful files, but occasionally it may mistakenly classify gaming files as harmful. By following the steps given, you may verify this.
Step 1: Identify the antivirus software that is currently running on your computer.
Step 2: Access the settings or control panel for the antivirus software.
Step 3: Look for a setting that has a disable option to temporarily turn off or disable antivirus software.
Step 4: Follow the antivirus software's instructions to temporarily disable it.
Step 5: Try restarting Cyberpunk 2077 to see if the error message still remains.
Step 6: If the error message disappears. Then it's likely that the antivirus software was interfering with the game's files or processes.
Step 7: Use the same methods to switch it on i.e. enable to reactivate the antivirus program after you've finished playing the game.
Keep in mind that disabling antivirus software may expose your computer to risks related to security. So you should only do so while playing the game and then re-enable it. Maintaining the antivirus software's updates will give you the best defense against security threats.
6. Contact CD Projekt Red Support:
Players who need assistance can get in touch with CD Projekt Red's support staff if none of the above fixes work. The support staff can provide gamers with ways to fix the problem and can walk them through the troubleshooting procedure. User can reach the support staff at CD Projekt Red by the website or social media accounts. These are the few methods to fix "Cyberpunk 2077 encountered an error".
Conclusion
The "Cyberpunk 2077 encountered an error" error message might be an inconvenience that may hinder players from enjoying the game. The issue could be caused by a variety of things, including insufficient optimization, program conflicts, corrupt game files, and game faults themselves. To reduce the possibility of encountering this problem, players can make sure their system software, drivers, and hardware meet the game's requirements and are all updated. The most recent updates can also be installed, graphic settings can be changed, the game files' integrity can be checked, or players can ask the support team for help. If you have any questions or comments, feel free to comment on them.
FAQs
Does the alert stating "Cyberpunk 2077 encountered an error" appear frequently for players?
Yes, the "Cyberpunk 2077 encountered an error" alert message has been a common issue impacting many players since the game's introduction in December 2020. The problem may be caused by a number of things, including the game's complex design, software issues and malfunctions, and problems with hardware and software compatibility.
Why does one continue to receive the message that "Cyberpunk 2077 encountered an error"?
The alert stating "Cyberpunk 2077 encountered an error" may appear for many reasons. Common causes include out-of-date drivers and system software, hardware that doesn't fulfill the requirements of the game, corrupted game files, flaws and glitches in the game, and insufficient optimization.
How can I get rid of the alert "Cyberpunk 2077 encountered an error"?
The alert message "Cyberpunk 2077 encountered an error" has several possible responses from players. Make sure that the game is compatible with their computer's hardware and software, if not try updating system software and drivers. Checking the game's integrity, decreasing the graphics settings, installing the most recent update, or contacting CD Projekt Red's support staff for assistance are a few possible ways to fix this.