Anime and manga fans have grown to rely on Crunchyroll as their go-to streaming service since it contains a huge selection of material, including both well-known shows and obscure treasures. Users may encounter a regular problem of Crunchyroll not working on Chrome. Unfortunately, technological hitches can occasionally happen. Fans anxious to watch their favorite shows may find it annoying when they experience buffering, freezing, or a failure to load. But do not worry! This in-depth manual will bring you through step-by-step troubleshooting methods to fix Crunchyroll not functioning on Chrome. We'll provide you with the knowledge you need to quickly resume watching your favorite anime on Crunchyroll, including how to verify your internet connection, clear your cache, and more!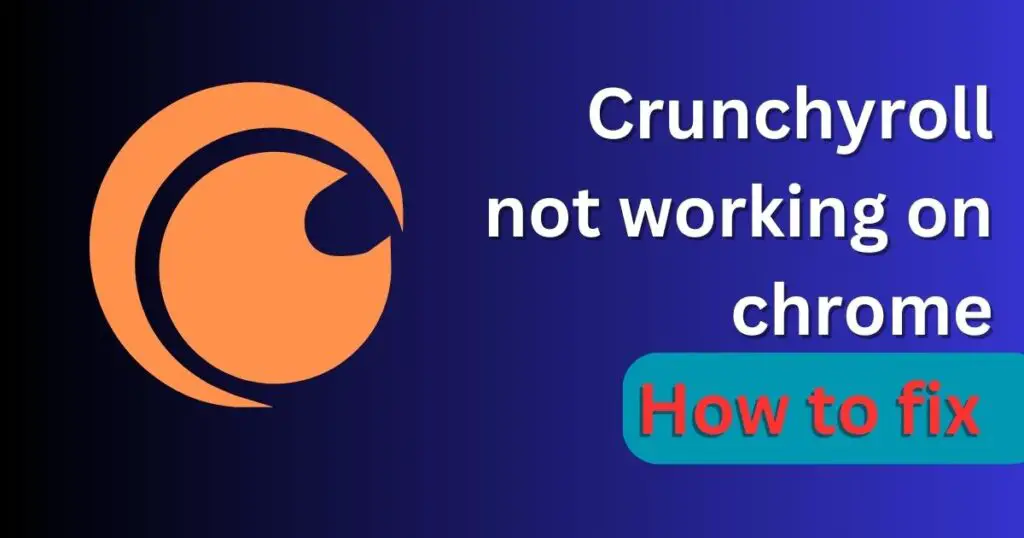 Causes for crunchyroll not working on chrome
Inadequate internet connection
Crunchyroll may buffer, freeze, or not load correctly if there is a poor or inconsistent internet connection.
Cookies and the browser cache:
Your Chrome browser's accumulated cache and cookies might occasionally interfere with Crunchyroll's operation. This problem may be fixed by deleting the cookies and cache from your web browser.
Browser add-ons:
Crunchyroll's functionality on Chrome may be affected by specific add-ons or extensions for browsers.
A previous version of Chrome:
If you're using an old version of Chrome, Crunchyroll might not work properly.
Ad blockers: 
These programmes occasionally prevent Crunchyroll from running advertisements or interfere with its operations.
DNS problems:
The process of converting domain names into IP addresses is handled by DNS (Domain Name System). Accessing Crunchyroll may be complicated by DNS difficulties.
Use of a VPN or proxy:
Crunchyroll's performance on Chrome may be impacted if you view it using a VPN or proxy.
Firewall options:
Crunchyroll's access may be restricted by firewall configurations on your computer or network.
Compatible devices:
For streaming, Crunchyroll could have particular system requirements, such as a particular Chrome version or OS system.
Server problems:
It's possible for Crunchyroll's servers to have brief technical difficulties or outages, which might impair Chrome performance.
Bandwidth restrictions:
Crunchyroll's streaming quality may suffer or experience buffering if you have numerous devices connected to the same network or are on a limited bandwidth plan.
Account problems:
Sometimes, problems with your Crunchyroll account, including incorrect login information or a subscription status, might affect how well it functions on Chrome.
How to fix crunchyroll not working on chrome
Verify your internet connection:
Crunchyroll streaming requires a steady, dependable internet connection. Check sure you have a reliable internet connection, and if necessary, try to reset your modem or router. Also, you might try moving from one network to another, such as going from Wi-Fi to a wired connection or vice versa.
Deleting cookies and browser cache:
Your Chrome browser's accumulated cache and cookies might occasionally interfere with Crunchyroll's operation. Go to Chrome settings by clicking on the three dots in the top-right corner, choosing "Settings," and then selecting "Privacy and security" from the left-hand menu. From there, you can erase your browser's cache and cookies. Choose "Cached images and files" and "Cookies and other site data" under "Clear browsing data" and then click "Clear data."
Turn off browser add-ons:
Browser add-ons occasionally impede Crunchyroll's functionality. To test if the problem has been fixed, try deactivating all browser extensions, notably ad blockers and VPN extensions, and then reloading Crunchyroll.
Refresh Chrome:
Ensure that Chrome is running at the most recent version. With Crunchyroll, older versions of Chrome might not work properly. Choose "Help" from the three-dot menu in the upper right corner, then click "About Google Chrome" to update Chrome. If updates are available, Chrome will check for them automatically and install them.
Switch off hardware acceleration:
Chrome has a feature called hardware acceleration that transfers some operations to your device's GPU for faster performance. Nonetheless, it occasionally results in disputes with Crunchyroll. Go to Chrome settings, select "Advanced" under "System," and then uncheck the box next to "Use hardware acceleration when available" to turn off hardware acceleration.
Look for Chrome warnings:
Chrome flags are a new feature that occasionally affects how well webpages operate. In the address bar of Chrome, type "chrome:/flags" and click Enter. Next, look for "Override software rendering list." If this flag is already set to off, disable it before restarting Chrome.
Disable your proxy or VPN:
Your ability to visit Crunchyroll may be hampered if you're using a VPN or proxy. Try surfing Crunchyroll without your VPN or proxy and see if the problem goes away.
Reinstall your operating system:
Make that the most recent version of your operating system—Windows, macOS, or Linux—is installed. Crunchyroll compatibility difficulties can occasionally be brought on by out-of-date operating systems.
Block firewall and antivirus software:
The streaming from Crunchyroll could be blocked by some firewall or antivirus settings. Try to access Crunchyroll after temporarily disabling your antivirus software or firewall or after adding an exception for Crunchyroll to its settings.
Block cookies from third parties:
Some browsers automatically disable third-party cookies, which might have an impact on Crunchyroll's performance. By heading to Chrome settings, selecting "Privacy and security," then "Cookies and other site data," you may enable third-party cookies. Choose "Off" or "Blocked (not advised)" under "Block third-party cookies" before attempting to visit Crunchyroll.
Disable the browser's VPN integration:
A built-in VPN capability in some browsers, like Opera, may interfere with external VPN services or proxies. Try to access Crunchyroll after disabling the built-in VPN function of the browser.
Reset Chrome's options:
Any setup problems that could be preventing Crunchyroll from functioning can be fixed by clearing the Chrome settings. Go to Chrome settings, select "Advanced" from the list under "Reset and clean up," then select "Restore settings to their original defaults," and then follow the on-screen instructions to reset.
Try using anonymous mode:
Sometimes, Crunchyroll might be hampered by browser extensions or settings. Try using Chrome's incognito mode to view Crunchyroll, which turns off all addons and restores normal settings. If Crunchyroll functions well in incognito mode, there could be a problem with one of your extensions or settings.
Crunchyroll customer service number:
If you have followed all of the aforementioned instructions but are still having trouble getting Crunchyroll to function properly on Chrome, you may get more help from Crunchyroll's support staff. They might be able to offer detailed troubleshooting instructions or helpful insights.
Don't miss: Beta Crunchyroll Black Screen Issue
Conclusion
It might be irritating when Crunchyroll doesn't function properly on Chrome, but there are a lot of probable explanations for this and fixes you can attempt. The troubleshooting techniques described in this article can assist you in resolving the issue and returning to watching your preferred anime on Crunchyroll with Chrome, including checking your internet connection, clearing browser cache, disabling extensions, updating software, and contacting Crunchyroll support. Always make sure your internet connection is steady, your browser is current, and you frequently clear your cache and cookies. Any issues that could be hurting Crunchyroll's performance on Chrome can also be resolved by disabling VPNs or proxies, reviewing DNS settings, and utilizing another browser. If everything else fails, you can always get in touch with Crunchyroll's support staff for more guidance.
Crunchyroll not working on Chrome is fortunately a problem that can be resolved by using the thorough remedies offered in this post, allowing you to carry on uninterrupted with your anime viewing. Enjoy your anime!
FAQs
Can I download episodes from Crunchyroll to view them offline on Chrome?
Sadly, Crunchyroll does not officially offer a way for users of any browser, including Chrome, to download episodes for offline watching. A reliable internet connection is necessary to watch anime on Crunchyroll.
Why are there region limits on Crunchyroll in Chrome?
The license conditions that apply to Crunchyroll's material may change depending on the area. To comply with these agreements, area limits are in place, and some anime may not be accessible in specific nations or regions owing to licensing constraints.
Can I use Crunchyroll on Chrome concurrently on multiple devices?
Several subscription tiers are available from Crunchyroll with varied levels of simultaneous streaming support. One device can stream content simultaneously under the basic plan, although multiple streams may be possible under higher-tier services.
How frequently does Crunchyroll update their Chrome anime library?
New episodes and series are continually added to Crunchyroll's anime collection. Depending on license arrangements and release plans, updates' frequency and timing may change.
Can I ask that a certain anime be included in the collection of Crunchyroll on Chrome?
Requests for certain anime to be added to Crunchyroll's repertoire are usually declined. Crunchyroll's content is made possible through collaborations and license arrangements with anime creators and distributors.