Smartphone users sometimes experience the problem of the "Cellular Network not Available for voice calls" error. This triggers a hindrance for users to make calls, sending texts, and do other jobs that depend on the carrier network. Fortunately, there are so many ways to help you fix this problem. To aid you, we are providing all the possible solutions to eradicate this error. Some of them are very basic, while others are a bit advanced. Give them a sincere read and see if this is of help. Know a bit about the "Cellular Network not Available for voice calls" error, and then run over the fixes. So without further talk, let's get started right away.  
"Cellular Network not Available for Voice Calls" error
This error can be a result of either the software or the hardware issue. Sometimes the root of this is so minor that you might feel embarrassed after knowing it. However, the ways to fix this can slightly differ for Androids, iOS, and also from brand to brand. Regardless, once you get to know the root cause, you can surely figure it out after reading our article. 
The types of Mobile Networks
Before everything, we need to have a slight overview of the different types of mobile networks. This is the only thing responsible for each and every interaction you do on your phone. Without a network, a phone is nothing more than a toy, isn't it?
But haven't you noticed sometimes a difference in the nature of the network? To be specific, there are different types of networking technologies. Not all service providers implement the same kind of network technology. One might not be compatible with the other. People subscribe to any of them as suitable and enjoy the benefits that each service provider provides.
The most common four kinds of the network are:-
GSM
It stands for "Global System for Mobile network". Most service providers all over the world implement GSM. It is more frequently found on "T-mobiles" and "AT & Ts". Faster data over 2G networks are provided by GSM using GPRS and EDGE technologies. It is termed as HSDPA or the High-Speed Downlink Packet Access. 
CDMA-
This stands for "Code Division Multiple Access". CDMA has a greater rate of transmission of data. Service Providers like Sprint Nextel and Verizon mostly work using CDMA. EV-DO or Evolution-Data is the technology used to operate 3G CDMA. 
LTE-
It stands for "Long Term Evolution" and is the latest cellular tech. It has more speed and data transmission capacity over 3Gs and is commonly referred to as the 4G network. 
WiMAX-
Communication technology for wirelessly delivering high-speed cellular service to rough geographical areas is under WiMAX's expertise. Based on the IEEE 802.16 set of standards, it provides physical layer and media access control options. It can be considered an equivalent of a 4G network.
So, these are all four types of cellular networks. Before moving on to the solutions for the "Cellular Network not Available for Voice Calls" error, a grasp of these are necessary. This is because one device compatible with a certain network configuration may not run on the other.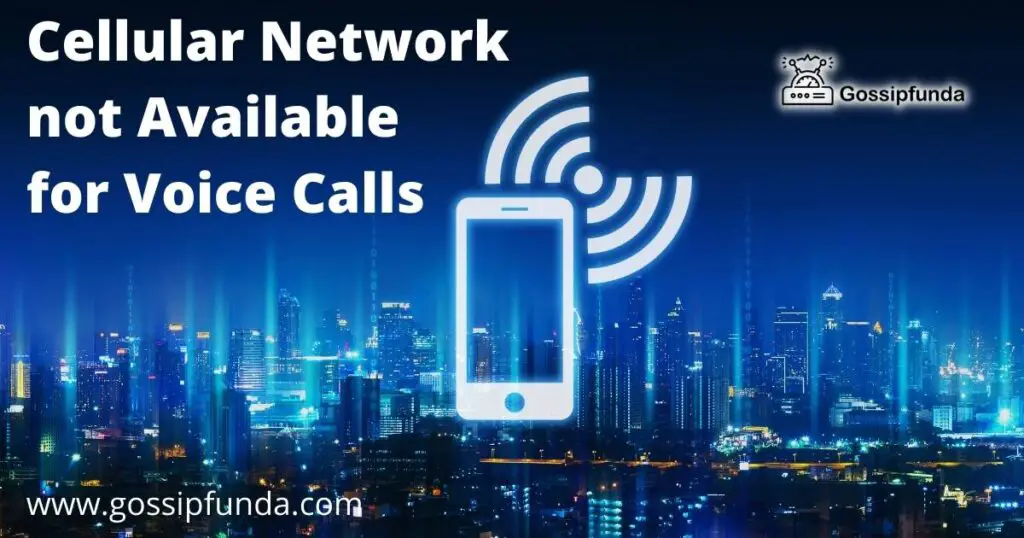 How to fix "Cellular Network not Available for Voice Calls" by using General methods
There are many solutions in general to resolve this issue. Let's go over them one by one. Check your network type and work on it accordingly.
Toggle between the Airplane Mode being On and Off- 
Switching on "Airplane Mode" and then again turning it off refreshes the cellular network of your device. Just execute the following:-
Find the "Settings" option on your phone.
Navigate to the "Network & Internet" bar. In a different model, it can also appear as "Connection & Sharing".
Now select "Airplane Mode". Toggle the bar sideways to activate "Airplane Mode". You will see the network has been cut off from your device and an "Airplane" symbol appears. 
Then again toggle the bar to deactivate the "Airplane Mode". 
You should have your cellular network back to normal again in this way. Either way, you can also swipe down the notification bar from above and toggle between the "Airplane mode/Flight Mode".  
Reboot your Device- 
Toggling "Airplane Mode" may or may not fix the issue. This is because background applications might have hindered the cellular network from making calls or texts. Better try rebooting your device. Android users can just press and hold the "Power" button for a few seconds. Once the "Restart" option appears, tap it to perform a reboot. 
If you are an iPhone user, you should find the lock button on the right-hand side of your device. Long press it and when the "power slider" appears, pull it rightways. This will give your iPhone a reboot. 
After completion of this rebooting process, check if the error is fixed. Wait a minute or two, and then try making a call. If the problem persists, we have other solutions for it as well. 
Remove the SIM card and place it back-
 To be specific, the underlying concept of the phone's cellular network and a wireless network is not the same. Cellular networks are experts in sending signals over land wirelessly by having certain cell sites as transceivers. These sites carry out everything over the cellular network. Your SIM card plays an important role in receiving and delivering carrier signals over networks. With no SIM card, you can't get access to a network or communicate. 
Check if the SIM card is placed appropriately. Just pull out the SIM tray using a pin. Pull out the SIM card, rub it with your cloth, and place it back. Proper insertion also needs care. Improper placement can hold back the SIM from working neatly. 
Check if the SIM card is in good condition- 
Always check if your device has suffered any form of damage or not. A SIM being worn out at the edges can also prove faulty. You will never be able to operate on it in that condition. Just open the SIM tray and closely monitor it. If the chip is damaged, rush to your nearest network retailer. They will replace your SIM with a new one. Then place it back in your phone's SIM slot and check if it works correctly. You should no longer encounter the "Cellular Network not Available for Voice Calls" error.
Update the Firmware-
Always keep your device software updated to the latest version. In older software versions, certain bugs can be present. This can also cause you to get the "cellular network not available for voice calls" error message. Connect your device to Wi-fi if your regular data pack is limited. Now for Android users, the steps to update are:-
Open the "Settings".
Scroll down to the "About Device" option.
Tap on "Download Updates Manually". Check if there is any possible update pending.
Update your device.
iPhone users can update their software by:-
Open the "Settings".
Tap on "General".
Find the "Software Update" option.
Select "Download and Install" to update your device to the latest update. 
Data Roaming should be turned off-
This particular network mode helps when you are outside your local service provider's network coverage. This allows you to work on the network of the place you are in that instance. However, the service provider charges a higher bill for using a roaming connection. Although, sometimes people report that even if they haven't moved out of their locality, the roaming mode gets enabled. And this is why you should disable it. To do this, run over the following steps:-
Open the "Settings" on your phone.
Go to "Network & Internet" / "Network & Connections" (according to your device)
Navigate to the "Mobile Networks".
When you see the "Roaming slider", slide it to switch it OFF.
The cellular settings will restore to normal and should work perfectly as they did before. 
Change your position-
In a place where the signal reception is poor, you will definitely face a "Cellular Network not Available for Voice Calls" error. Remote and abandoned places may not come under your service provider's network coverage. 
Better try moving to a different spot where there is a better signal reception rate. This change of position will surely help you get rid of this issue. You can also change your SIM to another service provider. It might be possible that a certain SIM isn't compatible with a particular place. If you have a "Dual sim" facility on your device, just switch your SIM to another to check if it helps. 
Check if your cellular network is in Maintenance mode-
Sometimes network carriers undergo a temporary shutdown for performing maintenance. This is very rare and few people encounter it. At that moment, you will be unable to make any calls or texts.  
There is no general solution to bring your network out of "Maintenance mode". Don't panic since this issue is short-lived. You can just check if the carrier is in Maintenance mode by looking at their Twitter account. The company will surely put an update if they have rendered their service into maintenance.
So, these were some of the basic and general ways to fix the "Cellular Network not Available for Voice Calls" error. As discussed previously, there are also some Advanced methods to resolve this. If the general solutions won't work, you can simply try out the advanced methods. So, let's talk with them.
How to fix "Cellular Network not Available for Voice Calls" by using Advanced methods
Reset your phone's cellular network settings- 
There can be some glitches regarding your Network Settings. What you need to do is just reset them. However, we get a bit startled about resetting some phone settings. But to be honest, resetting network settings won't remove any confidential things from your device. It will just reset the previously saved APN settings and Wi-fi passwords. 
All the new upgrades of smartphones have this option. To reset your network settings, perform the following steps:-
Open the "Settings" on your device.
Go to "System". iPhone users can look into the "General" tab.
Select "Reset" to reset your network settings.
Then select Reset Wifi, mobile & Bluetooth. This option may also look like "Reset network settings" sometimes.
Confirm to reset settings.
Now do a reboot. You should no longer get this error. Although, if your phone doesn't have any manual reset options, you can ignore this method.
Try to force Radio Signals from your device itself-
In this method, you will learn how to force a radio signal using a code. This way of forcing a specific connection type can help you get rid of the "Cellular Network not Available for Voice Calls" error. To do this, just run over the following steps:-
Open your dialer from your device and dial this code *#*#4636#*#*.
You will see a testing menu.
Access the "Phone Information" tab.
Scroll down and tap "Run ping test". This will let you check the ping status of your current network operator.
From the drop-down list, find the preferred network type. 
Connect to it.
Choose the most suitable option among "LTE only", "GSM only", "LTE/UMTS auto", etc.
If by chance changing the network doesn't resolve the issue, reconfigure back to your older settings.
Factory Reset your phone data:-
This is the ultimate way to fix the issue if all the above tips fail to troubleshoot this. Factory resetting your data means it will remove everything on your phone. All the apps were installed, the files loaded, everything. Your phone will just be reverted to a brand new device. So, do this at your own risk. Therefore it's better to keep backup if you are going for this tip.
The steps to Factory Reset your device are as follows:-
Open the "Settings" on your phone.
Go for "Backup and Restore".
Now select "Backup data".
Select the files you want to keep a backup for.
Then select "Backup now".
After doing this, follow the next steps:-
Navigate to the "General Management" from the "Settings" menu.
Open "System".
Tap on "Reset".
Select the "Factory Reset" option.
Then select "Reset".
A PIN should be prompted at this moment. Enter this PIN and your phone will perform a factory reset. 
So, this was all about fixing the issue of "Cellular Network not Available for Voice Calls". If you ever come across this problem, don't hesitate to try the above tips. We hope this piece of article helps you someday.
Read Also: Mobile network state disconnected: AT&T | Sprint | T Mobile | Straight talk
Conclusion
I hope that the above methods may have helped you fix your issue of Cellular Network not available for voice calls on your mobile. for more tips and tricks related to your gadgets browse Gossipfunda.com.
Frequently Asked Questions:-
Why am I receiving the "Cellular Network not Available for Voice Calls" error?
This happens mostly if you are in a spot where the network reception is low. Try moving to a new spot. This should solve this problem.
Should I change my service provider if my phone keeps on showing a "Cellular Network not Available for Voice Calls" message?
Try the probable fixes as discussed by us in this article. If none of them works, and it keeps on showing up even after inserting a new SIM card, you should change your service provider. Maybe the older carrier's network coverage didn't include your area.
How do I configure my phone's network to its default settings?
You can look for your phone's most compatible network parameters on the internet. Search by your device's carrier website, and enter the default values as prescribed by them.