Best Waterproof Tablets in 2020
Everyone loves using tablets. They have a huge screen, excellent touch, and a huger battery. But what if I told you that you can buy some completely waterproof tablets. This article is definitely gonna blow your mind away, Therefore let's take a look at the Best Waterproof Tablets in 2020  
Nothing comes cheap in the smartphone world. Even the tablets are quite costly these days. Therefore, if you plan on using them near a pool or a water-based environment, you have to be extra careful. Even if a drop spills inside your internals, it is done for. Electronics are only dope until they are out of water. It is the arch enemy after all.
Moreover, there are water-based indicators inside any electronic device. These special indicators tell the manufacturer if the device had water seep inside of it. Therefore, even if you take your water-soaked tablet for a repair, they will definitely know what caused the damage.
Most importantly, water-based damages are not simple to repair. It is very difficult to know which circuit got short-circuited. We have to test every capacitor to make sure the device works fine. In short, you gotta pay a lot of money. Especially, if you have kids who like to play around water. You definitely need to look at some waterproof tablets.
What are the advantages of using waterproof tablets?
Truth be told, there are in fact quite a few advantages. Firstly, you do not need to worry if you are taking the tablet on a fishing trip, or camping or even near the pool. It always is better to have a precaution and this is what the waterproofing does.
If you are a lousy handler and spill a lot of stuff near your work table or desk then having waterproofing is good. The best point is when you have kids who like to play on the tablet. Therefore, even if there are accidental spillage of water or tea, you don't need to run to the service center
By the way, if you accidentally missed the best walkie talkies to take on a camping trip, make sure to read Walkie-Talkie | Motorola Talkabout
Best Tablets that you can pick up
Our aim to pick out these special tablets was to firstly aim for less expensive. Obviously, what is the point in buying them if they come hella costly? Secondly, we have made sure you won't have performance issues because that is another thing taken care of.

Aditya
Samsung Galaxy Tab Active
The Samsung Galaxy Tab Active Pro sure packs superb features with absolute ruggedness. Firstly, I would like you to trust the brand. Samsung has a history to provide its customers with excellent and durable products.
Sure, that "durability" looked compromised with the Galaxy fold but rest assure because this tablet is loaded with features.
More importantly, let us take a look at those sweet specifications that the tablet packs to offer.
You get a Snapdragon 670, that makes sure your apps run smoothly and fast. The tablet comes with 4 gigs of RAM that ensure your multitasking is up to the mark. The Tablet comes with an Android 9 Pie, with a touch of the Samsung One UI. It has a 10 inch 1920 x 1200 LCD display. The battery is a nice 7600 mAH which would last a day easily with heavy performance.
Now, this is where the tablet has a superb lead over Apple devices because it has an S Pen included in the box. Not to mention, the S Pen is included in a durable and rugged case that you can easily carry around.
The downside of the tablet is the lack of an OLED display and some better internals. I would have especially liked a processor better than the Snapdragon 670. There is a sim card and micro sd slot available if you run out of storage on this machine.
Finally, the best part of purchasing this device is the IP68 water resistance, meaning you can dip this tablet into 1.5 meters of freshwater for 15 minutes or so. Furthermore, it also comes with MIL-STG-810G, a US military specification for ruggedness. Therefore, you can easily expect this device to not "fold" like the rather unpleasant Galaxy Fold
Samsung Galaxy Tab Active2 
Coming on to the next budget-friendly, deice that also packs some nice features, we have the Galaxy Tab Active2. This is also a device packed by Samsung that reeks durability. The Galaxy Tab Active2 sure does not empty your pocket and is a device to look for.
This Samsung Tablet comes with the Exynos 1.6 GHz processor topped with 3 GB of RAM. I totally accept 3 Gb is not enough if you want to use the tablet for gaming, but it is not made for gaming. When we are looking for durability, IP68 is what we look for in a tablet. Submerge this tablet into water, it will just work fine. Moreover, we also get that MIL-STD-810G military-grade rating. Although it has weak internals, the one thing that I did not expect was a smaller battery. This one packs just a 4450 mAh removable battery that is just not enough. In 2020, phones that cost less than $100 come with a huger battery. You have to ensure that you are looking at the complete picture when you pick this one out.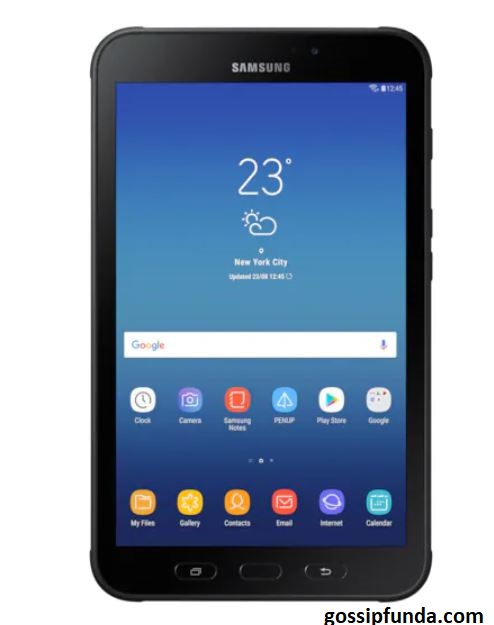 Now, cons aside it comes with a beautiful water-resistant S Pen that works like a charm. The Tablet supports Type C cable and weighs only 415 grams.
I would have totally loved to have an OLED display and better RAM for excellent performance, but it is what it is you get for the price.
Bonus, it gets a 3.5 mm audio jack that even the $1000 Apple phone forgets to have. You can enjoy that bass-packed music while you're out camping or fishing.
Lastly, one more thing you should care for, is that it comes with 7.1 Nougat.
Vanquisher Rugged Tablet with Windows 10
Finally, we come to the last tablet on our list Best Waterproof Tablets in 2020. This one is quite different from the rest and packs quite the punch. The twist with this one is it runs Windows 10 Professional out of the box.
For people and developers, who love to have a REAL operating system to do their work on would love this device. This thing runs on an Intel-powered Atom processor clocked at 1.33 GHz. This thing runs on 4GB of Ram that is sufficient to run Windows 10.
It comes with 2 USB 2.0 ports. YEAH, I like the sound of that. No other tablet in this category has a USB port in it. You can easily extend storage and copy your data from this device to multiple devices.
The Tablet sure packs feature, including the 3.5 mm headphone jack that has lost its trend. The machine packs a whopping 64 Gb of storage with 128 GB expandable storage. It also has a micro HDMI port that can be used to extend the display to another monitor.
The tablet also has built-in GPS that can be used to navigate while you are camping or fishing. Furthermore, it is ideal for a geological survey and can also work with Magnet Field. It is used to collect data for land positioning.
Finally, it packs a 7800 mAh battery to last you all day long.
Wait a minute!
Aren't we forgetting about the water-resistance specification?
This thing is IP67 water rated. Therefore, you need not worry about water splashes and also drops. This thing boasts of MIL-STD810G protection and also has a Gorilla Glass screen.
This ends our list of Best Waterproof Tablets in 2020
Don't Miss: Can wearables help in sleeping
Why should you update your device to the latest version?
Security in 2020 is a huge thing. If you have unprotected accounts, then you're compromised. Imagine having to forget to lock your front door on vacation. Highly unlikely, you would find that story to end well.
Similarly, if you have an unpatched older version of the software, you are compromised. Security patches are very important if you run Android and this is the main reason you should update your software.
Many people complain that updating their phones, make it slow. Therefore, they stop updates permanently. IT IS VERY IMPORTANT TO NOTE THAT YOU SHOULD ALWAYS AND ALWAYS UPDATE TO THE LATEST VERSION OF YOUR SOFTWARE AND SECURITY PATCH.
Having older software gives hackers more time to analyze and breakthrough your device.
Conclusion
To conclude, always remember protection is a good thing. In today's list of Top Waterproof tablets in 2020, we take a good look at three exceptionally well-built devices.
Unlike the crappy foldable smartphone from Samsung, the Tablets are rather nice. Ther have a headphone jack and better protection for outdoor activities.
If you ever wish to buy these tablets, be sure to update them to the latest versions running the latest security patch.
Don't Miss: Android Flip Phone