Imagine that you have all the important pieces of information and news right on your home screen. Sounds interesting, right? Who would want to look into the application to search for new updates and notifications? Widgets make this dream of yours come true. You can get all that you want at your home screen without having to waste time looking for the application. What are the best iOS widgets for my iPhone?
The latest notifications and all updates will be displayed right on your home screen. iOS devices come with amazing widgets that let you enjoy the ease of having your updates right on your home screen. But do you find yourself stuck in deciding the right widget for your device? Are you not able to customize the widgets according to your needs and requirements? If the answer is a yes, read on to find the most happening widgets in iOS and choose the right one for yourself as per your needs.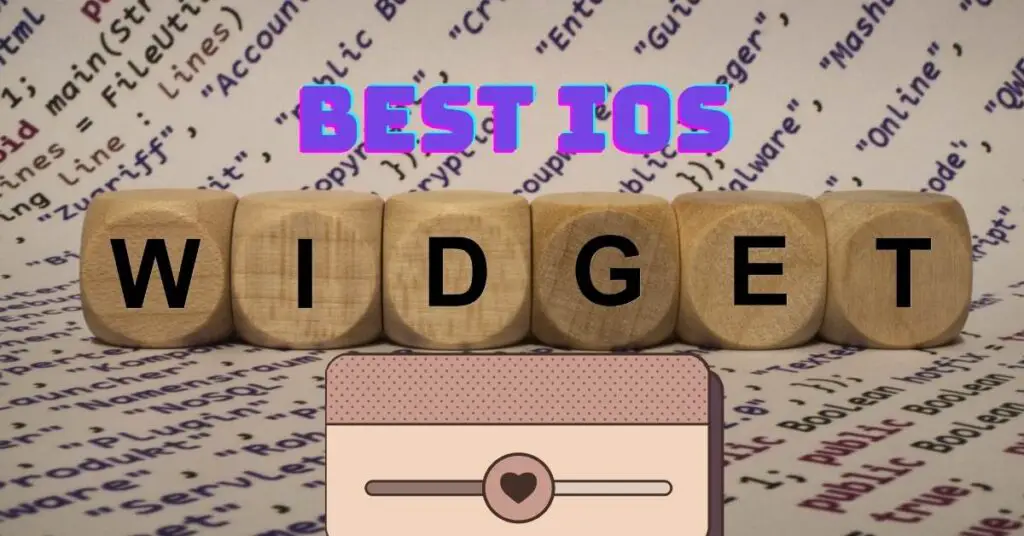 Do not miss: Add folder to iPhone
Best iOS widgets
Widgets are elements of the graphical user interface (GUI) on a device that aid interaction with the users and enhance their experience. They act as a shortcut to an application and help you in saving time by giving you exactly what you want. You will come across a number of widgets provided by iOS but let's discover the best and the most popular widgets that you will ever need.
Widget 1- Launcher
The best widget for iOS that helps you launch any app that you want. It is a fully customizable widget. The customized widget means is one that you can customize at your convenience. You can use the launcher widget for scheduling a business, client, informal calls or start a video call, or even launch a music app to play your favorite song. You can also send e-mails to your clients or open up your favorite websites on the internet. Make sure that you get the premium version of this widget to enjoy all the perks that it brings along with it. This is the best and the most sought-after widget in iOS that you should install on your device. 
Widget 2- Night Sky
You can definitely not miss out on this widget if you are an avid sky gazer. This widget keeps you updated about all the satellites and asteroids passing across the planet and the mysteries of the universe. You can learn about stars, meteors, and anything related to the universe with the help of augmented reality (AR) that will enhance your experience and make it more memorable. This widget will tickle your sky gazer instincts and you will fall in love with the universe.
Widget 3- Carrot Weather
Are you thinking of planning a trip but not sure about the weather? Don't worry. Carrot Weather is there to predict the weather for you accurately. This widget keeps you updated with all the weather forecasts and weather conditions so that you can hang out with your friends quite easily. It gives you all the information that you need without opening the app. It comes with fully customizable and personalized features that make it easy for you to use as per your requirements. The user-friendly interface is another added element of this widget that makes it so popular among users. However, you will not get these services for free. You have to pay a minimal amount to access the widget and all its amazing features. 
Widget 4- Smart Stack
Smart Stack will make your task even easier. You don't need to select widgets for yourself if you have this amazing widget on your device. Smart Stack selects suitable widgets for you based on time, day, date, and various other factors. You can save yourself from the hassle of choosing these for yourself. It selects widgets that are perfect for you and makes your device more personalized. However, if you still want to select widgets for yourself you can do this by pressing the Smart Stack widget icon and clicking on the Edit Stack option to do this. 
Widget 5- Apple Calendar iOS widgets
Apple Calendar is the most important and inevitable widget that you can come across. Like you, no one wants to forget the important meeting, dates, anniversaries, etc. This widget helps you to keep all your important dates in one place and you can have a glance at them anytime you want. You do not need to open the app every time to check out your deadlines. Besides this, the widget is fully customizable and lets you set the layout and shape in which you want to see your calendar. You can customize this widget as per your needs.
Widget 6- Wikipedia To Read
Do you want to keep yourself updated with everything that is going around you? Wikipedia To Read widget helps you do exactly this. It will display any topic that is trending among the people. It will also help you keep in-depth knowledge about all the people who are connected with him or her. This keeps you updated with your surroundings. By using Wikipedia To Read, you have all the information easily accessed without wasting any time. You do not have to search Google for the latest news when you have this amazing widget on your device.
Widget 7- ETA iOS widgets
Yet another widget of iOS that keeps you informed about the travel time to the destinations of your choice based on your current location and traffic conditions. It displays the travel time in an easy-to-read format that helps you a lot if you are planning to travel to another location during your work hours or even during your trips and excursions. It is an extremely useful widget that lets you manage the traffic issues quite conveniently and keeps you always on time.
Widget 8- Screen Time
This widget is of utmost utility and relevance in the present time. It lets you keep track of the time you are spending on your smartphones in totality and also shows you a breakdown of the time you have spent on multiple apps that are there on your device. It makes you aware of your priorities and helps improve your time management skills. This widget comprehensively displays the time breakdown and makes you realize where you are wasting your time. It is of great utility in the present scenario.
Widget 9- Tasks
This widget makes you organize all your tasks at hand into an organized to-do list. You can keep track of the tasks that need to be done and the ones which have already been completed. This widget lets you focus on one particular task or task with a particular tag so that you only see the relevant information on your home screen. You can set reminders or simply have a checklist for your tasks. You can always customize your to-do list as per your needs so that it looks tidier and more organized.   
Widget 10- Timery
This widget lets you keep track of your time and start scheduled timers easily on your device. You can also see your current time entry and set the widget to display the relevant information on the screen. The widget is extremely customizable and allows you to set its appearance the way you like. However, this widget is no longer relevant for the users of iOS 14 as you can not view the time and do other settings without opening the app.
Widget 11- Shortcuts
You may feel that this functionality is available on almost all other devices but the iOS utility of shortcuts will make your device even more productive. This will give you access to any shortcut that is available on your home screen with a single touch. You can access your most-wanted list of widgets with a single click. This will take the productivity of your device to another level.
Widget 12- Widgetsmith
This widget has a great following of its own and this comes with obvious reasons. This widget lets you make your own custom widgets that suit you and your unpredictable mood. You can make your own calendars and to-do lists with the help of this amazing widget and have all your important stuff organized in a single place. This widget is of great utility when it comes to customizing your home screen and spicing it up with cool features and icons.
Widget 13- Motivation-Daily Quotes
If you are a person who needs an external push for doing anything in this world, this widget is the right one for you. This widget will come up with inspiring and motivating quotes of famous historical figures and give you the push that you need every morning as soon as you open your phone. You can use this widget to keep yourself motivated in the lows of your life and start your day with positive vibes and energy.
Widget 14- Pedometer++
This widget is of great utility for all fitness freaks and health-conscious people. It will measure the steps that you have walked each day and the floors that you have covered on foot. You can also use it to set goals for yourself and then achieve those goals in a time frame. This widget gives all the information that you want to see and keep track of right on your home screen and in a very compact and comprehensive manner. You can also change the layout of the widget and the way it displays the information by opening the app. Learn more through your tutorial on Google Pedometer-walking, running, or cycling.
How can you download iOS widgets for your android?
You can download and use iOS widgets on your android smartphone by downloading the KWGT_pro zip file. This file will enable you to download all the iOS widgets that you want for your android. However, after downloading the zip file make sure that you have switched on the 'download from unknown sources' toggle on your device else you will not be able to download the widgets.
How can you enhance your binge-watching experience with the help of iOS widgets?
If you want to watch the best movie or keep yourself updated with the latest celeb news you can make use of the IMDb widget on your iOS device. This widget has the best reviews of all the latest releases and gives you the best movie recommendations and the latest news that you want. It will be your first preference for weekend binge-watching and relaxing.
See also: Water detected in charging port iPhone 11
FAQs | Best iOS widgets
What are widgets and how will they increase the efficiency of your device?
Widgets are small applications or you can also consider them as the extension of your main application. They keep you updated about the notifications and updates regarding the particular application right on your home screen. You do not need to open the application to take note of the important stuff that you are looking for. These widgets can greatly increase the efficiency of your device and help you save time by not opening the application all over to keep yourself updated.
How can you increase your productivity using iOS widgets?
Many iOS widgets help you increase your productivity and efficiently manage time. You can use the Flipboard widget that helps you in thoroughly scanning the latest news and also the streak widget that lets you set your goals and achieve them within a set time frame.
How can you keep track of the stock market with the help of iOS widgets?
You can use the Stock widgets if you want to keep track of the stock market on your device. You can choose between viewing the selected stock on your home screen or viewing a few selected ones on your home screen. You will be able to track the ups and downs in the prices of the stocks very easily with the help of this widget.
Closure
The wide range of widgets goes a long way in making your smartphone more personalized and customized. You can use them at your convenience and requirements. The to-do lists and calendars make your tasks more organized. You can also play your favorite song, watch your favorite movie or do almost everything you can imagine with the help of these widgets. They can also be downloaded on android by following some simple steps and are extremely easy to use with all their amazing features. Keeping track of the stocks or launching your favorite app, you can customize your widgets to do anything that you want.