Want to download the Nintendo DS emulator for android or PC? Can't figure out how to do it? Are you stuck in webpages without any answer? We made a list of best emulators with a step-by-step guide on gossipfunda. Check the link to find everything you need to know about emulators and how to play your favorite games. All tips and tricks in one small package made especially for retro gamers like you. Check out how to download ROMs of your NSD games with a shortlist of websites to make your work hassle-free.
What is a Nintendo DS?
The Nintendo DS is a hugely popular hand-held portable gaming console with exclusive titles from Nintendo. Titles like Super Mario, Legend of Zelda, Animal Crossing, and many more. Due to its portability factor, many people prefer it over traditional gaming consoles. As working adults don't have time to sit in their living room and play games. They preferred on the go gaming like playing your favorite Zelda game while commuting to their work.
Nintendo DS was first launched on 14th November 2004 and is based on Nintendo's original release Game Boy in April 1989 and was a huge hit amongst kids and adults alike. There have been few generations of DS and it provides a new take on portable gaming.
There were alternatives to NDS such as PSP (Playstation Portable) but they never reached the same level of popularity. The main reason for NDS's popularity is the exclusive titles it provides.
But keep in mind that the graphical power of the Nintendo DS is nothing in comparison to PlayStation and Xbox. So the gaming experience will be hugely different on Nintendo DS and a traditional gaming console. 
Your android cannot understand a game made for Nintendo and Nintendo OS can not understand inputs given by your android phone. So the emulator acts as a mediator between both the platforms.
Emulators are compilers that use binary conversions to communicate between the Nintendo OS and Android OS. It communicates and exchanges the instructions from android to Nintendo. Once the input is processed the Nintendo OS sends output and again the emulator uses binary conversions so android understands the output. The whole process is very processor-intensive and dynamic.
Are you wondering what a compiler can do? Just understand that it is a computer program that converts instructions in a programming language/system to another programing language.
More Nintendo DS Emulators for you:
You can find all the emulators on Play Store and we made a small list for you.
DraStic DS Emulator
DraStic DS Emulator is perhaps one of the best DS emulators for android out there in the market. It is very smooth and didn't give any bugs or freezing. There are a few games that don't operate correctly on this emulator. The emulators offer a lot of features for an emulator such as saving the game on Google Drive, customizing control layout, portrait, and landscape support. However, the emulator is not free but it offers a lot of features for its price. We would recommend you go with DraStic Emulator.
Super Mario Brothers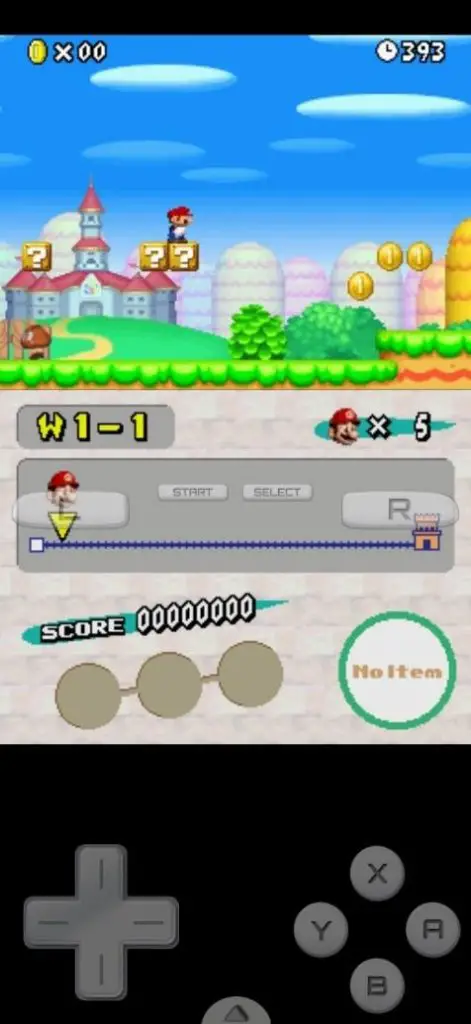 DraStic home screen: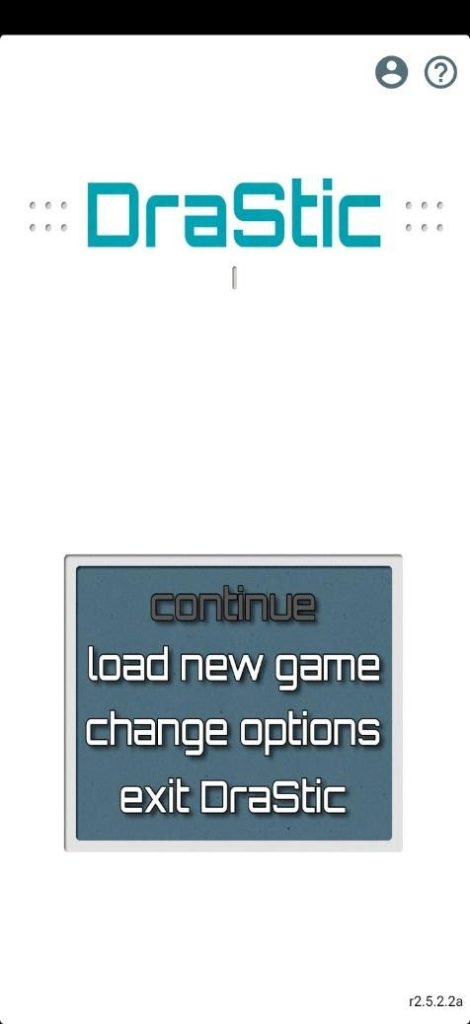 Call of Duty on DraStic emulator: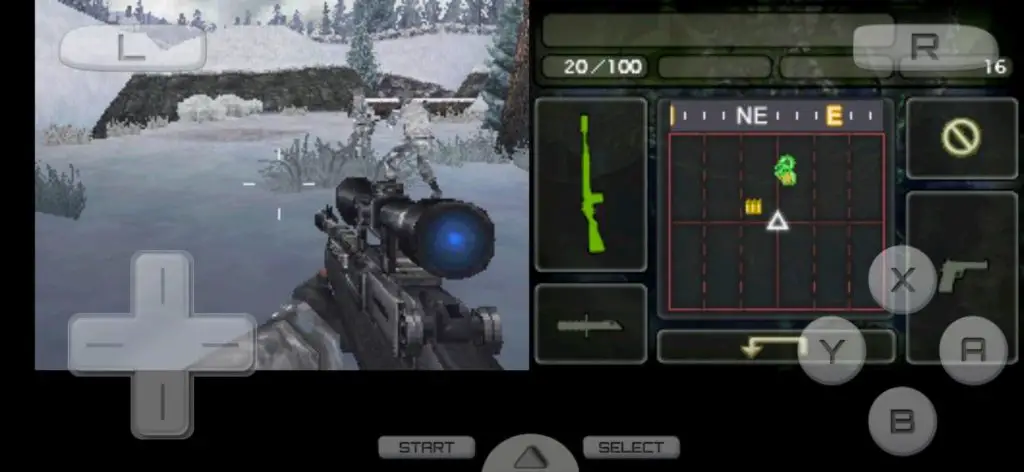 nds4droid
nds4droid is a very old and original emulator for android. But it hasn't received software updates in a while which can make it not support some games. However, it is free and open-source which makes it ideal for other developers to add new features and support for other titles.  It works fine as an emulator when compared to others but it does have some bugs here and there like a slower response to input and lagging a little. There's a frameskip option to help it a little but it's okish. We would suggest if you download nds4droid if you want to take a feel of how an emulator works. But if you are serious about playing then we would suggest other emulators.

Super Mario Brothers on nds4droid:

RetroArch
The RetroArch is like a jack of all trades. RetroArch has support for several game systems. Like Nintendo DS, Game Boy Advance, SNES, Game Boy, and other gaming systems other than Nintendo. But you have to download every set-up individually. For example, to play Nintendo DS games you have to first download the Nintendo DS core and then only you can download and play games. It supports all the native controls you expect in portable devices. But it is not easy and straightforward to use like other emulators. And the best part is completely free to download and use with no ads or in-game purchases.
If you are planning to experience different platforms then this emulator is for you.
Main menu of RetroArch: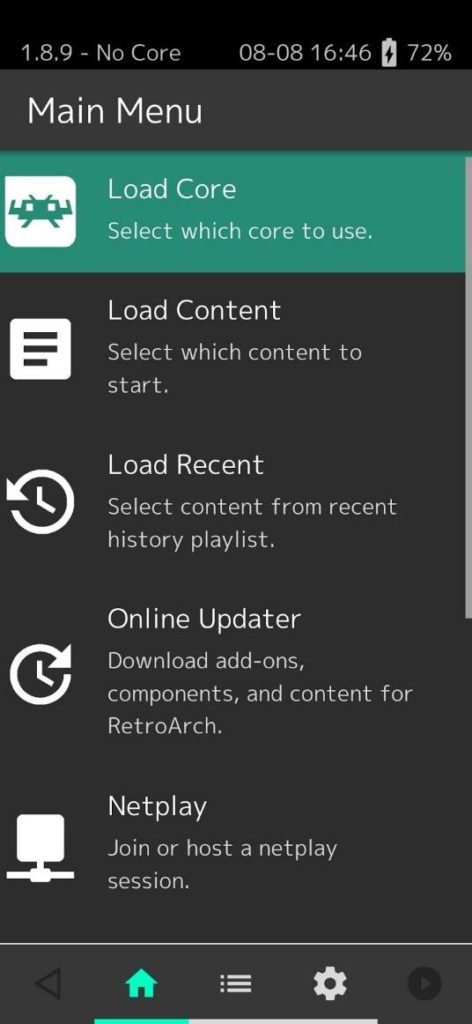 Doom 3-D on RetroArch: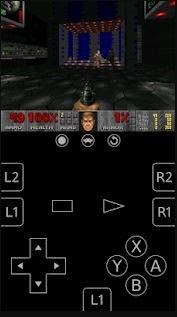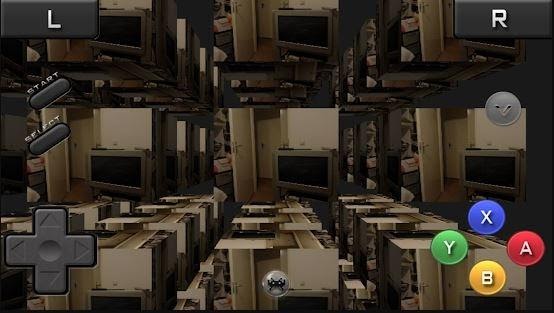 NDS Emulator
NDS Emulator is one of the latest DS emulators in the market and has all the crucial functionalities. Such as support for an external controller, customizable controls, saving, and loading saved games. It supports most games available, but has bugs and is relatively stable. It is also free to download and for its category, it provides a lot. However, there are ads for revenue which can get annoying after some time and also don't have any way to pay and remove those ads. It's not perfect but a worthy emulator when you are choosing from the free category.
NDS emulator home screen: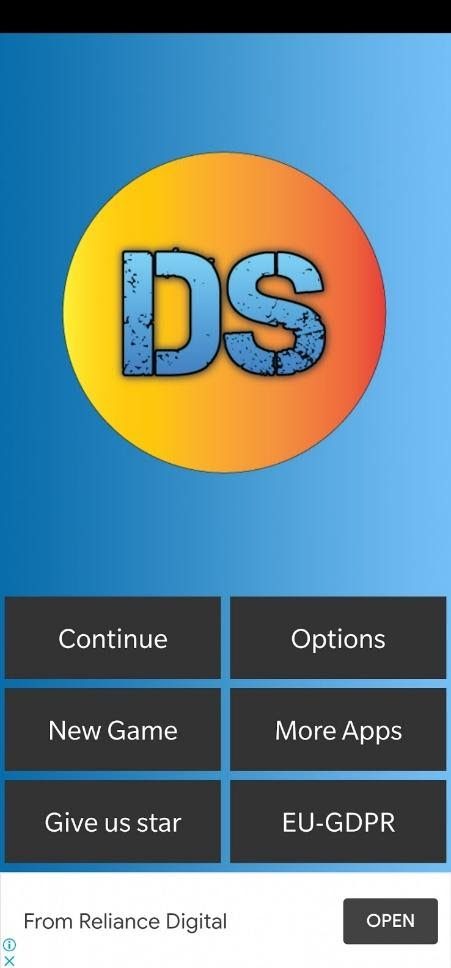 Castlevania on NDS emulator: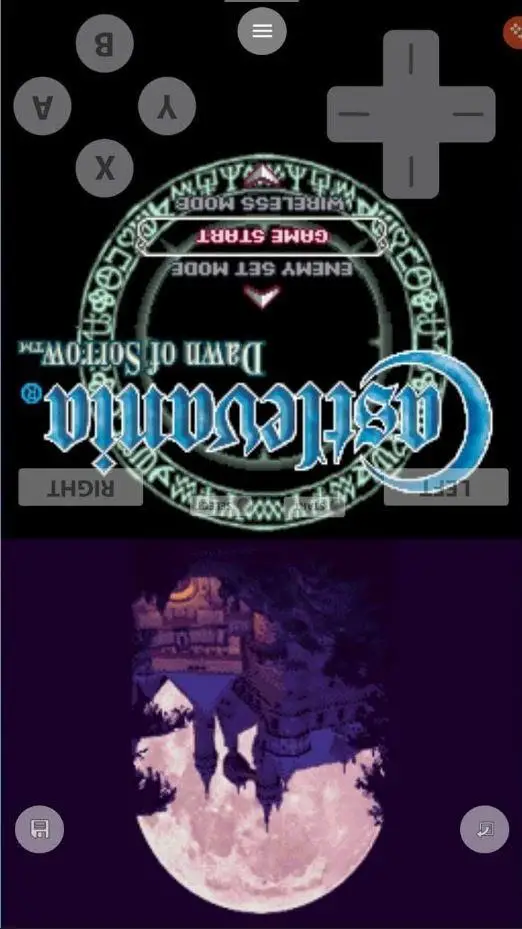 EmuBox
The EmuBox is a newer addition to emulators and supports different systems like Nintendo DS, PlayStation, SNES, and more. EmuBox comes with a material design that makes it look good and different from its competition. It works fine with no serious bugs or crashes but has some bugs which make it a little annoying when using too many cheers at a time. It is also free to download and use. But has ads in it with no pay to upgrade options available, hopefully they release a pro version soon.
Emulator Box loading screen: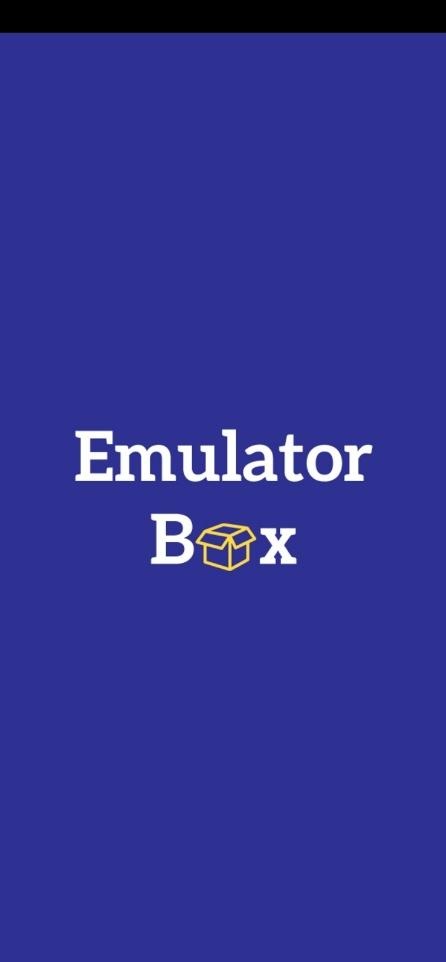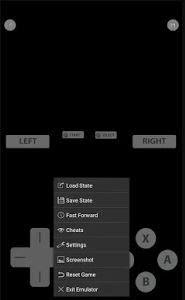 SuperNDS
SuperNDS runs smoothly without any lag or bugs. This emulator has all the necessary controls and adjustment options but you will need ROM to run it. Note that ROMs run faster, use less processing power when uncompressed, so always uncompress your ROM before running the game. It's easy to use and play games on with you needing to download game ROMs on your deceive and locate it when opening the app.
Game locator on SuperNDS: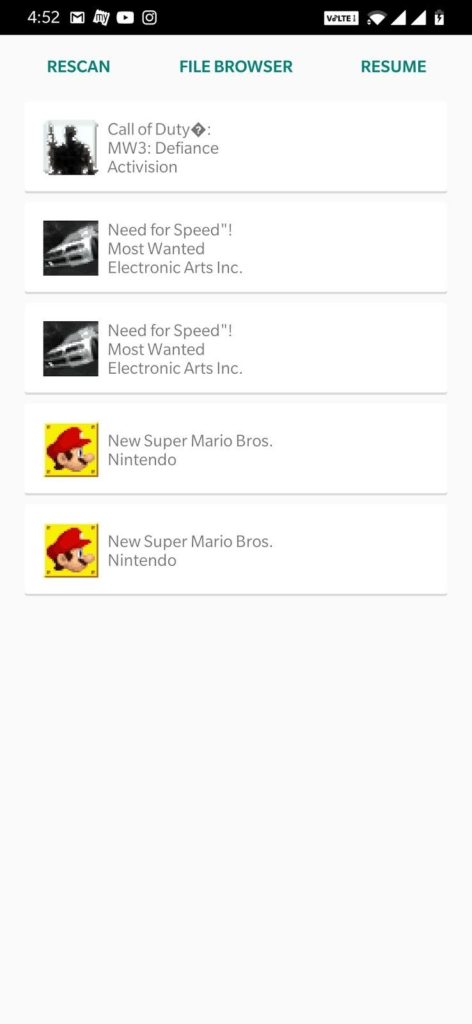 Super Mario Brothers on SuperNDS: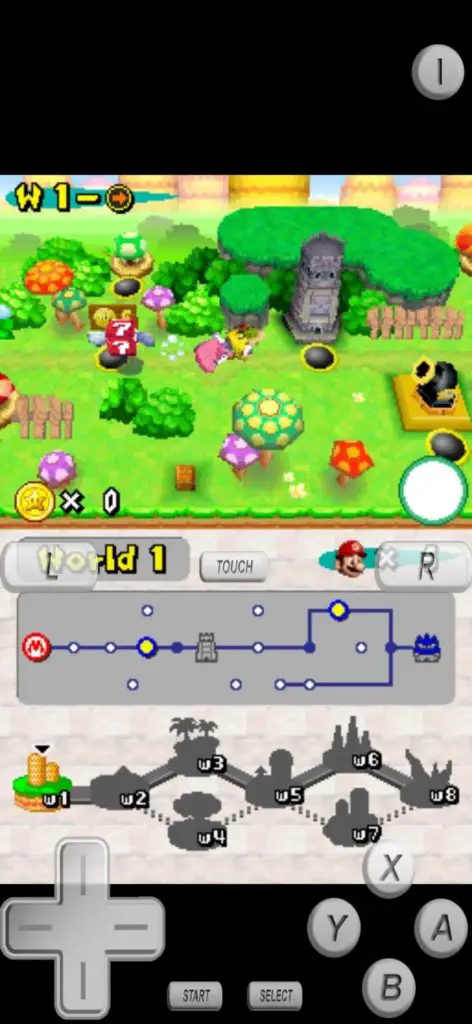 Also checkout: Addicting Games
How to download/use the Nintendo DS emulator for android?
Since DraStic is the best emulator available in the market. We made a small step-by-step guide on the Nintendo DS emulator for android. It is very easy to download and use Nintendo DS emulators as they are available on the Play Store.
Step 1) Open Play Store and search for "DraStic DS Emulator".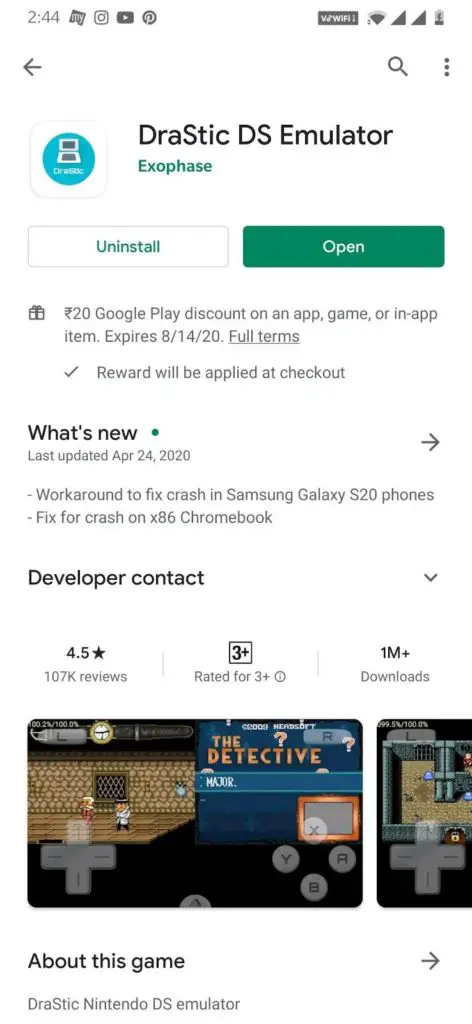 Step 2) Download "DraStic DS Emulator".
Step 3) Open DraStic and locate your game.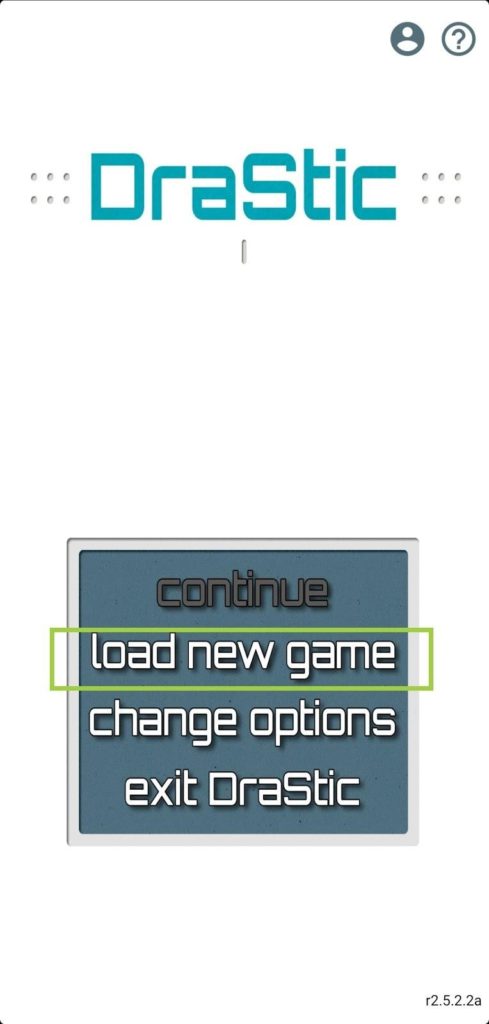 Step 4) If you don't have any then download it from the links given below:
Step 5) Open the app and locate the game you downloaded and launch your name.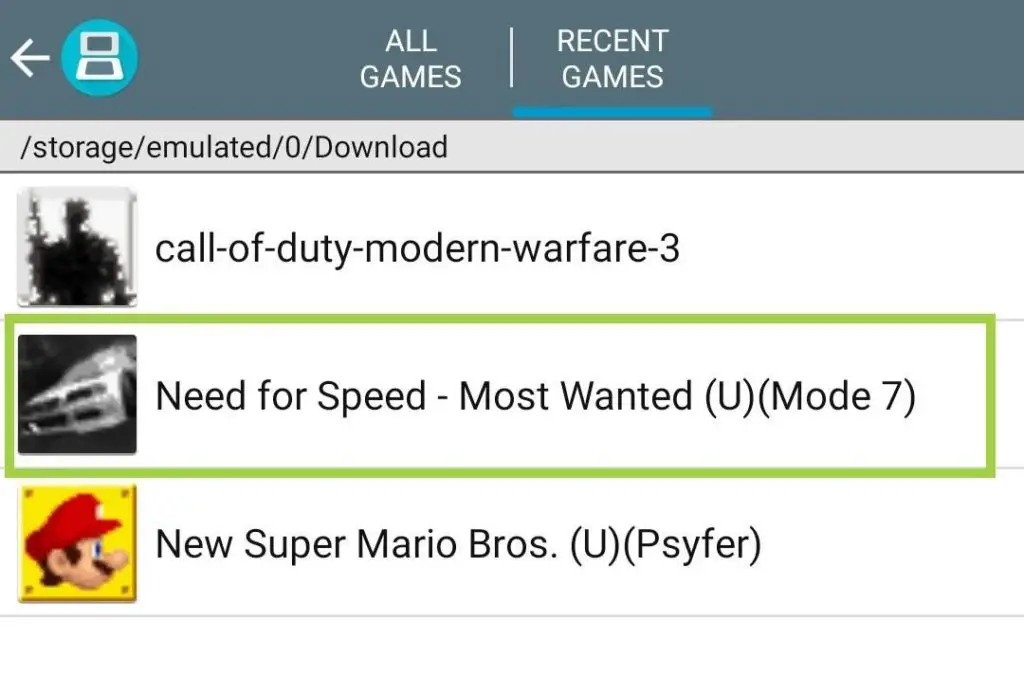 Step 6) Sit back and enjoy your game.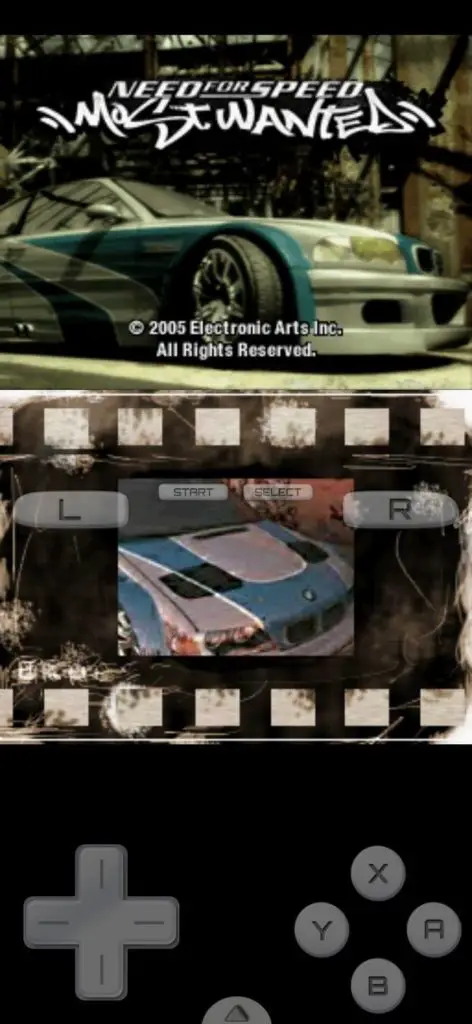 Popular questions related to DS emulator for android
Question (1) Can I download the DraStic DS Emulator from somewhere other than Google Play Store?
Answer (1) Yes you can download the DraStic DS Emulator from other websites. Also, we would suggest you support the developers for their hard work in developing and updating the app.
But if you still want to download it then you can search for DraStic DS Emulator apk on google and download form any 3rd party website.
Question (2) How to download games for emulators?
Answer (2) We already made a list for you with links to all websites and if you want to download games for other than Nintendo DS, some websites have different panels for different systems like PlayStation, Xbox, and others.
Question (3) Can I download the Xbox emulator on my smartphone?
Answer (3) Yes, you can download the Xbox emulator on your smartphone and can play Xbox games with it.
If you want to have more details then check out our article on the "Xbox 360 emulator on android" on our page.
Question (4) How can I play Nintendo DS games on my PC?

Answer (4) You need to download separate emulators made for PC like
You need to download an emulator for PC and then download game ROMs. We would suggest you play Nintendo DS games on android only as these games are not very processor intensive.
Summary
In the article, we learned how to download nds emulator android without having to look in multiple places. Keep in mind the pros and cons while picking the emulator as you may leave 3ds all if you choose wrong. We would suggest you get a DraStic 3ds emulator as it gives you the best experience. Downloading DraStic can be difficult if you want free version, free but not legal. We included a link for you to download it for free.
Download DraStic 3ds emulator from here.

And for the Nintendo 3ds emulator for pc, we made a list in the query section to help you download it. Note that the process is same as we showed you for android. ROMs will be the same for both Android and PC, but keep in mind that you may have to download separate ROM. Some emulators don't support ROMs from a different source. Also always unzip the ROM to increase its performance. Running zip will also create temporary files that will eventually show your PC down.
If you still have a problem with the guide then check out the YouTube channel. Just search "Gossipfunda" to find our tutorial videos.
This was all for nds emulator android, with all the pros and cons of each emulator. We hope you will enjoy your 3ds emulator android or PC.