Best android watch-2020
Best android watch-2020: From analog to android, from hand watch to smartwatch. Just see the trend of the new era. Everything around us has been digitalized…Smartwatch is one of them. Being smart is just not enough. Let's talk about one such gadget that is the best android based smartwatch today.
Equipments around us are also needed to be smart…Easy, Portable and handy gadgets are our things today. Your watch should match your intellect. Be smart to buy a watch that enhances your personality.
Time is a valuable resource in our daily life and the device which tells us to be on time is Watch. Earlier there were mechanical watches which ran by clockwork. Gradually, these are replaced by Analog watches. Analog watches usually have a round dial on which the numbers are marked with a rotating hour hand and a short minute hand. In Quartz watches there is a second hand to capture the time in seconds. In 1970's Analog watches have been replaced by the digital watches which will display the exact time in seconds in digits format. These watches use seven segment display is displaying the numbers. From 2010, an era of smartwatches has come into the market, which not only displays the time but also provides information on the date, day, message and calls notifications, etc. This article will deliver the information on smartwatches which are designed as per the latest trends in the technology and market.
SmartWatch: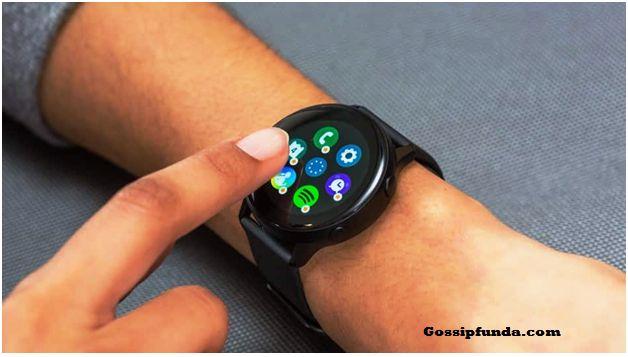 Smartwatches are described as the wearable computer devices. They perform many tasks apart from showing time. If we look up the statistics in the below picture of wearable commodities. It clearly explains in what rate the smartwatches are being accessed by the customers compared to other products.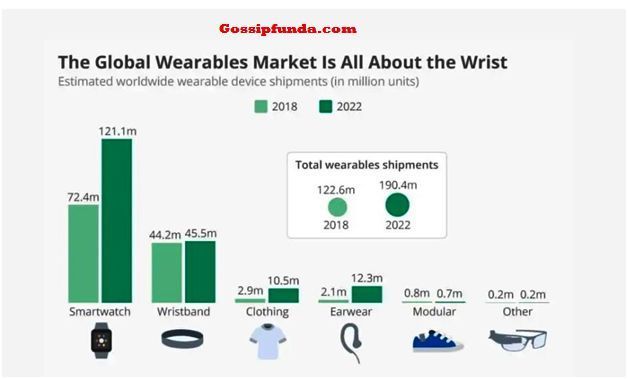 Various operating systems on which the smartwatches are built:
| | |
| --- | --- |
| OS version name | Operating system |
| Wear OS | Google's operating system |
| Watch OS | IOS of Apple |
| Tizen | Linux based operating system |
| Sailfish OS | Linux operating system |
| Asteroid OS | Open source Android platform |
| Ubuntu Touch | OS developed by UK Canonical Ltd |
 Attributes of the Best android watch:
The design and look of the smartwatch is an attractive feature to the user. Wherein it not only displays the time but also incorporates many other functionalities.
A smartwatch can even guide the directions by creating vibrations on the wrist. This helps the user not to just look now and then into a smartphone while traveling.
Users can pair up the smartphone to a smartwatch to enable the FindPhone feature. This allows the user to call the smartphone from a smartwatch itself.
Smartwatches improve our fitness goals by tracing our count steps, distance, calories, heart rate, pulse rate, and sleep.
A smartwatch holding a SIM card and data plan can make and receive calls and even sends replies to messages.
In workouts like swimming, cycling, running, etc carrying a smartphone is a tedious job. During such cases, the user can view the smartwatch regarding the calls, messages and apps notifications. Apple Watch 4 series is manufactured as a waterproof watch which is effective during water sports.
Pebble Time Steel smartwatch is one of the best options while traveling. The user can carry the smartwatch up to 10 days on a single charge.
At any instant of time, users can play songs and videos on smartwatches. Garmin Vivoactive 3 smartwatch stores even music. Via Bluetooth headphones user can hear the audio.
This article briefs currently the Best android watch available in the market.
Fitbit FB507GYSR Versa 2:

Fitbit Versa 2 is released in September 2019. It is based on the Android operating system and water-resistant. The price of this Fitbit verse 2 is around $299.95 dollars.
Below points explain the features of Fitbit FB507GYSR Versa 2:
Fitbit Versa 2 has an AMOLED display. The always-on display mode allows the user to access the notifications of the calls, messages and social media at a faster rate
It has a Lithium Polymer battery which contributes to 5+ day battery life.
User can download any number of applications and gets notifications on all downloaded apps.
Fitbit Versa 2 is incorporated with a voice-controlled program called Alexa. Users can interact using voice-activated commands to retrieve the information on news, weather and other data. Users can even set alarms and reminders.
It measures the sleep every night depending on various parameters like heart rate, time asleep, restlessness and breathing.
24/7 heart rate tracking app calculates the calorie burn, effective effort during workouts, resting heart rate trends and cardio fitness level.
Fitbit Versa 2 stores and plays above 300 songs. Users can download the Deezer app instead of Spotify in listening to the music.
The important apps of this smartwatch are: Track Exercise, Analyze Sleep, Set Goals and Connect with friends & Family.
Cons:
The always-on mode doesn't have many customization options.
TicWatch E2:
TicWatch E2 is developed on Wear OS, which is a version of the Android operating system. It was released on 22nd January 2019. The price of TicWatch E2 is $159.99 dollars.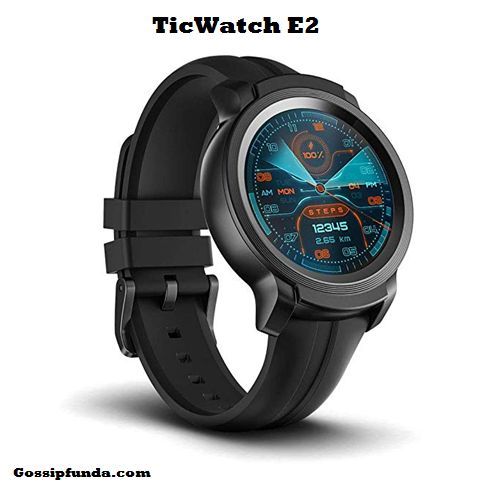 Plus points of TicWatch E2:
The AMOLED screen displays the content with more sharp and clear. And backlight of the screen is bright enough and enables the user to view the watch in darkness.
Users will have access to a wide variety of apps from Google's Play store and even third-party apps are compatible.
Built-in Google Assistant.
Users can view all call notifications.
TicWatch E2 is a waterproof smartwatch. Swimmers can carry the watch up to 50 meters underwater.
It has built-in GPS.
Google Fit and TicMotion are installed for tracking user's fitness.
Drawbacks:
This watch doesn't adjust the backlight according to the ambient light. In daylight, the backlight is not brighter to view the screen.
Details of some fitness features are missing like heart rate sensor is not precise and counting the number of steps while ascending and descending the stairs are not counted.
Fossil Gen 5 Carlyle Touchscreen Smartwatch:
Fossil Gen 5 is designed using Wear OS operating system. Fossil Gen 5 is introduced into the market on August 26th, 2019. The price of Fossil Gen 5 is $295 dollars.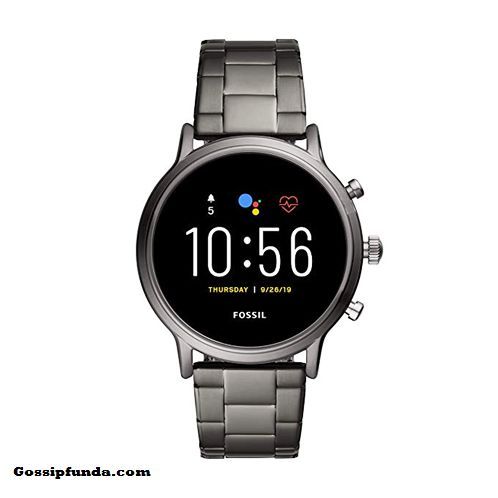 Attributes of Fossil Gen 5 Carlyle:
Fossil smartwatch is having chipset of Qualcomm Snapdragon 3100.
Battery life can be saved based on different modes:
In Extended battery mode, the battery backup is available for multiple days on a single charge.
Daily mode allows the user to access the always-on display option.
Custom mode enables the user to adjust the battery settings.
Time only mode allows the user to add some additional hours when the battery is low.
Magnetic USB rapid charger charges the watch up to 80% in one hour.
Users can download third-party apps in an easier way. It has an internal storage area of 8 GB and 1 GB of RAM.
Heart rate monitoring is done by the Google Fitbit app.
Waterproof design assists the user to carry the watch up to 30 meters underwater.
In this smartwatch, the speaker component is an added value that gives sound alerts for notifications.
The microphone and built-in speaker help the user to answer the calls.
NFC connectivity to Google store will make the user pay the contactless payments for the apps.
Cons:
The heart rate sensor is not accurate.
GPS functionality cannot identify the narrow lanes and paths while running.
HUAWEI Watch GT 2 2019 Bluetooth SmartWatch:
Huawei Watch GT 2 is introduced into the market on 2019 September. It runs on the Android operating system. The price of the smartwatch is $275.99.
Features of Huawei Watch GT 2 are:
It has a screen size of 46mm with a sharp AMOLED display.
The chipset of Huawei is Kirin A1.
The battery will last for 2 weeks.
HUAWEI TruSeen version 3.5 measures the heart rate accurately.
This smartwatch can sustain up to 50 meters under the water.
GPS and GLONASS positioning systems locate the position of the user and complete trial after a marathon.
Bluetooth calling feature benefits the user to receive and make calls at any point in time.
Users can store up to 500 songs and will be able to pair with Huawei FreeBuds 3.
HUAWEI TruSleep 2.0 monitors users breathing and heart rate during sleep time.
It measures user's fitness by step count, calories burnt and the number of stand up times.
This watch supports notifications from SMS messages, Email, Calendar, and other social media apps. Users can access other features like the Weather, Alarm, Timer, Stopwatch, Flashlight and Find My Phone.
VO2Max app figures out the amount of oxygen consumed during the exercise.
Negatives:
Limited access to third-party applications.
Rotating the physical buttons will not perform any actions.
Don't miss:
Conclusion:
Hope this article encourages users to buy their desired smartwatches and spend some valuable and smart time. Wish this article drives you to change your traditional watch to the best android watch. Change your personality and give it an edge this year by buying one of the best Android-based smartwatches.