Updates entirely depend upon system resources. So, it may take some time to complete the process. That too depends on your carrier service provider. You can test the automatic update on your iPhone is working or not. It can be done by visiting the Apple device status website and seeing whether the auto-update is downloading or not.
In addition, you can also check for updates manually by going to Settings > General > Software Update.
Apple's automatic update feature is now available on all iPhone models running iOS 8.1 or later. It has been reported that the new feature is already being used by some users on their devices. The new system-wide auto-update function should help keep iPhones and iPads up to date with the latest security patches and software improvements, which could be important in the future. We can expect to see more users relying on the new update mechanism in the weeks and months ahead.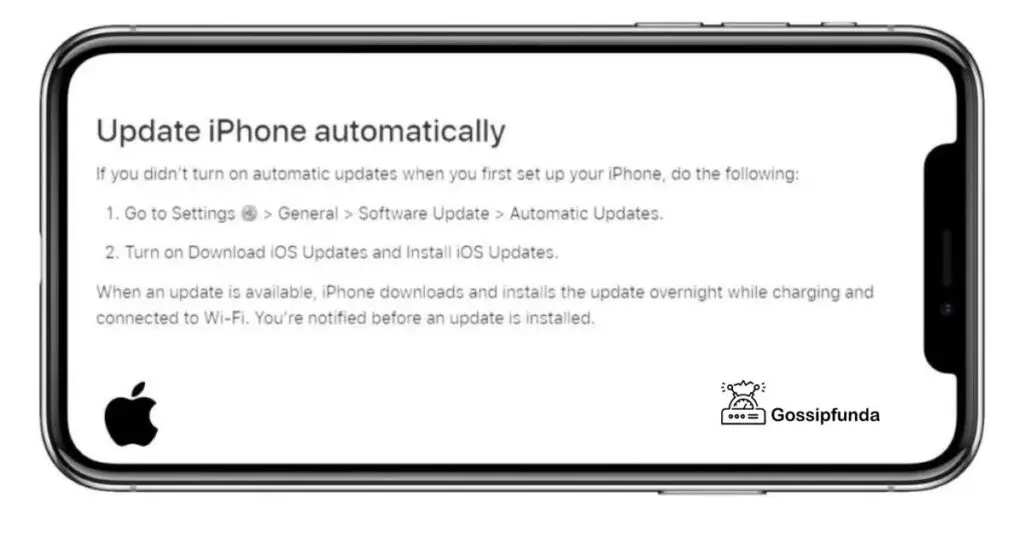 Do not miss: Apps won't download on new iPhone
What are automatic updates for iPhone?
Automatic updates on iPhone play an efficient and significant role for any phone. Suppose your system is not updated, you are using the previous version, and your iPhone and it is still running on the older version. Then obviously you are not aware of many updated features too and still using old features which is so embarrassing and useless. If you are not such a good tech byte then maybe you do not care about this and have no knowledge regarding how to update your iPhone.
So, here automatic updates play a great role as they provide the notification regarding any update. And notify you If you somehow just power off your iPhone then it will update your iPhone while turning it on Again. With automatic updates, your iPhone gets updated in the background whenever it is needed to ensure that your iPhone is running on the latest features.
How to turn on updates on the iPhone?
For your smooth running of the iPhone, you need recent updates. So for that turn on the automatic updates on your iPhone. If you do not know how to turn it on then follow these steps.
Steps to be followed:
Open Settings of your iPhone.
Then go to the General.
After that, you will see Software Update.
You need to enable automatic updates iPhone.
Now, after following these steps you will be able to get your new software versions.
How to turn on automatic updates on the iPhone for your apps?
Further, if you are required to update your applications as well to use the latest features and you are not notified regarding this. You just need to follow the simple procedure listed below.
Steps to be followed:
Open the Settings app.
Click on the "iTunes and App Store."
Enable your "App updates " in the Automatic Download Section.
By following the mentioned method you will be able to get updates on all your applications. And it will be able to use the updated features comfortably. As the new version allows your phone to work more efficiently.
How to turn off automatic updates on your iPhone?
You can disable it from your iCloud settings page. When automatic updates are turned on, they are helpful for automatic updates of our iPhone and notify us easily regarding this. But at the same time due to the low power in our iPhone, we wanted to save data and battery in case we do not have a charger at that moment and we are outside. So in such cases by turning off updates your iPhone can conserve some energy. And your iPhone can stay much longer.
Follow these steps if you want to turn off automatic updates on your iPhone:
Start your iPhone's Settings app.
Go to the General tab.
There you can tap on the Software Update tab.
After that, you will see it.
If your Automatic update is enabled then disable it by sliding it off.
Performing these simple procedures you will be able to save data and battery and will no longer be able to have automatic updates in your iPhone. So you can remember to turn it on after charging your phone later on because updates are also important.
Why are my iPhone apps not updating automatically?
A very significant feature of the iPhone is the automatic update. But it is possible that you are not getting it and there can be so many reasons behind this.
If your iPhone is not updating software and apps automatically then maybe one of the reasons is a connection problem. That your iPhone is not using wifi or any cellular data to support the updating process.
Secondly, you need to ensure that your settings of the update feature is enabled or not. So you can read above the method given to turn it on.
Another reason can be that your phone does not have enough storage, So check your storage and accordingly manage it. These are the reasons due to which you may be suffering from this issue. So you can check these according to your iPhone. And you can resolve that maybe this will work for you and you will get automatic updates.
How do I stop automatic downloads on my iPhone?
As there is a feature of automatic updates in iPhone similarly there is an option of automatic downloads which automatically downloads any media, video, doc sent to you by another user, and that sometimes leads to the problem of storage capacity as maybe you do not wish to download that file but it still gets downloaded.
It is possible to turn off automatic downloads. Follow these steps for this issue:
Navigate to Settings.
There you will tap on the App Store.
After that click on Automatic updates and disable it if you do not want automatic download.
Performing the above steps will help you to stop your automatic downloads.
How to Manage Apps on Your iPhone?
Sometimes, you feel that your iPhone is so disorganized and requires you to organize them so that you can easily find out any app you want to use and also to improve the looks of your iPhone by organizing data or apps.
Simply follow these steps:
You need to keep pressing the app which you want to locate on some other page of your home screen and after pressing just drag it to the desired location. If you want to create a folder that consists of more than one app collectively then simply drag the app to another app and it will automatically get into a folder and both of your apps will reside in one. By this, you can drag some more apps into this location. Like this, you can manage your apps.
Conclusion
Now I hope that all your questions regarding automatic updates on iPhone are clear and understandable to all. If you are not aware of this then you can read the article and can follow the method to either turn on or off your iPhones' automatic updates. After reading once if it is not still clear to you then you can read it again comfortably and can try again. Well, I am pretty sure that in one go this article will be really helpful to all who are facing the problem of automatic updates on the iPhone.
Thank you for spending your precious time on our website and we wish that you find the above-mentioned details helpful and useful.
FAQs
Should I let my iPhone do automatic updates?
Well, you should let your iPhone do automatic updates because it will not violate any security or your privacy. Let your iPhone work on current software and timely update it so that if you forget then an automatic update will take place. Running your iPhone on new versions and features enhances the performance of the iPhone and it also helps your iPhone as securely as possible. In some cases when your battery power is less then you can turn off automatic updates else there is no need to turn it off.

Why do apps keep updating?
Updating applications is significant because it fetches new features, fixes bugs, and improves the performance of applications. If your iPhone has enabled the auto-updates in Play Store then it will lead to updating the applications whenever an internet connection gets caught. Updates are possible only via wi-fi or cellular data.

How to delete apps on the iPhone?
Well, it's also an easy task if you were an android user and might be thinking that deleting apps is something different in iPhone. So now it's also the same as you do on any phone you just need to hold the application which you want to remove and after that, it will show an option to uninstall just click on it and it will uninstall that app and it gets deleted.

How to manually update apps on your Mac?
If you are not able to update apps and are not aware of it as your automatic updates are not happening. Then, there is nothing to worry about you can just try the simple method that is listed below.
Steps to be followed :
1. Go to your App store.
2. Click updates which you can see in your sidebar.
3. Click update for any particular app or you can click update all for the update of all apps.
4. After that, you will be able to manually update apps on Mac.