Imagine that you all have decided to book a movie ticket for the evening show while spending time with your friends. You get the job of booking movie tickets, and you open your phone and try to install the movie booking application. But some problems occur while installing that application. You feel very frustrated, and you repeatedly try to install that app, but nothing happens. All the plans for your movie night were postponed, and you feel terrible as hell. So in this article, we will learn why apps won't download on new iPhone. So let's have a look at some of the reasons why some apps won't download on the new iPhone.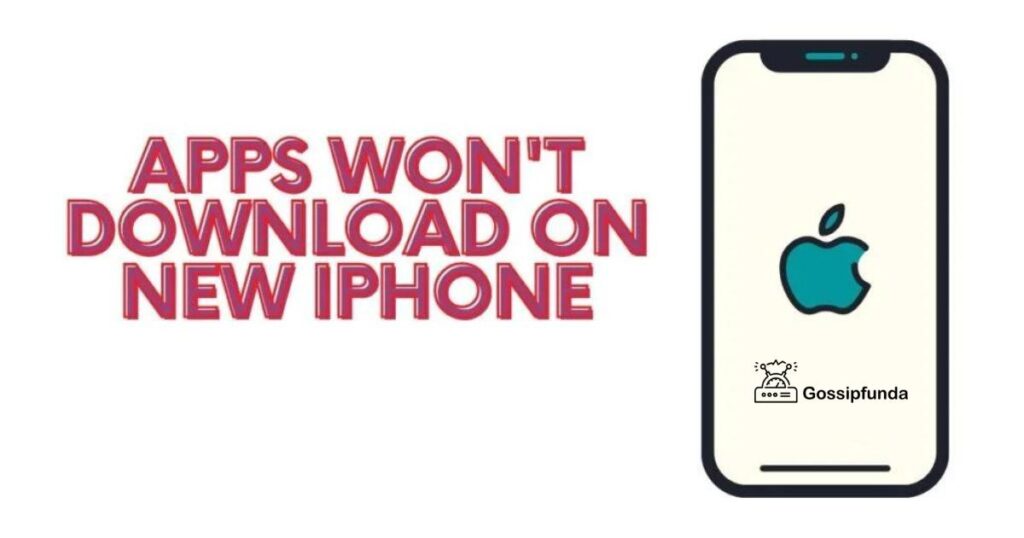 Why Apps won't download on new iPhone?
There are several reasons, Some of them are listed below:
(I) Due to software problems
So, due to some technical glitches and difficulties, some of the apps couldn't be downloaded on our phones. Due to software glitches and bugs, our phone could not respond to a particular app. We could see many times that we see security and bugs update on our phone that helps us in installing new versions of these apps. Due to older software, our Phones could face these types of problems.
(ii) Due to software updates
If your iPhone software is not up to date, some problems could persist for installing apps on our iPhone. If we have an iPhone with older iOS that is old regarding the apps we are installing, then we can face problems. So it is always recommended to download and install the latest software. These updates can quickly be done on our mobile phones.
(iii) Updating the apps
Sometimes, not updating the apps may lead to various problems like apps won't download on new iPhone. One of the reasons that we cannot access an app would be not updating that app. If our apps are not updated, it will lead to issues like hanging phones and other problems. So we should always try to update to the latest version of apps. There are some straightforward steps through which we can update apps on our mobile phones.
First, go to the App Store on your iPhone and search for the application you want to update. From there, you can easily update that particular app by just clicking on the update option.
(iv) Due to screen time limits
So, Apple provides us with a feature called screen timer. This feature helps us to set a screen time limit for apps according to us. If an app passed the screen time limit, we could not open that particular app. So if we face that problem, we should remove that app from the screen timer limit. You should follow these steps to remove an app from the screen timer limit.
Step 1– Open Settings on your phone and then go to General.
Step 2-Go to screen time on the menu.
Step 3-From here, we can see the timer for any app with the daily time limit.
Step 4-Now, we can either delete the screen timer limit, or we can extend the time limit for that app.
(v) Insufficient memory or due to less phone storage
We can't fill a one-liter water bottle with two liters of water. In the same way, we can't install a 4Gb app on the PhonePhone with a storage limit of only 2Gb. Sometimes, we cannot install an app on our iPhone because of the lack of space in our Phones. In that situation, we should try to clear storage on our phones to install any app. Due to insufficient storage, we may face many problems that could lead to many issues of apps won't download on new iPhone.
(vi) Due to cache data of an app
Any app installed on our phone happens to hold some storage and cache. Sometimes, these apps save cache in internal storage and could make the phone work slow. By having lots of caches, these apps could face problems in the opening, and we couldn't open that app. It is always recommended to remove excess cache from our apps on phones.
(vii) Problems due to bugs and glitches
During the app development, developers find and remove bugs from the apps. Sometimes, all the bugs are not removed from the app. Due to those bugs, it affects the performance of that app. And due to these problems, we should always try to install apps from credible sources. The most credible source on ios is the app store for downloading any apps.
(vii) Some system errors
Some apps on our phones could also not be opened due to system errors. Many times certain software updates could result in these types of problems. If we face these issues, we could try to open these apps after some period of time. So these are some ways due to which apps won't install on a new iPhone.Let us try to see some ways through which we can fix ways due to which apps won't open on iPhone.
How to fix Apps won't download on new iPhone
There are various ways to fix when apps won't download on a new iPhone
(i) Rebooting our Phone
If you aren't aware of the term rebooting, it simply means restarting your phone. Our phones have many hidden technical glitches that can be solved after rebooting our iPhones.When we reboot our iPhone, all the background apps close, which relieves the load on the software. After we turn the phone on, all the apps open freshly, which helps to run them smoother. For rebooting our phone, we should follow this simple procedure. Do not miss our tutorial: how to Restart iPhone in various ways
Hold onto the power button of the iPhone for at least 10-15 seconds.
After that, we could see an option to turn our PhonePhone off. We should now drag that option on the screen to the right side. Now we have successfully switched off our phone. To restart the phone again, we have to hold the power button for 10-15 seconds. Rebooting or restarting our iPhones could help us to overcome these technical glitches.
(ii) Re-installing the app
If any of the problems listed above happen to us, the first thing we will think about is deleting and re-installing the app. Many of us believe that this method could help us with the app's working. This method may or may not work regarding the problems we face. If a particular app is not working, we can use this method. But it is not a hundred percent guaranteed that by using this method, our app will definitely work. This method can briefly be described as a trial and error method. Sometimes this method could work, and sometimes it may not work for apps won't download on new iPhone.
(iii) Force quitting apps from the main menu
Many people do not tend to close the recent app they are using, making these apps work in the background. This makes the working of other apps very difficult. We should never forget and should always try to close these recent apps. Force quitting apps from the main menu will resolve this problem very efficiently. There are effortless ways through which we can force quit or can close recent apps.
We have to just swipe up from the bottom of the iPhone we are holding. After that, we can have a list of apps that have been running in the background. We have to swipe up to these apps or pages, which will stop working in the background. In this way, we can release internal storage capacity in our phone that will help us to install and open apps.
(iv) By updating to the most recent iOS
If our phone has an outdated iOS, some of the recent apps couldn't be installed on our phones. Many apps require us to have the latest iOS.If we haven't updated our iPhone to the most recent iOS, we could follow these simple steps. The first step would be opening settings in our iPhone.Then we should tap on General, which is present there on the menu list. Must see iPhone error 401.
After opening the general menu, we can see the software update option on the menu. Now we have to see if any recent iOS update is available or not. If there is a new iOS update available, we could select that option, and it would be updated to the latest iOS.Now there are high chances that those apps would work on our Phones.
(v) Offloading the oversized apps 
Some apps tend to hold storage and cache on our phones. These bulky apps could tend to affect our phone stability and performance. We should always look for these kinds of apps that take up lots and lots of internal storage and hold cache on our iPhones.There are some effortless ways through which we can fix these problems. The very first step would be:
Opening settings and then tapping in general on the menu items on the phone.
After that, we could see an option listed as iPhone storage.
Now, we can see which app holds how many Gb's of our phone's internal storage. Apps like Youtube and Spotify tend to hold more cache and storage on our iPhones.
Now click on the app in that menu that gives you trouble. Click on the offload option that is present down below on that page. So this is a straightforward way through which we can offload any app on our phone.
This will fix the apps won't download on new iPhone problem.
(vi) By updating the app
If you are facing any issue with a particular app, then we should look at if that app is up to date or not. What happens is if we don't update a specific app, then it could not align with the latest iOS.Due to new security patches in the iOS updates, it could stop outdated apps from opening and working correctly. So we should always try to update to the latest version of the apps.
(vii) Freeing storage and memory space
If our phone storage is always full, then apps won't download on the new iPhone due to lack of storage. Due to insufficient storage, our phone would sometimes lag and reduce its performance very much. We should always try to clear our phone's storage and delete apps that are not usable for us. There are some steps through which we can reduce our iPhone internal storage.
The first step would be opening settings and clicking in general. Then click on storage options, and you can see a list of apps that account for how much space if you know any app that is holding onto an ample space and is not usable to you. Then it would be best if you considered deleting that app from your phone. For deleting the app, you should click on the app and then click the delete option available below.
So, in this way you can also increase the phone performance and fix problem apps won't download on new iPhone.
(viii) Resting our phones setting to original
If you think that due to some wrong Settings, you could not open certain apps on your iPhone, then you should look out for this option. Using this method, you can reset your PhonePhone to its original factory settings. Here are how you can reset your phone settings to the original.
We have to go to settings on our iPhone and then look out for General in the menu. After we have found and opened general on the menu, we should click on reset/reset all settings. Now type your password, and you are ready to go. Your phone has been reset to its original settings. This way is a very safe method for trying to solve this problem. Go through iPhone recovery mode.
(ix) Restoring iPhone to factory settings
If none of the methods listed above work, you could follow this method. This method is not recommended to use every time as it would lead to resetting our phone and deleting all of its data. Sometimes, due to many glitches and issues, our phone could stop working, and then apps won't open or can be installed on our phone. By using this way, there are some chances that we can resolve those issues. We can follow these steps to reset our phone to its factory settings.
Step 1-First open settings and then click on General.
Step 2-After that, choose the option that is listed as reset.
Step 3-Click on the reset option.
Step4-After that, select to erase all content and settings, and then you'll be asked to enter the passcode. After entering the passcode, tap again on erase to confirm. Now your PhonePhone is reset, and all contents have been erased.
(x) Contacting app developer
If you are done doing all these steps, and still that specific app won't download on the new iPhone, then the last thing you can do is contact the app developer. By contacting and telling the app developer about your problem, you can resolve your issues. App developers will closely look into our matter and will help us in resolving this kind of issue. So here are some ways through which you can fix the issue of apps won't download on new iPhone.