This article describes how to change Android's default keyboard and swap between other keyboards on your device using android keyboard settings. The methods provided below should work with devices running Android versions 10, 9.0 (Pie), or 8.0. This is true regardless of the manufacturer of your Android phone, including Samsung, Google, Huawei, Xiaomi, and so on (Oreo).
If you want more customization options, a different layout, or anything in between, switching to a new keyboard only requires a few touches and some patience. The majority of Android's stock keyboards are excellent, but if you want to switch to a different keyboard because you want more customization options, you can. Do you require any help with carrying out these steps? The following is a detailed, step-by-step explanation of how this process should be carried out.
How to get a new keyboard downloaded
You must first install a new keyboard from the Play Store. Let's finish that off.
On your phone, access the Google Play Store.
Look up "keyboard."
Pick the keyboard that you want to install.
Press Install.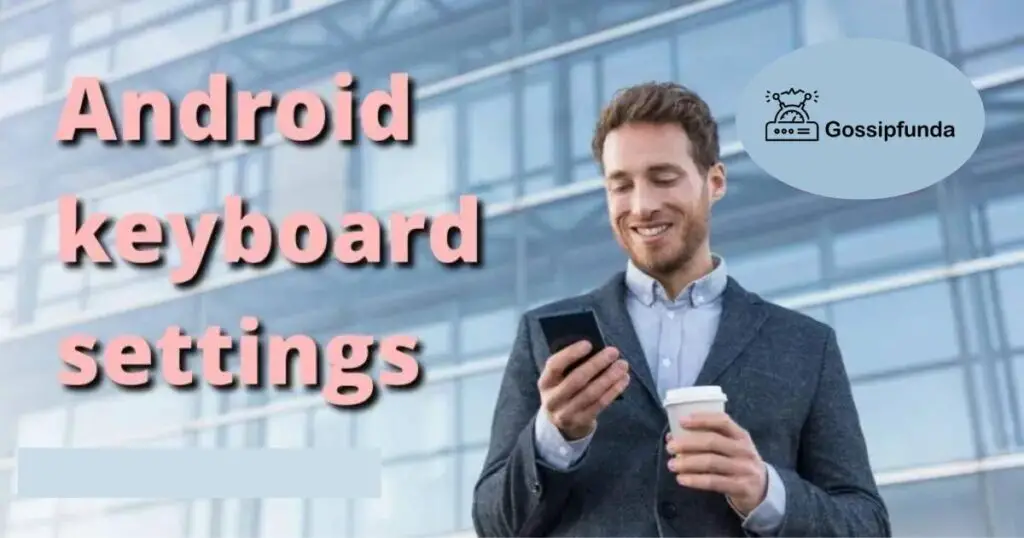 Where can I find the setting for the keyboard?
Set keyboard options
Open any program, such as Gmail or Keep, that allows you to type on your Android phone or tablet.
To enter text, tap the area that appears.
Tap the Open features menu button located in the top left corner of the keyboard.
Tap More Settings.
You can pick and choose which settings to activate, such as the Glide typing function, text correction, and voice typing.
Change the Default Keyboard Procedure
Launch the Android keyboard you downloaded, or perhaps more than one, to finish the installation. It's simple to enable a keyboard and set it as the default in most programs, but you may also do it manually by android keyboard settings.
Access Settings.
Tap System > Languages & Input after swiping down. Go to Settings > General management > Language and Input on Samsung Galaxy handsets.
Tap the Virtual keyboard under the Keyboards heading. On a Samsung device, select the Onscreen keyboard, then select the standard keyboard.
We are enabling a keyboard on Android and making it the default.
Decide on Manage keyboards.
You must activate the toggle switch located next to the keyboard you intend to utilize. By activating the Show Keyboard button on a Samsung phone, you can rapidly switch between the many keyboards available on the device.
Note: If you activate a keyboard, a warning message may appear notifying you that it may record the text you write, including sensitive personal data. This may happen if the keyboard has the capability to record what you type. Tap OK. Apps collect this information in order to auto-correct your spelling and anticipate what words you will type next. In order to achieve this goal, the program may save e-mails, text messages, website searches, and passwords.
How to modify the Android smartphone's keyboard
The earliest kinds of smartphones included physical keypads. On the other hand, today's most advanced smartphones feature touchscreens and virtual onscreen keyboards. The keyboards pre-installed on Android weren't quite as efficient as they are now. With each new edition of the Android operating system, all of Android's functionalities are made available to the operating system's developers.
Many people, including myself, get a kick from typing on third-party keyboards. Google's Gboard and SwiftKey are at the top of my list of preferred keyboards. An app is a necessary option for individuals who wish to send messages quickly and have names of contacts or locations suggested. Depending on the context of the message, the app is a necessary solution for the default Android keyboard.
Because of this, we will show you how to quickly and easily switch the keyboard displayed on your Android smartphone.
Step 1:  The vast majority of recently released Android devices require an installation or upgrade of Gboard. Visit the Google Play Store to determine whether or not you already have the app installed on your device, as well as whether or not you need to update the app.
Step 2: Go to the app where you want to write your message when the installation or update is complete. This might be Facebook, Gmail, or even WhatsApp.
Step 3:  After the keyboard has been opened, slide down from the top of the notification center to access the settings menu for the keyboard.
Step 4: You are transported to the "Languages and Input" settings page after clicking the pop-up window. Altering the language of the operating system as well as the keyboard is possible via this menu. You have the option of adding more languages before changing your keyboard.
Step 5:  Go to the "Keyboards" section of the settings and choose Gboard from the list of available keyboards to use. Through Gboard, you can converse with your pals while simultaneously transforming your keyboard into a condensed version of the Google search bar.
How to Change the Keyboard on an Android Device
Keyboard applications are available for Android users to download in an endless quantity. If you have more than one keyboard and find yourself switching between them frequently, this feature makes it easy. You might, for instance, select one keyboard for activities linked to business, another for interacting with friends, a third for creating humorous GIFs, and possibly even a fourth for communicating in a language other than English. In certain circumstances, you could also find that speaking is more convenient than using voice typing.
Tips for Using Android Autocorrect in keyboard settings
Start the desired app and start typing.
To make the keyboard visible, tap.
On the lower right, tap the keyboard symbol.
From the list, select the keyboard.
Changing between different Android keyboards
To use another keyboard, follow these procedures once more.
Android Keyboard Permissions Viewer
You can examine the permissions you've granted to each keyboard app by going to Settings and selecting Apps and notifications. Tap the See all #> apps button, and then look for the keyboard app in the list. If no permissions are granted, then there is no need for any additional action on your part. Have a look at the Permissions tab. The other cases will display a numerical value. Tap the Permissions button to see which requests were successful and were not.
Making Your Android Keyboard Your Own
That is all required to switch to a different keyboard on Android. You should also check out the app's settings to guarantee that they will work correctly for you. The majority of keyboard programs, for instance, allow you to modify the layout, add individual auto-correct entries, change the theme, and perform various other customization tasks.
To accomplish this, select the keyboard app from the list of apps you have installed on your device. If your keyboard does not display in Settings > System > Languages & Input> Virtual keyboard, you can view its options by returning to the previous screen and tapping it there.
How to Change a Few Android Phone Keyboard Settings
The keyboard app that comes pre-installed on Android devices is the Google Keyboard. It offers a few distinctive features, each of which is believed to make typing on an electronic device more enjoyable. You are responsible for determining whether or not that is correct.
You can change the settings for the keyboard by tapping the Language & Input item within the Options app. Samsung mobile devices usually have the thing under the Controls or General tab of the Settings application.
Providing feedback on the keyboard
When the Haptic Feedback option is turned on, typing using an onscreen keyboard appears to operate better. Take the following actions to verify this setting:
In the Settings app, you can find Language & Input.
Choose Preferences after selecting Google Keyboard.
This feature is known as Samsung Keyboard on Samsung mobile devices. The same applies. For the Samsung keyboard, there is no requirement that you select Preferences.
Set the vibration and sound settings using the master control.
Predictive text is activated
Not all Android phones use the Google Keyboard, which does not immediately enable its predictive text feature. Use these steps to make sure the quality is on:
In the Settings app, you can find Language & Input.
After selecting Google Keyboard, select Text Correction.
Samsung Keyboard is displayed on some Samsung smartphones. To view the Predictive Text setting, select it.
Make sure Next-Word Suggestions or Predictive Text is turned on.
Show Suggestions could be a better title for this item.
If you can't find the settings for Next-Word Suggestions or Predictive Text, it's likely that they are always on and that you can't turn them off.
Turning on gesture typing
You can type words using gestures by swiping your finger across the onscreen keyboard. Your phone might not have this function turned on. Take the following actions to make sure it is:
Open the Settings app to find Language & Input.
From the Google Keyboard menu, select Gesture Typing.
On a Samsung smartphone, select Samsung Keyboard and then Keyboard Swipe.
Make sure that all of the Master Control icons are turned on.
While turning on the other items improves the experience, only Enable Gesture Typing needs to be activated.
A function known as SwiftKey Flow, which is displayed on Samsung smartphones, is analogous to motion typing.
Activating dictation
Although it is likely that your Android phone already has voice input enabled by default, this cannot be guaranteed. The challenge here is to locate the Dictation (Microphone) icon that is located on the keyboard.
Long-press the Multifunction key on some Samsung keyboards to find the Dictation icon.
Follow these steps to make sure this function is on when you can find the Dictation key and before you throw the phone into the trash:
In the Settings app, you can find Language & Input.
Consider using Google Voice Typing.
Make sure the feature is turned on.
Since Google Voice Typing cannot be disabled on many phones, you see a list of functions after selecting it (see Step 2).
Conclusion
Continuous typing is a lot more fun when you have the appropriate keyboard app installed on your mobile device. You can install as many as you like, switch between them whenever you want, or change the keyboard that is set as the default and never goes back. I feel that we successfully answered all your inquiries regarding the settings of the Android keyboard.
FAQs
Why is the keyboard on my phone performing oddly?
The malfunctioning Android keyboard on your phone may be due to the large number of cache files accumulated over time. Cache files, even though they are risk-free, might clog up your phone's storage and cause it to function more slowly if there are too many of them.
What is the Ghost Touch?
Ghost touches are one of the most annoying kinds of touch problems that can occur on Android. The display appears to respond to communications even when none are being made on it. It can react to Input that is not genuine. Similarly, parts of a screen that are not touch-sensitive can also be described.
Why does my phone randomly click on things?
This indicates that damaged displays, poor grounding, sloppy construction, loose parts, and even inferior USB cables have been connected to phantom screen touches. It's also possible that a screen protector is to blame for phantom touches, but I don't think this happens very often.
What causes Android to "ghost touch"?
If you are having trouble with the ghost touch issue while charging your phone, it is recommended that you upgrade to a new charger or charging cord that is of a higher quality. To determine whether or not the charger is the source of the issue, you could try setting the phone using a new charger and cable combination and check to see whether the problem still occurs.
Why is my keyboard not working properly? Why is my keyboard not working properly?
Viruses have the potential to be the cause of a wide variety of problems. Because of malware infections, the characters that are typed on your keyboard may be incorrect. Keep in mind that keyloggers are rather prevalent and that they can alter the settings of your keyboard. Keyloggers are mostly undetectable, although they can lead to a variety of problems with the keyboard.