Do you know about access points and extenders? We always get confused and need a comparison access point vs extender. Luckily, now we will provide you with every information related to both. Read till the end and you will get the best offer too.
Are you worried about how will you provide network or connections to your company employees? There is no need to ponder because advancement in technology has provided various access points and extenders that will definitely help you in your work. Let's begin to explore access point vs extenders, and best extenders available in the industry.
Access points are used basically in wide areas, while extenders are used in small areas. For example, some offices have large areas and more users, so it uses access points, while remote offices consist of limited users and use extenders for good wireless accessibility.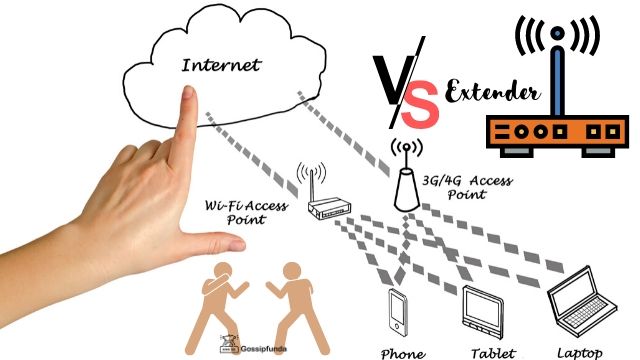 Foreword:
Access points are considered to be a server that provides you with a permit to connect with a local area network.
Extenders by its name, suggest that something is extended. Here wireless signals get extended, or we can say we get strengthened.
Access points
WLAN stands for wireless local area networks. Access points are usually used to generate wireless local area networks(WLAN). Ethernet cable allows wired router, switch, or hub to connect with access points that make Wi-Fi signals to process towards designated areas. If you want to enable Wi-Fi signal in any area but you don't have a router within range for connection, you can use Ethernet cable to connect with access points and get signal. We have seen that majorly business company's use access points, but why?
Now we will see some points mentioned below:
Reasons why access points are only used, not extenders.
Extenders can permit only a limited number of devices that are likely up to 20.
Extenders don't have large bandwidth, and they do not extend the available one.
Access points are able to connect 60 devices.
Access points allow network coverage in its area without network problems.
As individuals move from one place to another, they don't have to bother about the network as it automatically connects to other access points without causing problems.
People even don't feel that their access points have changed because of the better availability of networks in their areas.
Advantages of access points
Many devices can get connected using access points.
Where there is Ethernet cable, access points can be easily installed.
Modern versions of access points are also compatible with Ethernet cables.
Features that access points provide are:
Captive portal
Access control list (ACL)
This helps consumers to manage their accounts access of users and limit the guest access.
There is a clustering feature that permits a single entity to manage all access points.
Extender
It is a type of wireless repeater that extends the available network.
Extender ensures to rebroadcast the available network produced by access points.
It can affect the network as it extends the connectivity.
The extender can reduce signal strength.
It is highly recommended or prescribed in those areas where there is high availability of many extenders.
Advantages of Extender
They are used to increase the bandwidth. They work effectively to the consumers who do not need strong network connectivity. Basically, it boosts the network for connectivity. However, sometimes we need a Portable Wi-Fi Router.
Access Point vs Extender
Difference and comparison can be seen by this table for extender vs access points
|  Property | Access point | Extender |
| --- | --- | --- |
| Terminology | It allows wireless devices and networks. They are connected using wireless technologies such as Wi-Fi. | The extender repeats the wireless signals and extends the network bandwidth. Usually boost the network or coverage of the main router. |
| Functionality | An access point is a hardware device that is used to connect with various wireless devices. It connects through Ethernet cable. | It usually repeats the wireless signal. Expands its reach by boosting signal strength. |
| Cost-effectiveness | Comparatively High | The extender increases your network coverage by 50%. It is cost-effective and more accessible rather than access points.  |
| Efficiency | It is not affected, and the required throughput is given. | It reduces data throughput. |
As individuals will like extenders for their home so we will explore the best range extenders.
Here we will provide you with some best extenders available:
Amped Wireless Athena-EX High Power AC2600 Wi-Fi Range Extender (RE2600M)
Pros:
It provides you with fast throughput in testing.
It is a multi-user device and has a multi-input feature.
AC2600 avails you with multi-output, i.e. MU-MIMO.
It gives you lots of ports for connection and provides you with multiple settings.
It is easy to install the system.
RE2600M delivers a reasonable throughput.
It contains lots of features available in it.
Cons:
The primary concern is that it is very much expensive to buy.
Throughput provided by the device is moderate.
Suggestion for the best deal: Save all the products in cart for best deals or lightning deals and visit them every day, and you get it at a low price one day, but if you need it immediately then go through all the products and buy that which suite you the best.
D-Link Wi-Fi Dual Band Range Extender DAP-1650
Pros:
The device is reasonably priced.
It provides you with a great network with a Strong 5 GHz performance.
D-Link Wi-Fi Dual-Band has four gigabit LAN ports available for connection.
It provides you with many configuration options.
D-Link Wi-Fi Dual Band acts as a media server.
Cons:
It provides you with a moderate range of up to 2.4 GHz.
The USB port present in the system is only 2.0.
Netgear Nighthawk X4 AC2200 WiFi Range Extender (EX7300)
Pros:
It is the fastest plug-in range extender.
Netgear Nighthawk maintains MU-MIMO streaming of data.
It gives substantial throughput in testing.
It gives you multiple outputs, i.e. MU-MIMO.
Cons:
It is bulky to support.
There is no pass-through outlet.
Nighthawk X6S WiFi Mesh Extender EX8000
Pros:
The device uses one SSID.
It has a dedicated backhaul present in the device.
It provides consumers with MI-MUMO support.
X6S is easy to install and provides good network services.
Cons:
It is very, much expensive.
It has a large footprint availability.
The device is provided with a mixed performance.
Amped Wireless AC1750 Wi-Fi Range Extender (RE1750A)
Pros:
It is provided with lots of management options.
It has a generous port selection available.
The device gives 2.4GHz throughput performance.
AC1750 is easy to install.
Cons:
It gives 5 GHz throughput in tests.
It is expensive for consumers to buy it.
Some access points available are mentioned below:
Ubiquiti Networks Unifi 802.11ac Dual-Radio PRO Access Point
It is a dual-band access point.
It has many features such as it provides unlimited, single controller etc.
Unifi 802.11ac provides a speed of 450Mbps at 2.5GHz and 1300 Mbps at 5 GHz.
It is recommended for indoor or outdoor wireless network installation.
The device gives you up to one year warranty.
Ubiquiti 802.11ac consumes maximum power up to 9W.
Faster 5GHz is provided by band-sheering that doesn't have any interference in the network.
TP-Link Wireless N300 2T2R Access Point
It is designed to expand your network coverage area and can be used for general business purposes.
The Ethernet port supported by the device is 10/100/1000 PoE.
TP-Link also supports multi SSID.
It is affordable for consumers.
It has the capability to support passive PoE.
Numerous access points are available. You can access them and make your business more connective or advanced using these access points.
Closure
We have tried to give you more than sufficient information about Access Point vs Extender. You can now make a difference between an extender and access points. As various countries are developing, technologies are becoming smart, so we have come up with some new wireless products that enlarge our network connectivity.
Nowadays there is enough demand for network connection as every work is done due to the network or internet provided to us. Sometimes we get network requirements for many users so that these access points and extenders are manufactured to produce the right amount of connectivity for different users across the world.
Above article mentions the best extenders for local people or small businesses. It also mentions access points for different large fields. You can click to the links provided and reach them within a click. So just buy them and enjoy good connectivity with no interference in the network as it gives good network or accessibility performance.