8 Things that Make Radio Stations in Miami Popular. The power of radio is enormous, for it can rapidly reach a vast audience. It permits the listeners to easily interact with the radio personality in contrast to other forms of entertainment such as newspapers and television.
But unbeknownst to many, running a successful radio station is challenging.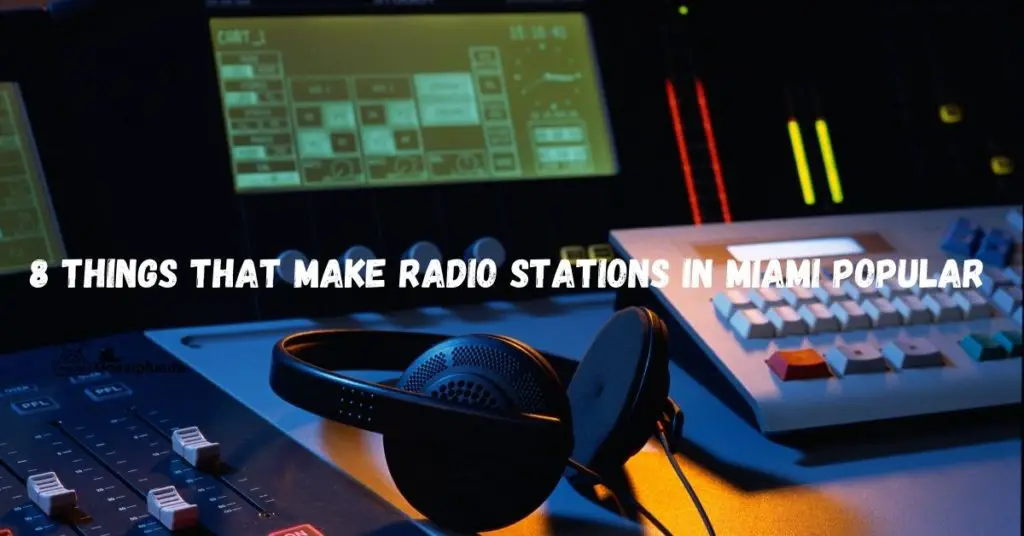 8 Things that Make Radio Stations in Miami Popular
Just because we consistently hear a radio personality run his/her show easily does not mean it is not a challenging undertaking. Managing a successful radio program while increasing your number of listeners takes a lot of intense work. It takes hard work, dedication, and a couple of surefire methods to gain popularity.
They have a target audience.
Not targeting a particular niche is a common rookie mistake, which stands true, for many start-up radio broadcasters always trying to aim for a broad range of listeners. Unfortunately, broadening your content to appeal to many people also equates to diminishing its impact and uniqueness.
If you aim for a general audience, you're likely playing music and covering topics you don't care about. With that said, introducing music and topics that do not interest you will not create engaging content. Moreover, you'll be wasting resources, time, and effort on people that won't listen to your program. Just focus on your listeners by playing songs they like and talking about topics that interest them.
They use lead generation and SEO.
You need to figure out how to draw in listeners and urge them to stay. Let people who are searching for your niche discover your station themselves, rather than endorsing yourself to anyone and everyone. The most popular radio stations use lead generation to grow their crowd and pull in a larger following.
Lead generation is the method of distinguishing and attracting potential clients for a service or product. It utilizes blogs and social media platforms to reel in listeners naturally. The point is to let people know about your station through a series of leading show links or articles on social media.
Also, improve your SEO practices, so you are easily discoverable on search engines. Search optimization is an advertising technique that modifies the content, organization, and design of your site to develop discoverability in app stores and search engines. Ensure the contents in your site and app works effectively in powerfully portraying your station. All in all, the better your SEO, the more discoverable your station is.
They focus on quality.
Quality sound, content, broadcasters, and branding are the aspects that make up a successful radio program. It doesn't take a great deal to get a radio station fully operational. Just ensure your tracks don't skip, your equipment is working correctly, and your surroundings are quiet when your broadcasting talk segments. Be sure your content is important to your listeners and are up-to-date. Additionally, as a broadcaster, make sure that you interact with your listeners on-air.
They have a business website.
A business site will play a significant part in your marketing strategy, for it is the stepping stone for all your marketing efforts online. You need to present your brand correctly, and your site is the key to tell the world who you are, what you offer, and what sets you apart from others. In short, a business website will provide your radio station more opportunities and audiences.
They have various listening options.
Your hearers will be capable to download your app and comfortably attend to your radio station on the go! If you have a website and social media accounts, you can also link them to your mobile app to help create a community around your radio station.
If you want to grow your audience, ensure they know how they can tune in to your radio broadcast! There are different methods  you can use to ensure your radio broadcast is known:
Register your radio station on different online directories. Radio directories present your station before a large audience looking for radio stations. They arrange stations according to their region or music genre to make it simpler for listeners to find the correct station. List your station on as many radio directories as possible since most of them are free.
Embed a radio player into your site. By incorporating a radio player on your landing page, your station is one of the primary things individuals will see when visiting your site. It is the simplest approach to convert your guests into regular listeners.
Develop a mobile app for your radio station. Your audience will have the option to download your application and quickly tune in to your broadcasts anywhere! If you have a site and social media platforms, you can opt to direct them to your mobile application. Through this, you can effectively make a community for your radio station.
They have podcasts of their shows.
Podcasts are popular content that permits your listeners to tune in to your broadcasts whenever they want. Podcasts are shareable, enabling your audience to share your broadcast in various ways, like social media. However, remember that sharing podcasts that have copyrighted music is illegal.
They are original and unique.
Getting new listeners to discover your station is one thing, but getting them to stay is a different story. Competition in the radio broadcasting industry is exceptionally high, so you need to offer your audience something they can't find elsewhere. Thus, it is great if your broadcasts are unique. You have to possess something that will make people recognize your station. It isn't smart to do what every other broadcaster is doing.
You need to incorporate something in your broadcasts that sets you apart from the rest. The most straightforward approach to be unique is to stay true to yourself on your radio broadcasts. Besides making your shows enjoyable, it also makes them more personal, which helps build a connection between you and your audience. A strong bond with your listeners is a vital aspect in making them come back for more.
They have great playlists.
For a lot of radio broadcasters, playlists are a massive part of their broadcasts. Therefore, it is critical to make incredible playlists to have a great broadcast. Playlist structure, theme, purpose, and song sequence are all crucial parts of making awesome playlists.
In short, aside from your music choice, you need to arrange your tracks into various playlists strategically. Your arrangement will determine if your playlist is good or not. So, it's essential to put in time and effort working on your song placement.
Most Popular Radio Stations in Miami
WLRN 91.3 FM
104.3 The Shark
Vibe 92.7 FM
Hot 97.7
WVUM 90.5 FM
Revolution Radio Miami 93.5 FM
Wynwood Radio
WPOW Radio-Power 96
88.9FM WDNA
Jolt Radio
Takeaway
It might seem like you simply need to play some songs as a radio broadcaster, and you're all set. However, an essential part of your work is constant improvement, and it ought to be a consistent objective to improve your audience's experience. Regardless of whether you put resources into your station or improve simple aspects for free, there are numerous steps you can take to make your station successful.
So this is all about 8 Things that Make Radio Stations in Miami Popular.