Technology has changed monitors also, as we have got 1080p monitors at present. Monitors are yesteryear things these days, but still, we need them, as they belong to the class, which cannot be replaced by laptops. Now you may ask that where do we need them in real today. So let's learn the reason behind it and also look at some amazing 1080p monitors. Read the full article to know all about 1080p monitors.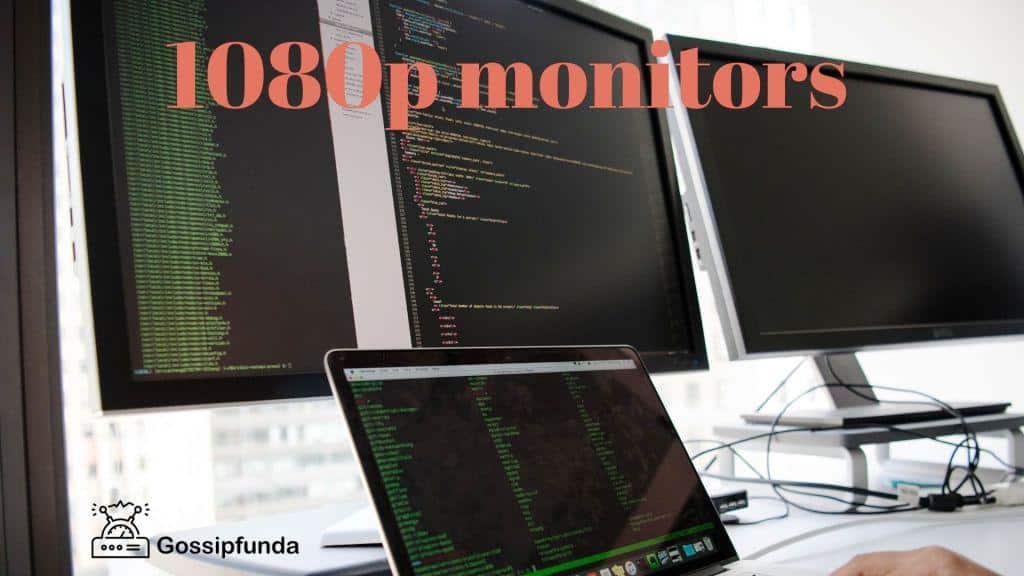 Introduction to 1080p monitors
Almost every child has got its own laptops today, and we don't realize the usage of monitors. But your institution or office may definitely see their use. Not every institution or office can't afford to give students or employees their personal laptops. Hence, comes the use of computers, detachable, fewer chances of robbery as well. Today, we have got really affordable 1080p monitors that will amaze you surely. These monitors are suitable for both gaming purposes and office work. So if you are looking for any 1080p monitor, this article is a guide for you. Some of the listed products are good for hardcore gaming, whereas some are for official use. But before knowing all the best monitors, let's see the parameters that should be considered before buying one. g
see also: MSI Gaming PC
Purpose
This is the most important factor that you must think of before buying any product. Usually, monitors are used for three purposes, offices, school labs, and gaming. You need to decide your purpose and look out for features that suit you. For example, if you need it for gaming, you need to buy a tough monitor with less input lags and fast to response time. It should be able to support hardcore gaming. Whereas, for school labs, you barely require some decent necessary features and support for a few softwares.
Screen size
If you don't fall into any category mentioned above, then I think you have a basic need for theater. Well, in that case, the screen size really matters. However, if you have to use your monitor for official purposes, you can have pretty regular sizes. 
Also, bigger screens make your multitasking much easier as compared to small screen monitors. Essential 25-inch screen size for monitors is standard, and any size bigger than that is a large screen monitor.
Panel type
Though you belong to any category of purposes, you always deserve to get a good quality display. Usually, there are three types of panels used, Twisted Nematic (TN), In-Plane Switching (IPS) and Vertical Alignment (VA). For official purposes, the IPS panel is used, VA monitors too can be used for this purpose or any other use that includes more productivity though it has narrow view angles whereas the TN monitors more focused on gaming purposes.
Refresh rate
It can be explained as the number of times a screen refreshes itself. That means if your device has a refresh rate of 60Hz, then every single image on the screen will be refreshed 60 times per second. If you want a monitor for official use, a 60Hz refresh rate is enough. While, for hardcore gaming, you may require at least 144Hz. In gaming, the more the refresh rate, the more is the smoothness in playing.
Connectivity
Not all monitors have the same set of ports for inputs. Usually, for 1080p monitors, the HDMI and Display Port are used for video inputs. The Display Port also allows you to have access to high refresh rates. If you are buying a monitor for gaming purposes, you need to focus only on HDMI ports that work as a display interface.
read also: Netspeedmonitor windows 10
Freesync or G-sync
These terms actually mean the technology that enables high refresh rates. Actually, the Freesync is a technology by AMD, and G-sync is by NVIDIA. With the help of these technologies, your device refresh rates will automatically adapt to the rate of the graphics card. 
All these are the major parameters that need to be kept in mind, along with a few more things that may not be listed here. Well, now let's look at some of the best 1080p monitors available in the market that affordable too.
Best 1080p monitors
Dell D3218HN
This monitor is large and good for bigger screen purposes with 32 inches. The refresh rate is 60Hz, along with a 16:9 aspect ratio. The looks are also too good, even better than the dell ultrasharp monitors. It has a very decent white back with a stand. The monitor is flexible but has only freedom for tilt movements. It has normal HDMI and VGA ports. After being feature-packed, it manages to be affordable with a price of $200. But among the few of its cons, it has an average pixel density. However, its gaming performance is phenomenal and also respond quickly. It also has got an excellent contrast ratio, and overall, this monitor is the right product.
LG 29WK600-W
This LG monitor is an ultra-wide device that will give you a fantastic experience for gaming. The screen size is 29 inches with an IPS panel. It has an aspect ratio of 21:9 and a resolution of 2560×1080. This product is an affordable monitor that is priced for $300. It also has two HDMI ports which are present at the back. The image quality of this LG monitor is nice and gives the colors accurately on display. The response time of this product is also fast with wide-angle views. Though this product won't be good for hardcore gaming, it may be perfect for regular gaming or movies.
Acer ED273
This Acer product is a curved monitor with a 27-inch screen. This curve is sharp with a curvature of 1800R. The refresh rate is also reasonable, which is around 144Hz. Therefore, it is perfect for hardcore gaming. You will also receive vibrant images on the screen due to the high contrast ratio. It has three ports for input, HDMI port, DVI port, and the DisplayPort. This product of Acer doesn't give you USB ports. Acer ED273 is a G sync compatible device that does support Freesync, which works within the range of 48-144Hz. This G sync will also enable you to use different refresh rates after connecting it to some NVIDIA graphic cards. It is also a budget monitor whose price falls in the range of $300-500. Basically, as we know, Acer has come up in the gaming industry strongly, this monitor is perfect for all those hardcore gamers.
Asus VG279Q
This Asus VG279Q is an all-purpose 1080p quality monitor that does justice to its brand. Though, the features may appear similar to the previously discussed Acer ED273. It also has the same 27-inch display with an IPS panel. The refresh rate is also pretty regular of 144Hz. However, it may not be under the Asus ROG version, but it is a decent monitor by Asus majorly for gaming purposes that too in budget. It surely has an attractive gaming look with thin bezels. Also, it gives you a small joystick for menu controls.
At least Asus gives you the freedom to move your stand in more directions than just tilt. You can rotate it, tilt it, swivel it, or even adjust its height. Again, like the previous one, it also has all those three ports, HDMI, DVI, and mini DisplayPort with a USB-C port. It also supports Freesync via HDMI and DisplayPort. The input lag of this monitor is low and too good response time. The color accuracy is also pretty good, with excellent brightness and extensive-angle views.
Samsung C27F398
This Samsung monitor is a 27 inch 1080p VA device that is very much useful in all ways. As usual, Samsung has been putting all his technology into a single piece, and this is an example of the same. It gives you a good image quality for watching high definition movies with typical gaming experience. The refresh rate range of this device is between 60-72Hz. Also, as usual, it too supports the Freesync, which gets enabled while you are playing games.
The specialty of this Samsung monitor is that it has a curved display that may give you smart TV feels. The curvature is pretty standard for monitors, which is 1800 R. You also get a small joystick for navigation along with an HDMI and a Display Port for inputs. It also has a good contrast ratio with vivid picture quality having an accuracy of a color, though after many calibrations. Productivity is also good due to low input lag and fast response time.
Conclusion
Monitors have evolved a lot recently, and we now have 1080p and 4K monitors also. These are surely going to blow your mind with their superb image quality and multiple features. We discussed all monitors that are the best in class in the category of 1080p monitors. You also now have the guide to buying a perfect monitor, according to your choice. Make sure you check all those details thoroughly before you select any product. All these parameters are not the only parameters. There may be many more points that have not been included in this article. This article was just a gist for 1080p monitors.
Don't miss: Rainmeter Mac & Window: System Monitor Latest Version